Start Your 5G and AI Applications with Advantech's EI-52 11th Gen Intel® Powered Edge Intelligence System
6/10/2021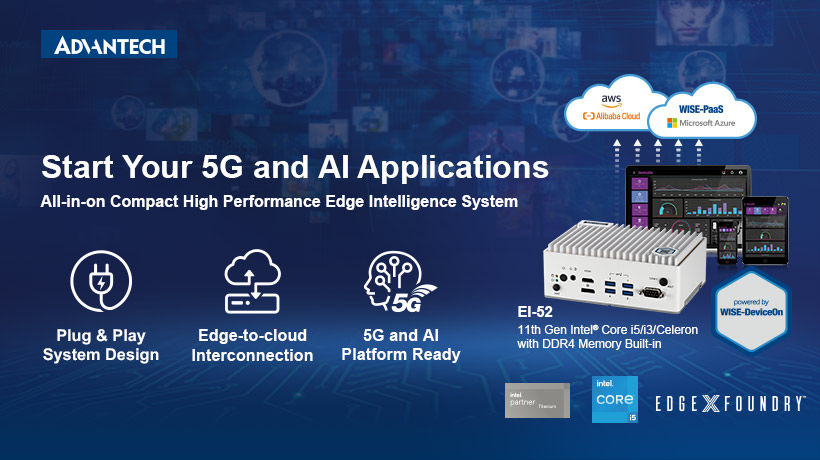 June 10, 2021, Taipei, Taiwan - Advantech, a leading provider of AIoT platforms and services, is pleased to release its newest edge intelligence system — the EI-52. This compact, high- performance system leverages an 11th Gen Intel® Core i5/i3/Celeron processor and plug-and-play system design. EI-52 is designed for edge-to-cloud interconnection and 5G x AI solutions. It comprises a hardware and software integrated package with EdgeX Foundry IoT plug-and-play open software framework and Advantech's WISE-DeviceOn IoT edge intelligence software. EI-52 empowers 5G and AI applications by supporting AIW 5G modules, Wi-Fi kits, VEGA AI acceleration modules, and the FaceView facial recognition I.App. Advantech's EI-52 accelerates AIoT smart application deployment, data acquisition application development, and remote device management.
Plug-and-play System Design Accelerates Application Deployment
Advantech's EI-52 is powered by a 11th Gen Intel® Core i5/i3/Celeron processor and supports Windows 10 IoT or Ubuntu 20.04. This compact, high- performance system (156 x 112 x 60 mm/6.14 x 4.4 x 2.36 in) includes diverse I/Os ports such as 2x GbE, 2x COM, 6x USB, 8/16 GB DDR4 memory, and a 64 GB SATA slim SSD; delivering excellent expansion capabilities and computing/graphic performance with broad operating temperatures (-10 ~ 50 °C/14 ~ 122 °F). EI-52 is also integrated with Advantech's WISE-DeviceOn. This software supports zero-touch onboarding, remote device monitoring/management, and visualized user interfaces. When combined with a plug-and-play design, these features help IT operators remotely monitor and manage EI-52 in real time, thus reducing deployment times in diverse applications.
Edge-to-cloud Interconnection Shortens Development Time
Advantech's EI-52 features an edge-to-cloud integrated architecture that shortens development time. Using the pre-installed Edge X on EI-52 enables developers to avoid delving into different data formats and device APIs for connecting edge data to cloud services. Edge X supports over 15 types of protocols for sensing devices — including common OPC-UA/Modbus/REST — and has been tested on more than 20 heterogeneous devices. It further provides open device SDK to ease device integration using proprietary protocols. This intelligent system enables edge data pre-processing and analysis, and comes with pre-configured tools for quick connection to Ali/AWS/Azure cloud applications. This solution also provides the software/hardware integration capabilities and microservices architecture needed to shorten development times by up to 50% — augmenting the efficiency and flexibility of importing system applications.
5G, Wi-Fi, and AI Platform Ready
Advantech's EI-52 is compatible with a selection of optional packages that enable 5G, AI, and quick-start AIoT applications. First, EI-52 can supports an AIW-355 5G module with optional thermal kit. Second, this solution can also supports additional wireless capabilities using the EWM-W189H02E Wi-Fi module with Wi-Fi 802.11ac/a/b/g/n and Bluetooth 5.0. Third, EI-52 can use VEGA-330 AI acceleration modules with Intel® Movidius™ Myriad X 2x VPU to empower AI applications. This low-power module equips EI-52 with additional AI inference computing power. Finally, EI-52 supports Advantech's FaceView facial recognition I.App — enabling contactless access control applications for home offices and smart buildings, as well as VIP management for self-service kiosks.
Intel 11th Gen Core i5/i3/Celeron processor, 8/16 GB DDR4 Memory, and 64 GB SATA Slim SSD built-in
Pre-installed EdgeX with data acquisition API and support for 20+ heterogeneous devices
Pre-installed WISE-DeviceOn for device management and remote control
Compact 156 x 112 x 60 mm (6.14 x 4.4 x 2.36 in) plug-and-play form factor
4K HDMI and DP 1.4a Dual Display
Compatible with the VEGA-330 AI acceleration module and FaceView facial recognition I.App
Compatible with the AIW-355 5G module
Compatible with the EWM-W189H02E Wi-Fi module with 802.11ac/a/b/g/n and Bluetooth 5.0 support (CE RED/FCC ready in Q3, 2021)