Advantech Launches Medical-Grade AVAS-212 4K UHD NDcoder and AVAS-402 4K UHD Recorder for Enhanced Imaging
5/27/2019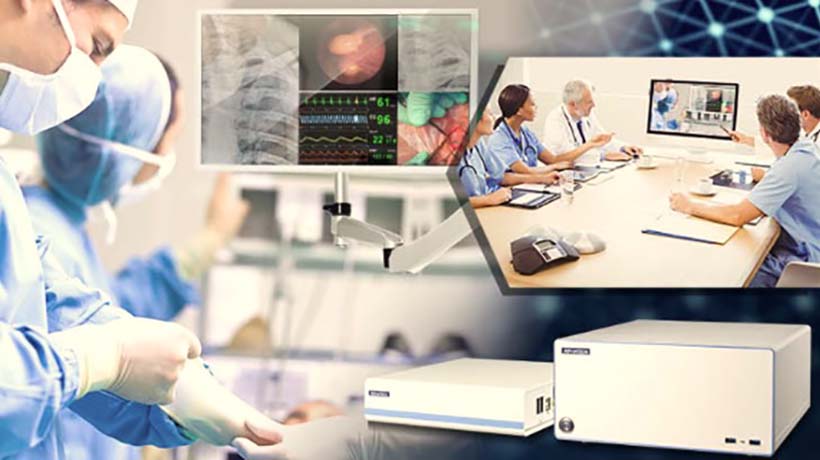 Taipei, Taiwan, June 11, 2019 – Advantech, a leading provider of medical computing platforms and solutions, is pleased to announce AVAS-212, a 4K UHD video NDcoder, as well as AVAS-402, a4K UHD video recorder, aimed at medical imaging applications. AVAS-212 is an IP-based data transmission system with a single-cable distribution architecture designed for installation in operating rooms. This system provides video, audio, and control signal streaming with minimal latency and supports rapid switching between streams.Compared to traditional imaging technologies, AVAS-212 transmits high-quality imaging with superior color distinctions. Meanwhile, AVAS-402 is a powerful integrated imaging hub equipped with software development APIs for customizing video and imaging streams according to specific application requirements. With AVAS-402, image and video signals can be collected from multiple sources and integrated for simultaneous display on monitors with diverse configurations. When combined, AVAS-212 and AVAS-402 deliver enhanced imaging for surgical precision and enable cloud-based centralized management, while also streamlining operating room workflows for improved efficiency. Advantech's AVAS imaging solutions are ideal for surgery centers, operating rooms, and training facilities that use 4K UHD cameras and monitors for surgical imaging and post-surgery review and training.
4K UHD NDcoder and Recorder for Enhanced Imaging
Technological advancements have drastically improved medical treatments and surgical procedures. With 4K UHD technology, medical images can be displayed with superior detail, clarity, andaccuracy that allows doctors to better distinguish between tissue, blood vessels, and other anatomy.The enhanced visual data gives doctors increased confidence with diagnosis and subsequent treatment, resulting in improved patient care. Moreover, all imaging data is transmitted at the same frame rate with zero latency, ensuring uninterrupted real-time communication between collaborating physicians located remotely. Finally, the provision of open APIs and SDKs ensures easy integration with existing infrastructure and management systems to enable intelligent operating rooms and achieve intelligent healthcare.
AVAS-212 - 4K UHD NDcoder
Supports encoding and decoding
All video, image, audio, and USB signals are transmitted via 10 GigE
Integrated switching technology enables seamless switching between input sources
Easy navigation and control using a mouse/keyboard (even in quad or multi-view mode)
Open APIs and SDKs ensure easy integration with existing infrastructure and systems
Multi-view function allows 4 image streams to be simultaneously displayed on a single monitor
AVAS-402 - 4K UHD Recorder
4K resolution
Supports simultaneous recording of up to two video channels
Video signals can be recorded to the internal HDD
Integrated USB drive and network server
Programmable hotkeys for more efficient control
Supports Windows and Linux operating systems
CE, FCC, EN60601-1, UL-60601-1, and CCC certifications
Advantech's AVAS-212 NDcoder and AVAS-402 Recorder are available for order now. To obtain more information regarding AVAS-212 and AVAS-402 or other Advantech Digital Healthcare products and solutions, contact your local sales representative or visit the Advantech website at http://www2.advantech.com.tw/digital-healthcare/.
Founded in 1983, Advantech is a leading provider of trusted, innovative products, services, and solutions. Advantech offers comprehensive system integration, hardware, software, customer-centric design services, embedded systems, automation products, and global logistics support. We cooperate with partners to provide complete solutions for diverse applications across various industries. Our mission is to enable an intelligent planet with automation and embedded cumputing products and solutions that facilitate smarter working and living. With Advantech products, the number of potential applications and innovations is unlimited. (Corporate website: www.advantech.com)