AIMB-276 8th Generation Intel® Core i Processor Mini-ITX Motherboard with Wide-Ranging DC Power Input 12~24V Support
3/8/2019
Advantech, a leading embedded computing solution provider, today announced the release of its high-end Mini-ITX motherboard with wide-ranging 12~24V DC power input. AIMB-276 is based on the Intel® Q370 chipset and the latest 8th generation Intel® Core™ i processor, providing superior computing and graphic performance with high reliability (ESD level 4 protection). AIMB-276 is an ideal product for medical devices, testing equipment, robot AGV, automation, and more. Bundled with Advantech's own WISE-PaaS/RMM software suite that offers remote management and security features, it brings the benefits of cloud computing to a range of embedded applications.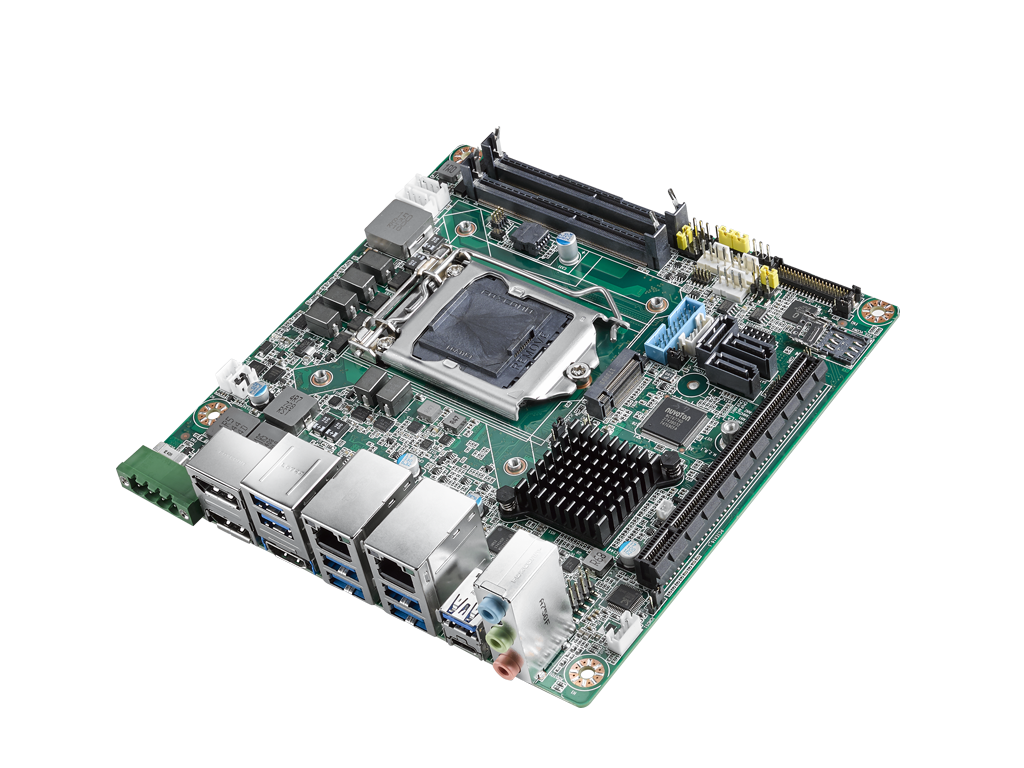 12-24V Wide-Ranging DC Input and High ESD Protection Design
AIMB-276 supports wide-ranging 12-24V DC power source input with a lockable terminal block type connector that is suitable for industrial automation fields, ensuring power cables stay securely connected, even in high vibration environments. Wide-ranging DC input enables AIMB-276 to fulfill different power input requirements in medical applications. With enhanced Electrostatic Discharge (ESD) design, AIMB-276 attains the highest ESD level 4 standard (contact 8kv and air 15kv) for different applications. For medical and automation appliances, an ESD tolerance level is one of the most crucial features needed to protect systems in sensitive environments.
High-Speed I/O Connectivity with Reliable Design
AIMB-276 is designed to support multiple high-speed I/O, including: 1 x USB3.1 Gen2 with USB Type-C connector, 5 x USB 3.1 Gen 2, 4 x USB 3.0, 3 x SATAIII, 1 x PCIe x16 slot, 1x M.2 B (PCIex2) for SSD or LTE, and 1 x M.2 E key for WiFi module. It comes with dual PCI Express LAN Ports based on Intel Ethernet chipsets delivering up to 1000 Mbps of bandwidth. AIMB-276 has one RS-232 with 5V/12V (by jumper selection) power input and one RS-232/422/485 port (via BIOS selection). It is ideal for users connecting devices without additional external power supplies who require reliable data transfers over long distances. All connectivity and high performance features are packed into a Mini-ITX form factor, making AIMB-276 an excellent fit for different markets.
Triple Display with Excellent Graphics
AIMB-276 supports three independent displays, either in clone mode or extended mode, using HDMI2.0, LVDS (eDP), and DisplayPort1.2 with high resolution 4K2K support of up to 4096 x 2160 @60Hz for stunning graphics and imaging.
With market demand trending toward motherboards equipped with advanced HD graphics and support for multiple displays, the AIMB-276 Mini-ITX motherboard integrates Intel HD Graphics with DirectX 11.1, OpenGL 5.0, and OpenCL 2.1 support to deliver superior graphics performance with improved 3D video.
The latest 8th generation Intel® Core™ i /Pentium/ Celeron processors
Dual channel DDR4-2666 260-pin SODIMM sockets with up to 32 GB max
Triple displays: LVDS (eDP), HDMI2.0, 2 x DisplayPort1.2 l Intel® Gfx support DX11.1, OpenCL 2.1, OpenGL 5.0
Rich I/O & expansion: -5 x USB 3.1 Gen2, 4 x USB 3.0, 1x USB 3.1 Gen2 (Option) -3 x SATAIII, 1 x M.2-B key (PCIex2) for storage or LTE -1 PCIe x16, 1 M.2-E key (PCIex1) for Wi-Fi -2 x COM ports (COM1 supports 5v/12v, COM2 supports RS-232/422/485 )
Wide-ranging DC power input 12~24V support
ESD level 4 protection
WISE-PaaS/RMM and Embedded Software APIs