Advantech to Release IDP-3100 Series Bezel-less Touch Monitors for Industrial Applications
3/22/2021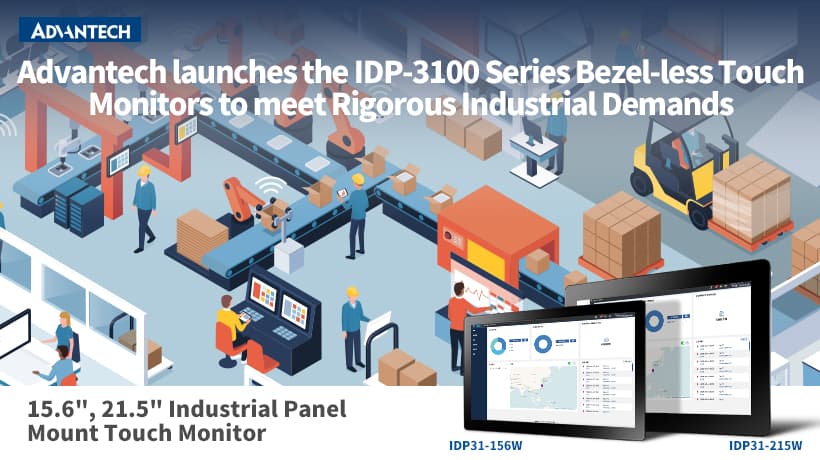 March 2021, Taipei, Taiwan - Advantech a leading global embedded solutions provider, is proud to announce the release of their latest compact display solution, the IDP-3100 series. This bezel-less touch monitor (in sizes 15.6" and 21.5") features an IP65 rated front, and empowers a wide range of automation, retail, industrial, and kiosk applications. Advantech's IDP-3100 series delivers a backlight lifetime of 50,000 hours and excellent display performance within a compact contemporary design. In addition, this series boosts performance and enables remote control/real-time management using Advantech's DeviceOn/Display software. The monitors further support both VESA and panel mounting for easy deployment, and provide flexible customization options capable of meeting rigorous industrial demands.
Reliable Anti-UV Lamination and EMI Shielding
To address issues caused by direct sunlight — screen cracking, hazing, and yellowing — Advantech's IDP-3100 series monitors are equipped with a UV resistant touch solution that improves reliability in outdoor applications. In addition, these monitors combine EMI shielding with the latest touch controller technology to avoid EMI interference in machine automation and self-service kiosk applications.
Industrial-Grade Design Eases Integration
Advantech's IDP-3100 touch monitors support both Panel and VESA Mounting to ease deployment in diverse applications and environments. This series of monitors offer a backlight lifetime of 50,000 hours for an estimated service life of more than 5 years under constant use.
DeviceOn/Display Remote Control Function Improves Display Management
IDP-3100 monitors leverage DeviceOn/Display software to enable remote monitoring, status visualization, and real-time management. This software supports brightness and color adjustments, screen on/off timer functions, and group management. The backlight lifespan monitoring and warning reminders help ease maintenance and optimize display performance remotely. In sum, DeviceOn/Display's remote control features ensure laborer safety, reduce human resource requirements, decrease maintenance time, and improve overall management and efficiency.
Compact IP65 Rated Bezel-less Solution Simplifies Customization
Advantech's IDP-3100 features an industrial-grade design and IP65-rated front panel to protect against water and dust ingress. This touchscreen supports easy cleaning and maintenance in high usage applications where hygiene is important. IDP-3100 features an ultra slim 46.1 mm (1.81 in) design with four rounded corners for maximum protection.
The base unit supports the integration of customized brightness enhancements, optical bonding, and/or surface treatments (such as Anti-Glare/Reflective/Fingerprint/Microbial treatments). The IDP-3100 series accommodates the use of cover glass (when touch is not required), or resistive touch screen to meet different specifications. The series leverages a HDMI signal interface for integration within embedded boards and systems. USB and RS-232 ports are reserved for connection to different touch screens.
IP65 rated front for water and dust protection in indoor/outdoor applications
Panel and VESA mounting for easy integration
HDMI interface accommodates most embedded boards and computer systems
500 nits high-brightness display with wide viewing angles
50,000 hour long-lifespan backlight