Advantech Releases SQ Manager Software Package for SSD and Memory Remote Monitoring and Security Management
6/20/2020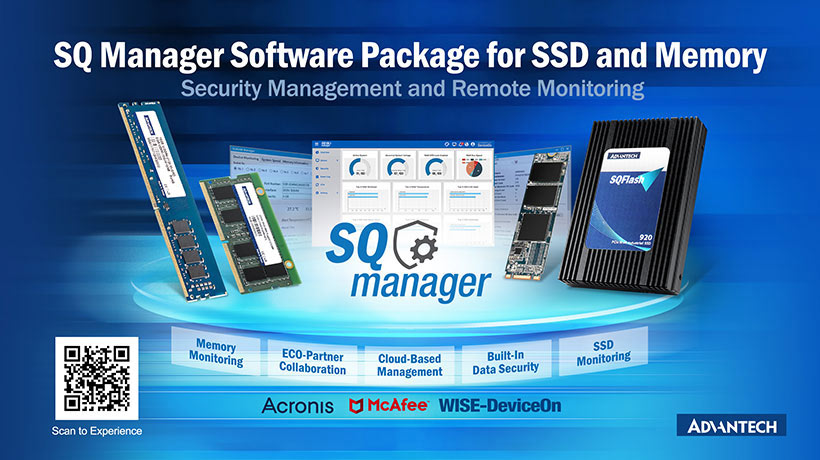 June, 2020, Taipei – Advantech (2395.TW), a global leading AIoT platform and service provider, is pleased to announce the release of a comprehensive new software solution package: "SQ Manager" for SQFlash SSD and SQRAM memory products. This package includes utilities to monitor the real-time status of SQFlash and SQRAM products both locally and remotely and to manage security features of SQFlash products. For AIoT applications, the ability to perform massive device management is crucial to enhancing maintenance efficiency as well as overall system stability. With native integration on Advantech's IoT device management solution DeviceOn, SQFlash and SQRAM's monitoring features allow system administrators to easily access device information and deliver necessary actions to selected devices remotely. Because data security has always been the core of SQFlash, the package offers an upgraded version of Advantech's signature SQFlash security utility, which is fully compliant with the latest TCG-OPAL standard and covers SQFlash SATA and NVMe product series. Advantech offers a flexible software and firmware structure for eco-partner collaboration in developing integrated security solutions dedicated to SQFlash, such as the SQFlash special edition of the McAfee anti-virus program and the advanced Acronis backup and recovery solution. By further extending eco-partner collaboration, we help our customers achieve a higher standard of data integrity and reliability.
Comprehensive Monitoring from Edge to Cloud
As an IoT platform solutions provider, Advantech not only builds hardware products but offers integrated corresponding software that delivers a total solution to our customers. SQFlash and SQRAM products are launched with dedicated management utilities that let users locally access real-time operating status such as SSD endurance and memory operating temperature. In the AIoT age, manageability through cloud platforms is essential for massive system deployment and maintenance. Based on our knowhow of SSD and memory in IoT applications, we integrated SQFlash and SQRAM monitoring features with Advantech's DeviceOn cloud-based management solution. Both real-time monitoring and the complete operating history of SSD and memory are now remotely accessible via a newly designed and easy-to-use dashboard. In addition to SSD and memory information, related system indexes such as power stability and connection reliability are included in the dashboard, providing more complete scope when it comes to reliability evaluations.
Upgraded Security Utility Meets the Latest TCG-OPAL Standard
Advantech has been investing resources to develop more security features and leveraging our system integration capabilities to help customers build more secure systems and solutions. As industrial applications become highly diversified, security requirements for different OS and SSD interfaces are rapidly growing. From 2019, the new SQFlash product series supports AES-256 internal encryption compliant with the TCG-OPAL standard. Together with our SQFlash security utility, customers can easily leverage this solid data protection mechanism into their own solutions. Advantech revamped its security management utility to support multi-OS so customers can easily manage their OPAL-compliant SQFlash products in different environments. Customers can set up an OPAL lock and manage disk authentication in BIOS by integrating our EFI-ready utility.
OPAL-Supported Product Series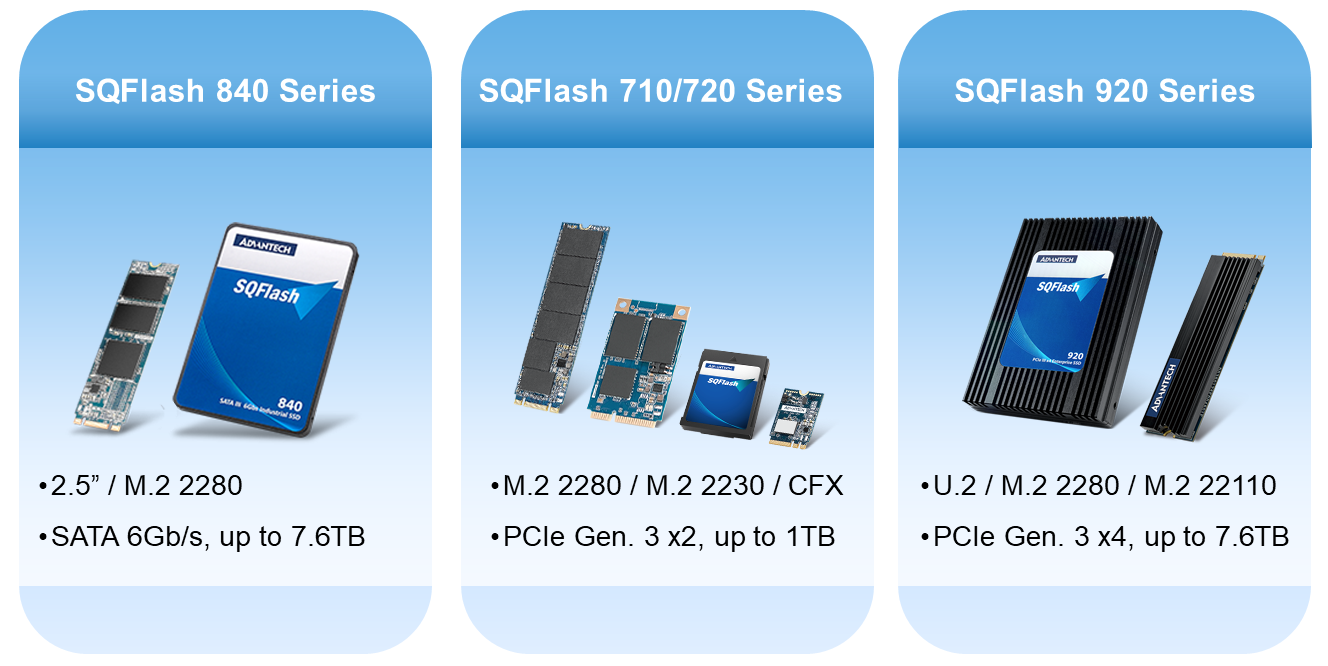 Together We Go Further: Extended Eco-Partner Collaboration
In order to fulfill various security and user scenarios, Advantech provides flexibility to facilitate eco-partner collaboration. Through years of collaboration with McAfee, we've successfully helped our customers prevent malware attacks by fully integrating an anti-virus engine into our SQFalsh utility. Since late 2019, we've collaborated with Acronis to build an advanced secure backup and recovery management utility by integrating Acronis' solution with TCG-OPAL security commands. Advantech is committed to continue developing software and security solutions for our SSD and memory products while maintaining flexibility not only for integrating third-party software, but also for supporting our partners to easily leverage Advantech offerings to build their valuable solutions. For more information, please contact your local sales office.