Advantech Releases Secured Edge-to-Cloud Analyzer Solution with Azure IoT Edge enabling OPC UA & Edge Intelligence Inception for Industry 4.0
11/20/2018
Taipei, November 23, 2018 - Advantech, one of the world's leading providers of industrial computers and IoT sensing technology, proudly announces the latest Edge SRPs to the market. Allied with Microsoft, the intelligent platform UNO with Azure IoT (ESRP-CSS-UNO2484) is a cloud-ready secured edge analyzer, featured with enabling numerous IoT intelligent modules deployment from Azure to edge, secured edge-to-cloud communication.
By collecting data from heterogeneous systems and transferring to standardized protocol OPC UA, ESRP-CSS-UNO2484 is an ideal edge computing solution for diverse applications.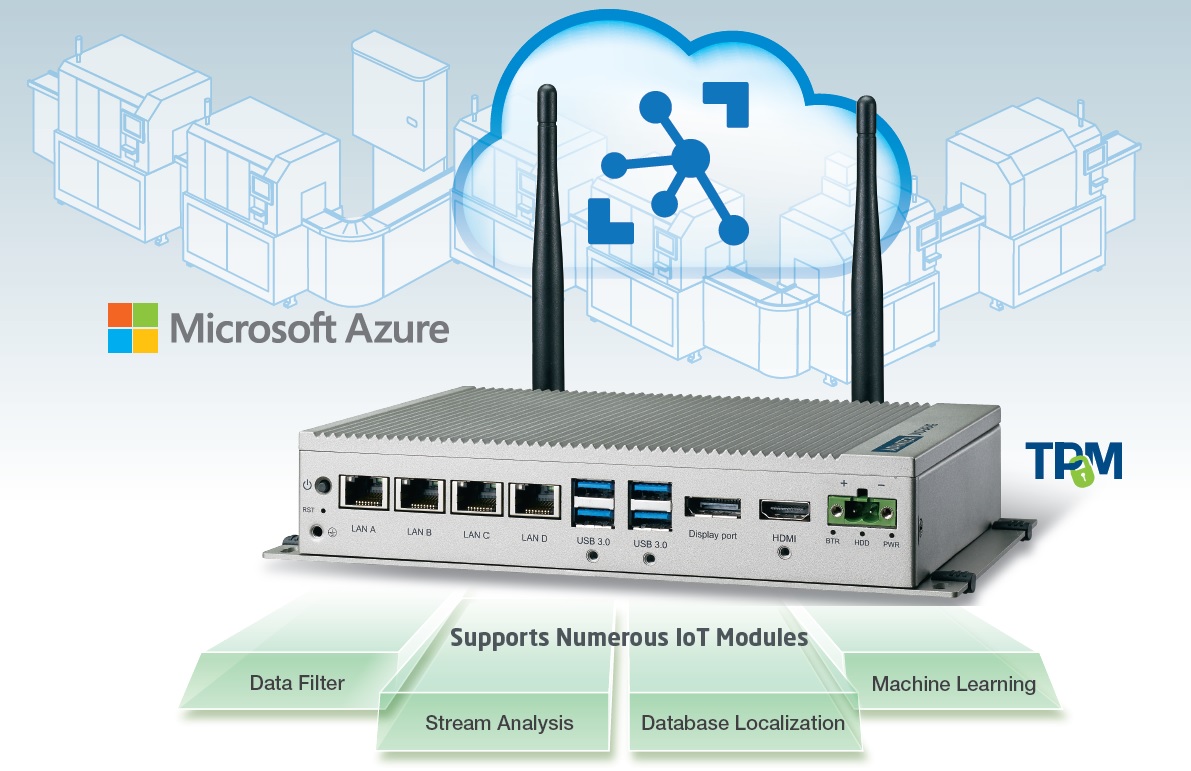 Offers Secure Cloud Communication and Edge Intelligence Analytics
The inclusion of Azure IoT Edge Security Daemon and onboard TPM 2.0 increases device security while a TLS/SSL ensures connectivity between the cloud and intelligent edge. Plus, with the deployment of Azure IoT edge, the solution extends cloud intelligence and analytics to edge devices, such as stream analytics, machine learning, image recognition, and other high-value AI modules, supporting diverse applications.
Boosts Productivity and Response Times with Data Insights
Azure IoT Edge supports offline operation, managing and synchronizing automatically the latest state of devices once they're reconnected to internet. Local data processing enables immediate decision-making and reduces cost by sending only what's needed to the cloud for further analysis.
Accelerates OT/IT integration with standardized protocol OPC UA
The WISE-PaaS/EdgeLink supports Modbus & various PLC protocols which helps data collection from heterogeneous devices in the field and transfer into standardized protocol OPC UA. Azure IoT modules can further utilize the data and enable sending data to Azure while keeping data format unchanged.
Advantech at 2018 SPS IPC Drives in Nuremberg
Advantech ESRP-CSS-UNO2484 integrated with Azure IoT Edge is available for order now, and will be demonstrated in 2018 SPS IPC Drives in Nuremberg from Nov.27th to 29th. Come visit Advantech at Hall 7 - Stand 180. For more information, please contact local sales support team or visit Advantech website at www.advantech.com