Advantech Releases CRV and IDP Touch Monitors for Immersive Gaming Applications
11/29/2021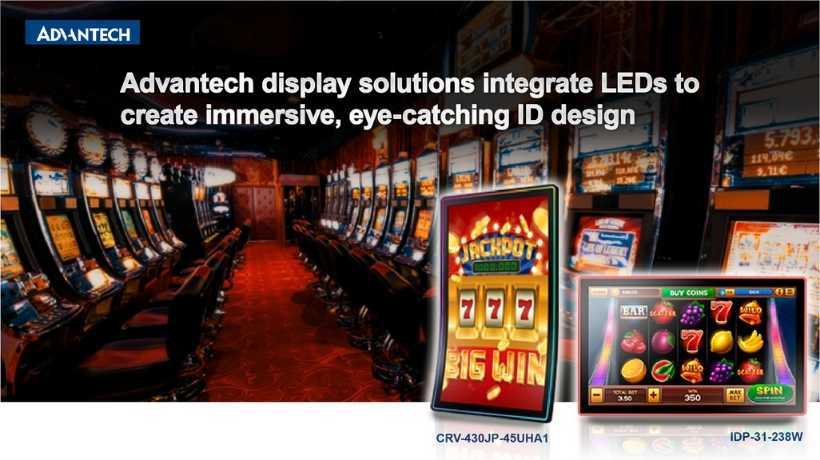 November 2021, Taipei, Taiwan — Advantech a leading global embedded solutions provider, is proud to announce the upcoming release of two display series — the CRV-430JP and IDP. These solutions will deliver immersive sensing and easy integration to applications within casino gaming cabinets. Indeed, CRV-430JP is a lightweight 43" 1500R, j-shaped curve touch monitor that provides UHD resolution within a functional system (DP/HDMI/VGA/PIP/6-axis color ctrl.). Likewise, the IDP series, comprised of IDP31-238W and IDP31-270W, features a bezel-less design in 23.8" and 27" form factors.
Immersive Gaming Experience with LED String Lights and Curved Design
These gaming displays feature LED RGB lighting along their edges that is programmable via a hex color code using an optional LED control board kit. These LED light strips are excellent at attracting end user attention.
Excellent Optical Performance Delivers Premium Viewing Experience
Both the IDP series and CRV-430JP deliver superior viewing quality and gaming experiences. In particular, the IDP31-238W and IDP31-270W series supports high-resolutions of FHD 1920x1080 at wide viewing angles. Similarly, CRV-430JP offers 3840x2160 UHD — a four-fold increase in pixels when compared to FHD resolution.
Multiple Touch Options and PIP Function for Gaming Industry
CRV-430JP, IDP31-238W, and IDP31-270W provide 10 touch points that support diverse ID design and screen thickness options that improve durability. The CRV-430JP series features Picture in Picture (PIP) functionality that enables the division of the screen into four parts — enabling the simultaneous display of several inputs.
DeviceOn/Display Remote Control Function Improves Display Management
CRV-430JP, IDP31-238W, and IDP31-270W series monitors leverage Advantech's DeviceOn/Display software solution to enable remote monitoring, status visualization, and real-time management. This software supports brightness and color adjustments, screen on/off timer functions, and group management. The backlight lifespan monitoring and warning reminders eases maintenance and optimizes display performance remotely. In sum, DeviceOn/Display's remote control features ensure safety, reduce human resource requirements, decrease maintenance time, and improve overall management and efficiency. The base unit supports the integration of customized brightness enhancements, optical bonding, and/or surface treatments (such as anti-glare/reflective/fingerprint/microbial treatments). The series leverages VGA ,HDMI and DP signal interfaces for integration within embedded boards and systems. USB ports are reserved for connection to different touch screens.
Bezel-less PCAP touch solution with panel and VESA mounting for easy integration
Integrated LED lighting strip brings immersive gaming experience

Multiple signal interfaces including HDMI, DP, and VGA
50,000 hour long-lifespan backlight for CRV-430JP series

Click here to discover more about Advantech Curved Touch Monitor.
The CRV-430JP series, IDP31-238W, and IDP31-270W with integrated LED light strip are available for order in December 2021. Please contact an Advantech local sales office or visit www.advantech.com for more information.