Advantech Released DC Power Supply Solutions
3/5/2018

DC power sources have become a popular choice nowadays, mainly for power efficiency improvements and power backup applications. 48Vdc and 110/220Vdc are the two main DC power sources commonly used by particular applications. Advantech now offers a full range of DC power supply solutions for major 48Vdc & 110/220Vdc applications.
48Vdc Power Helps to Improve Efficiency and Telecom Data Center Applications
48Vdc power helps to reduce the cost of electricity. Reducing electricity cost is always a priority for data center operators, as up to 30% of their operating cost is power usage, so increasing power efficiency is the most effective action for immediate cost saving. Therefore, even some major data center operators are in favor of adopting 48Vdc power distribution to reduce conversion steps and improving energy efficiency. 48Vdc power distribution has become another industry mainstream power source other than 12V power distribution.
Another application field that uses 48Vdc power distribution is battery backup systems (BBS) at telecom data centers. Data storage servers and networking security servers are two main applications that require uninterrupted power supplies at all times so BBS supports 48Vdc power as standard for connection to all server systems.
110/220Vdc Power Supply Solutions for Substation Applications
More and more smart grids are joining the electricity generation infrastructure to improve power supply efficiency. And with an advanced metering infrastructure (AMI), smart grids can balance power consumption between peak and off-peak times, integrate renewable energy sources, detect power failures, and better monitor and control power electricity distribution. Designed specifically for electrical substation applications, Advantech's 110/220Vdc power supply units (PSU) can support a range of 110/220Vdc input conditions to provide stable DC power supply for electricity generation infrastructure applications.
Advantech now provides multiple 48Vdc & 110/220Vdc input PSU options for a variety of applications.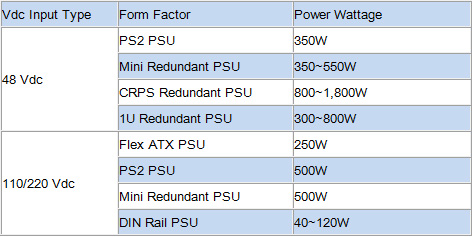 Advantech DC Power Supply Product Offerings
PSD-A60W24 / Advantech DIN Rail AC to DC 100-240V 60W 24V

96PSR-D350WMIN / Zippy DC to DC -36~-72V 350W 2U(1+1)Redundant with PFC

96PS-D500WPS2 / FSP DC to DC 110~ 220V 500W PS2 Switch Power Supply Cable Management

All products are certified and fully compatible with Advantech systems as part of a full solution to customers. For more power supply product information follow the link: http://www.advantech.com/products/power-supply/sub_299f5231-3a38-47ce-8574-998487b19814