Advantech rejoint le programme Partenaire IQ de Micron, destiné à assurer fiabilité et longévité aux marchés AIoT industriels
3/9/2020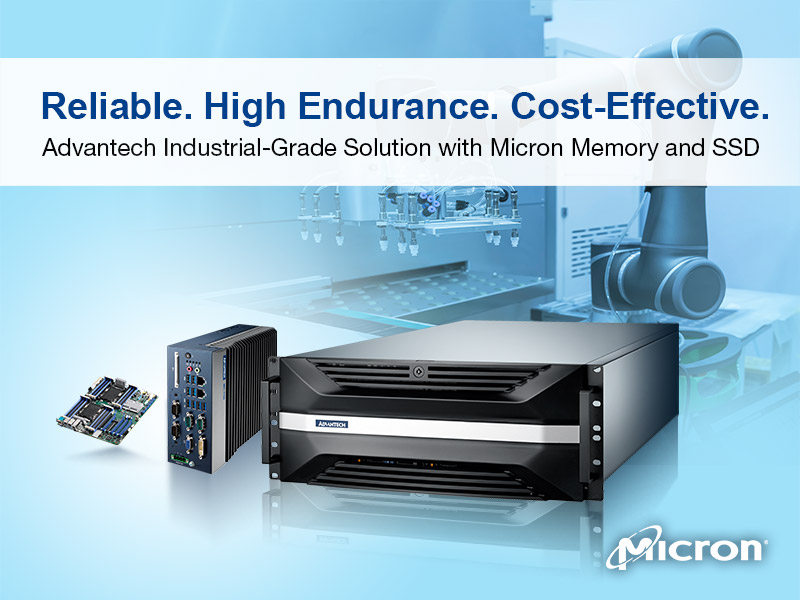 Advantech, l'un des principaux fournisseurs de systèmes intelligents pour l'IoT (Internet of Things, ou internet des objets), propose désormais un éventail complet de solutions AIoT (Artificial Intelligence of Things, ou intelligence artificielle des objets) permettant de tirer parti des possibilités croissantes offertes par les applications industrielles de l'IoT.
Advantech collabore étroitement avec plusieurs partenaires pour innover et produire des solutions susceptibles de fournir des services intéressant les clients industriels, à l'ère de l'IA et de la 5G.
En 2020, Advantech est ravi d'être devenu Partenaire IQ (Industrial Quotient) de Micron.
Depuis plus de trois décennies, Micron est l'un des leaders du développement de solutions mémoire pour le marché industriel. Cette expérience l'a conduit à développer le programme IQ Matters en 2017, qui est à la base de son nouveau programme Partenaire IQ. Micron partage le même engagement envers le marché industriel qu'Advantech : se concentrer sur des produits de haute qualité, robustes et durables. Les solutions de mémoire et de stockage, ainsi que la technologie de processeurs avancée de Micron, sont parfaites pour les secteurs de l'IoT industriel donnant la priorité à la disponibilité des équipements, comme l'automatisation et la surveillance des usines, le transport intelligent et les applications serveur. Les DIMM DDR4 et les modules DIMM, ainsi que les SSD NAND TLC 3D SATAIII et PCIe U.2 Micron sont qualifiés pour offrir des performances et une fiabilité supérieures avec les systèmes Advantech.
Les serveurs SKY, les PC industriels et les ordinateurs Edge d'Advantech sont utilisés pour de nombreuses applications critiques, notamment dans les équipements médicaux, la fabrication intelligente, les systèmes de transport, l'environnement et les solutions énergétiques. Le serveur GPU SKY-6000 d'Advantech est utilisé pour l'apprentissage IA profond et l'inférence en périphérie, tandis que le SKY-8000 est un serveur de classe opérateur pour applications de télécommunications. Les serveurs HPC et ASMB sont axés sur les systèmes d'imagerie médicale et les systèmes AOI (Automated Optical Inspection, ou inspection optique automatisée) utilisés dans la fabrication de semiconducteurs. Pour les postes de travail en périphérie, le système compact sans ventilateur MIC-770 est utilisé dans l'agro-alimentaire, la fabrication électronique, le péage électronique, la reconnaissance faciale et les véhicules autonomes. Pour ce type d'applications, la fiabilité du système et le contrôle des révisions sont très importants. Le serveur SKY et la série MIC d'Advantech sont désormais validés avec la mémoire SSD Micron pour garantir des temps de maintenance et d'indisponibilité minimum aux utilisateurs.
« Advantech est heureux de s'associer à Micron dans le cadre du programme de Partenaire IQ. Advantech et Micron ont en commun la même proposition de valeur : le Quotient Industriel, dont les priorités sont la longévité, la fiabilité et la maintenabilité. De telles caractéristiques à valeur ajoutée sont très intéressantes pour les clients qui ont besoin d'applications critiques sur les marchés industriel et embarqué, » a déclaré Linda Tsai, Présidente IoT industriel, chez Advantech.
« L'internet industriel des objets continue de transformer le monde de la fabrication à un rythme rapide. Il change la façon dont les solutions industrielles sont conçues, ce qui nécessite désormais une plus grande coordination et une meilleure collaboration dans le développement des technologies et des produits. Le programme Partenaire IQ nous permet de collaborer avec Advantech pour proposer au marché des systèmes informatiques de classe industrielle de haute qualité, à la fois robustes et durables, » déclare Kris Baxter, Vice-Président Marketing pour l'activité Embarqué chez Micron
Grâce à une collaboration étroite avec des leaders mondiaux de la technologie comme Micron, Advantech peut continuer à fournir des applications et des produits innovants dans le domaine AIoT.