Advantech Pre-carrier Certified 4G LTE Modem Empowers AIoT Solutions
10/26/2021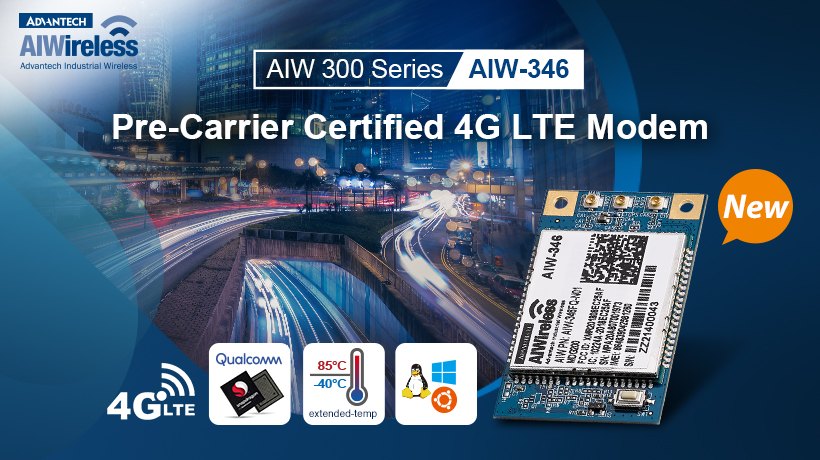 October 2021, Taipei, Taiwan — Advantech, a leading global provider of industrial wireless solutions, is proud to release the newest member of the AIW-300 series — the AIW-346. This innovative 4G LTE Cat4 modem is designed for AIoT solutions that require ubiquitous connectivity, dynamic mobility, and extreme security. Setting a milestone for Advantech's Industrial Wireless (AIW) team, AIW-346 is an excellent choice for customers seeking to target both the US market, and applications in diverse mobile/edge computing devices and mobile gateways. Consequently, Advantech's AIW-346 is multi-carrier capable, and supports operation on both AT&T and/or Verizon's networks. AIW-346 will connect to the network of the SIM card inserted into it, and features 3G fallback in areas not covered by 4G.
Easy installation supports advanced connectivity
Advantech's AIW-346 is an embedded LTE modem with USB and UART interfaces provided via a board-to-board connector. As a plug-and-play device (PnP), AIW-346 provides LTE connectivity following the insertion of a SIM card into its nano-SIM (4FF) slot. Likewise, AIW-346 leverages an intelligent connection monitoring mechanism that delivers comparatively reliable LTE connections to mission-critical applications. It features an internal web-based GUI for configuration and connection status monitoring, and a GPS functionality for the real-time collection of location data.
Pre-carrier certified, multiple form factor design streamlines integration
Verizon and AT&T have preapproved AIW-346 as an end device, enabling users to avoid the time and costs associated with pursuing their own approvals. This streamlines integration, minimizes risk, and helps users to stay ahead of their competition. In addition, AIW-346 features a Qualcomm MDM9X07 chipset, supports 4G LTE category 4, and is a two-layer board that eases end user integration. Advantech produces two versions of the adapter board — the mPCIe and M.2 B Key 3052. Each version enables users to connect to either standard miniPCIe or M.2 slots respectively.
Advantech's AIW-346 delivers maximum downlink and uplink rates of 150Mbps and 50Mbps respectively via LTE; and is optimized for networks in North America. The modem features multiple-input and multiple-output (MIMO) technology that meets demands for data rate and link reliability. Likewise, AIW-346 is backwards compatible with existing 3G networks, ensuring connectivity in remote areas with poor 4G network coverage.
Designed for industrial and smart city applications
Advantech's AIW-346 4G modem delivers high-speed capabilities to industrial monitoring, transportation, and outdoor surveillance system applications. Using a multiple adapter board design and driver free set up (Windows10 and Linux), this module is capable of accommodating diverse IoT applications in industrial routers, security monitoring systems, and digital signage
The following features delineate AIW-346 from other modems in the
AIW 300 series
Pre-carrier certified modem enables 4G LTE to simply connection
Driver-free set up instills plug-and-play capabilities that relegate software porting
Web-based GUI configuration and connectivity status monitoring eases management

Two versions of AIW-346 are available for applications in North America. Each version supports 4G LTE Cat4, enables operation in broad temperatures (-30 ~ 80 °C/-22 ~ 176 °F), and are compatible with Windows and Linux.
Key Features:
Qualcomm MDM9X07 4G LTE Category 4 chipset
Supports wide operating temperatures (-30 ~ 80 °C/-22 ~ 176 °F)
Windows 10 and Linux driver ready
Intuitive web GUI for basic settings and 3G/4G status checking
Supports GNSS positioning capabilities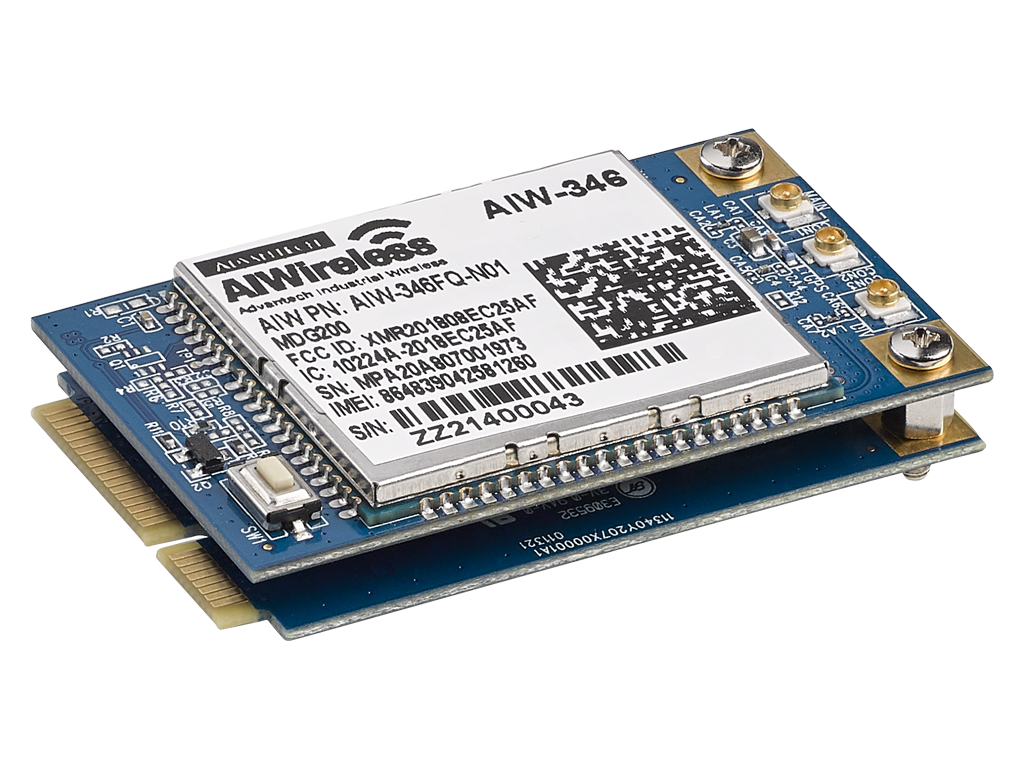 AIW-346 FQ-N01 Buy online
Form Factor: Full sized mPCIe

LTE FDD: 2,4,5,12,13,14,66,71

WCDMA: B2, 4, 5

GPS, GLONASS, BeiDou, Galileo, and QZSS (Optional)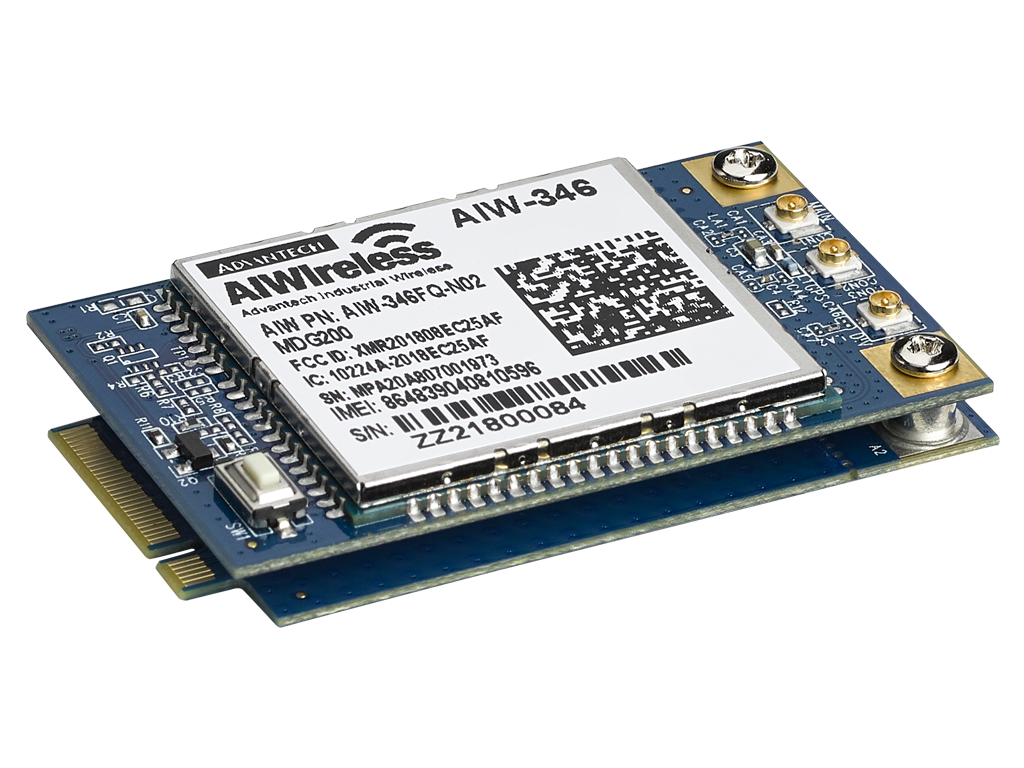 Form Factor: M.2 B Key 3052
LTE FDD: 2,4,5,12,13,14,66,71
WCDMA: B2, 4, 5

GPS, GLONASS, BeiDou, Galileo, and QZSS (Optional)

Advantech's AIW-346 4G LTE Cat4 Modem is available now. For more information regarding AIW-346 or other Advantech products and services, please contact your local sales support team or visit our website.