Advantech Launches VEGA-1100 SDVoE Transceiver for Near-Zero-Latency Video/Audio Transmissions
1/25/2022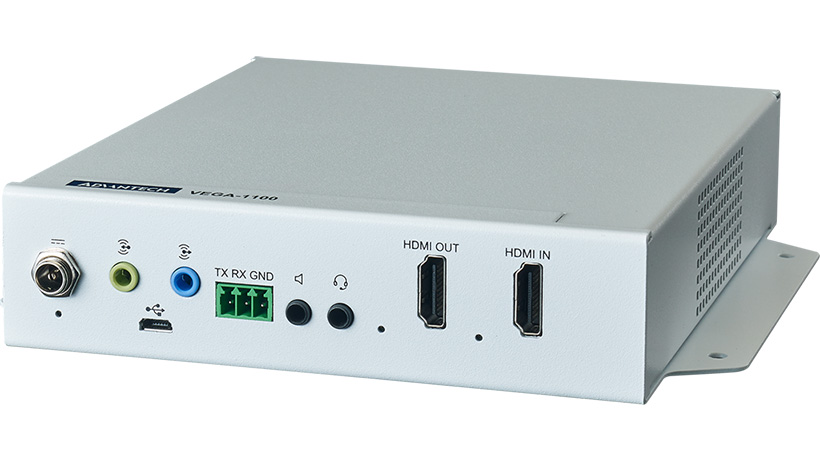 Taipei, Taiwan, January 25, 2022 – Advantech, a leading provider of industrial intelligent systems, is pleased to announce VEGA-1100 – a bi-directional HDMI-over-IP multicast transceiver system. Aimed at content broadcasting applications, such as digital signage content management in the healthcare and retail industries, VEGA-1100 is capable of transmitting ultra-HD 4K2K@60Hz (4:4:4) HDMI video over long distances (up to 100 m over copper/400 m over fiber).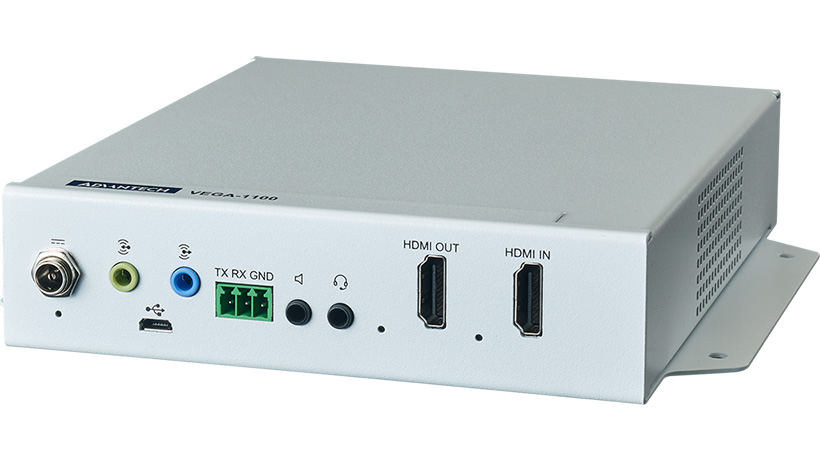 High-Quality, Low-Latency Imaging Solution
With live audio/video/image broadcasts playing an increasingly significant role in medical applications, demand for intelligent devices capable of low-latency data transmissions has grown significantly.
Advantech's VEGA-1100 bi-directional HDMI 2.0-over-IP multicast transceiver system is a next-generation transceiver that uses SDVoE-based AV networking to support transmissions over IP networks with near-zero latency. HDCP 2.2 compliant for data protection and secure transmissions, VEGA-1100 also supports bi-directional IR, RS-232, and audio extraction/extension as well as IR and RS-232 signal pass-through for long-range signal distribution. In addition to remote digital signage operations, this enables complex, next-generation audiovisual applications such as 4K video walls and multi-screen displays.
In terms of broadcast formats, VEGA-1100 supports point-to-point, point-to-many, and multicast communication to enable flexible content distribution according to diverse usage needs. Overall, with the inclusion of SDVoE functionality, VEGA-1100 provides an advanced yet versatile solution for broadcasting 4K ultra-HD multimedia content with minimal latency.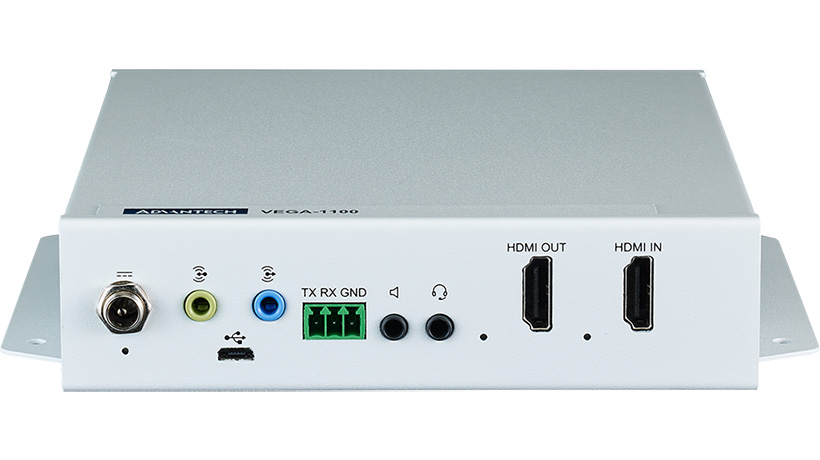 Less than 100 μs latency for 4K2K@60 (4:4:4) video transmissions

Extended ultra-HD video/audio transmission distances of up to 100 m (copper)/400 m (fiber)

Enables simultaneous bi-directional ultra-HD video transmissions


Supports local loop out for videos



Advantech's VEGA-1100 HDMI-over-IP multicast transceiver system is available to order now. For more information about this or other Advantech products or services, contact your local sales support team or visit our website at UHD Video Convertor - Advantech.
The SDVoE Alliance is a dedicated group of ProAV manufacturers, system designers, integrators, and technology managers working together to accelerate the replacement of point-to-point connectivity and the matrix switch with Ethernet-based AV distribution. Through interoperability and standardization, the SDVoE platform enables enhanced AV experiences.