Advantech Launches PPC-100 Series of RISC-Based Android Panel PCs Aimed at Industrial Digitalization
3/10/2022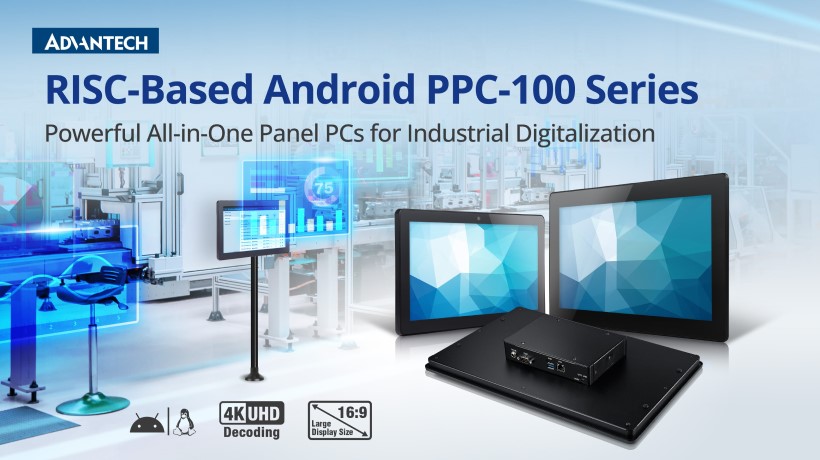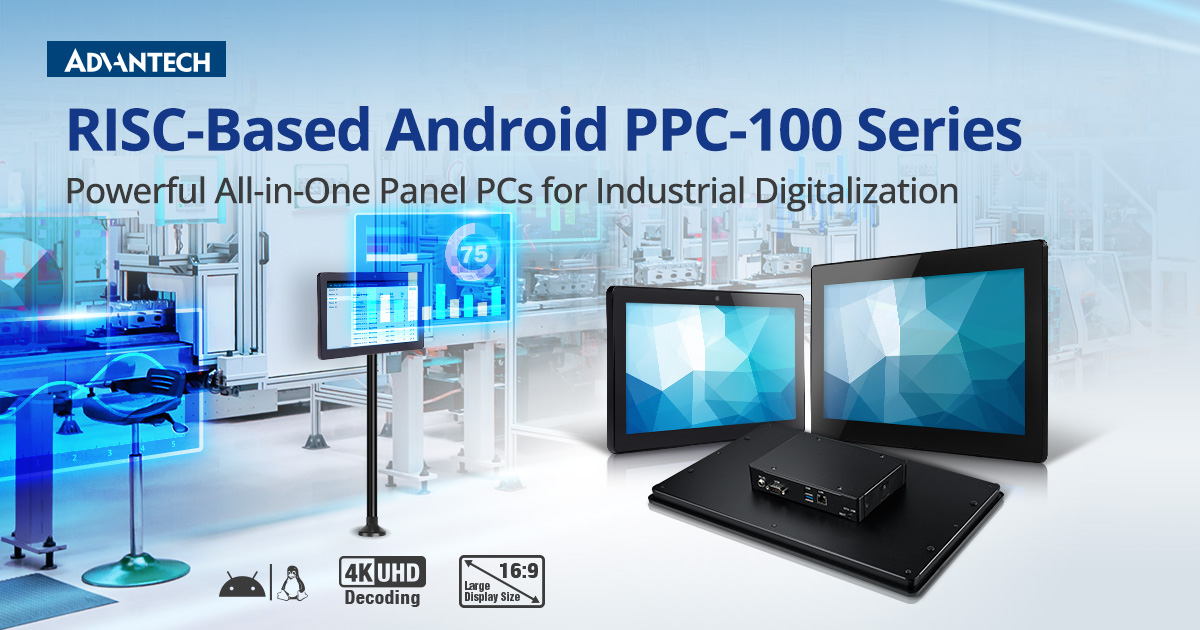 March 2022, Taipei, Taiwan – Advantech, a leading industrial computing platform provider, is pleased to announce PPC-115W and PPC-112W – the first models of its PPC-100 series of RISC-based Android panel PCs.
Advantech's PPC product family offers highly scalable and economical panel PC solutions in a range of performance classes and display sizes to satisfy diverse industrial applications. Powered by a Rockchip RK3399 SoC and Mali-T860 GPU, the PPC-100 series is designed to round out the PPC product line by providing cost-effective widescreen computing options that are ready to deploy out of the box and can be easily integrated with existing HMI/MES systems.
PPC-115W and PPC-112W feature a 15.6" (HD or FHD) and 11.6" panel display, respectively, with multi-touch P-CAP control to ensure convenient operation. The 16:9 widescreen aspect ratio offers an enhanced visual experience, making them ideal for industrial digitalization, informatization, and data visualization applications. With the pre-installed memory, storage, I/O, and system software, PPC-115W and PPC-112W enable system integrators and independent software vendors to build comprehensive systems easily and rapidly. The added provision of Advantech's WISE-IoTSuite/AppHub built into the Android 10 operating system also offers several intelligent management tools for time savings and reduced costs. Overall, PPC-115W and PPC-112W provide powerful HMI solutions for realizing the factory IT ecosystem and driving IIoT.
Larger Display Size with Multi-Touch Control
Advantech's PPC-115W and PPC-112W panel PCs provide high-performance all-in-one devices that can be quickly deployed in factory environments for diverse display applications. Equipped with a true-flat panel with 16:9 widescreen aspect ratio and full HD resolution, PPC-115W and PPC-112W offer an increased screen size (15.6"/11.6", respectively) compared to other Android panel PCs available on the market. The larger display screen facilitates high-quality imaging and data visualization for industrial digitalization and informatization operations. Additionally, the provision of multi-touch P-CAP control supports zoom, drag, swipe, and pinch touchscreen gestures, ensuring convenient and ergonomic operation for end users.
Powerful Performance and Flexible Scalability
Designed for scalable computing performance, PPC-115W and PPC-112W are built with a Rockchip RK3399 SoC that features a dual-core ARM Cortex®-A72 and quad-core Cortex®-A5 processor and ARM's big.LITTLE core architecture for optimal integer and floating point processing, as well as improved memory access speeds. Meanwhile, the inclusion of a quad-core Mali-T860 GPU supports 2K low-persistence displays and ultra-HD video decoding for improved graphical performance. With this premium computing power, big data and vision processing tasks can be efficiently managed by factory administrators. In addition to flexible I/O, including 1 x USB 3.0, 1 x micro USB OTG, 1 x RS-232, and 1 x LAN, PPC-115W/112W can also be equipped with optional expansion for integrating additional devices, such as a barcode scanner for asset tracking or ID verification functions.
Pre-Configured Solution for Easy Deployment
To enable rapid deployment and integration, PPC-115W and PPC-112W are equipped with the Android 10 operating system and all memory, storage, and driver components are pre-configured. Furthermore, the panel PCs are pre-installed with Advantech's WISE-IoTSuite/AppHub web-based solution for remote device management. WISE-IoTSuite/AppHub supports over-the-air software deployment and updates, batch operations, real-time monitoring, and remote system control functions for managing multiple Android devices simultaneously. These features not only optimize operational efficiency and management, but also facilitate a wide range of factory-related industrial and semi-industrial visualization applications.
16:9 widescreen display with P-CAP touch control

Front panel with IP65-rated protection

Powered by a Rockchip RK3399 chipset with support for 4K decoding

Supports Android and Linux operating systems

Built-in WISE-IoTSuite/AppHub remote management service for Android devices

CB/UL, CE/FCC, CCC, and BSMI certified
Founded in 1983, Advantech is a leading provider of trusted, innovative products, services, and solutions. Advantech offers comprehensive system integration, hardware, software, customer-centric design services, embedded systems, automation products, and global logistics support. We cooperate closely with our partners to provide complete solutions for a wide range of applications in diverse industries. Our mission is to enable an intelligent planet by developing automated and embedded computing products and solutions that facilitate smarter working and living. With Advantech products, the application and innovation potential becomes unlimited. (Corporate website: www.advantech.com).