Advantech Launches Latest SMARC 2.1 Design SOM-2532 for Real Time Data Security Sensitive Applications
9/23/2020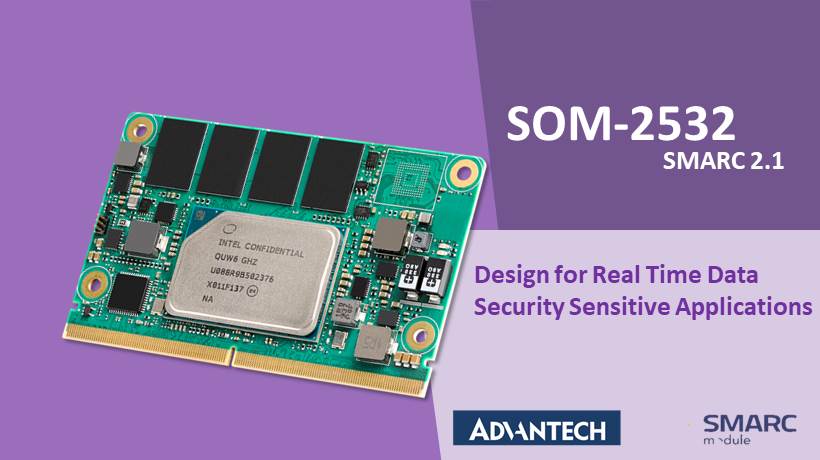 September 24, 2020, Taipei, Taiwan - Advantech, a world leader in embedded IoT, launches SMARC 2.1 SOM-2532 featuring the newest generation Intel® Elkhart Lake processor. SOM-2532 designed up to 4 cores and yield 40% better CPU performance and improved graphics processing when compared with previous models. This innovative solution supports multiple I/O and displays including—two GbE LAN supporting TSN PHY, three independent 4K displays, two USB 3.1 Gen 2 (10Gbps), and a SATA Gen3. With its improved processing power and diverse I/O, SOM-2532 is an excellent choice for an array of uses including industrial control, transportation, automation, and medical applications.
The latest SMARC 2.1 product for Great Improvement of performance
Advantech debuted SOM-2532 with SMARC 2.1 specifications in March of 2020. This solution is powered by Intel® Elkhart Lake Processor and supports onboard LPDDR4 3200Mt/s up to 16GB with IBECC. Advantech's design features onboard UFS2.0, dual GbE LAN with TSN PHY, two CAN FD and 3 independent displays up to 4K. The new generation has 40% higher CPU performance and 2 times better graphic performance than the previous generation. As to storage improvement, compared to eMMC 5.1, SOM-2532 with UFS2.1 design can achieve a 40% increase in sequential read speeds and a 20% increase in sequential write speeds. SOM-2532 is aimed at automation, medical, IOT edge and transportation.
Low Latency Transmission Technology Improves Data Synchronization
SOM-2532 features USB 3.2 Gen2(10GT/s) and PCIe Gen3(8.0GT/s), both of which are considerably faster than their predecessors. CAN-FD enables a maximum 8Mbps data transfer rate and would reach10x the speed of the payload transmission which is for use in data-intensive applications. Using an increased data payload size and CAN-FD protocol, SOM-2532 enhances security. SOM-2532 utilizes TSN PHY to improve device communication accuracy. This system improves the precision of data synchronization over the network and minimizes jitter to reduce latency during real time device communication. SOM-2532's combination of attributes make it an ideal solution for applications in automation and transportation industries.
High Level Security and Stability Protects Data
SOM-2532 is equipped with dual LAN to improve cybersecurity in industrial automation. Users can connect multiple systems or batch firmware updates using WISE-PaaS/OTA via an internal LAN to protect important data. They can also conduct external communication via another independent LAN in diverse usage conditions. LPDDR4 memory features an anti-vibration design and an onboard UFS to ensure product stability. Similarly, this device's wide operating temperature (-40 ~ 85 °C /-40 ~ 185 °F) improves system reliability. Additionally, SOM-2532 utilizes FUSA to reduce dangers caused by machine malfunction. These features make SOM-2532 a safe option for portable devices and industrial applications.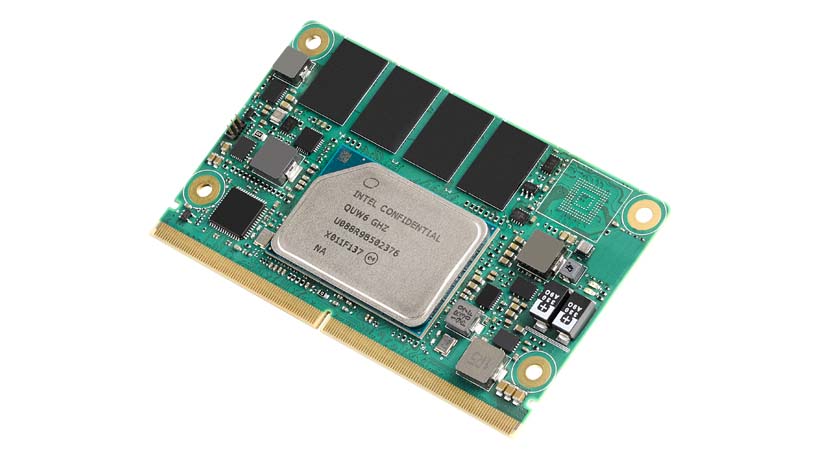 SOM-2532 Key Features
SMARC V2.1 Specification Compliant Module with Intel® Elkhart Lake processors
2 ~ 4 Core CPU with up to 16GB LPDDR4 3200MT/s and IBECC supported by specific SKUs

3x independent displays: LVDS(1920 x 1200 @ 60Hz/eDP), DP++(up to 4096×2160 @ 60 Hz), and HDMI (up to 3840x2160 @ 30 Hz,4096×2160 @ 60 Hz)
4x PCIe x1, 2x GbE LAN support TSN, 2x USB 3.2 GEN2, 4x USB 2.0, 14x GPIO

1x UFS onboard, 1x SATA III

Operating temperatures: Standard 0 ~ 60 °C (32 ~140 °F), Extended -40 ~ 85 °C (-40 ~ 185 °F)

Supports Advantech iManager and WISE-PaaS/DeviceOn

Advantech's SMARC 2.1 Design SOM-2532 is available now. For more information regarding SOM-2532 or other Advantech products and services, please contact your local sales support team or visit our website at www.advantech.com.
Founded in 1983, Advantech is a leading provider of trusted, innovative products, services, and solutions. Advantech offers comprehensive system integration, hardware, software, customer-centric design services, embedded systems, automation products, and global logistics support. We cooperate closely with our partners to provide complete solutions for a wide range of applications in diverse industries. Our mission is to enable an intelligent planet by developing automated and embedded computing products and solutions that facilitate smarter working and living. With Advantech products, the application and innovation potential becomes unlimited. (Corporate website: www.advantech.com)