Advantech Launches Embedded Platforms with 11th Gen. Intel® Core™ and Intel® Celeron® Processors
9/24/2020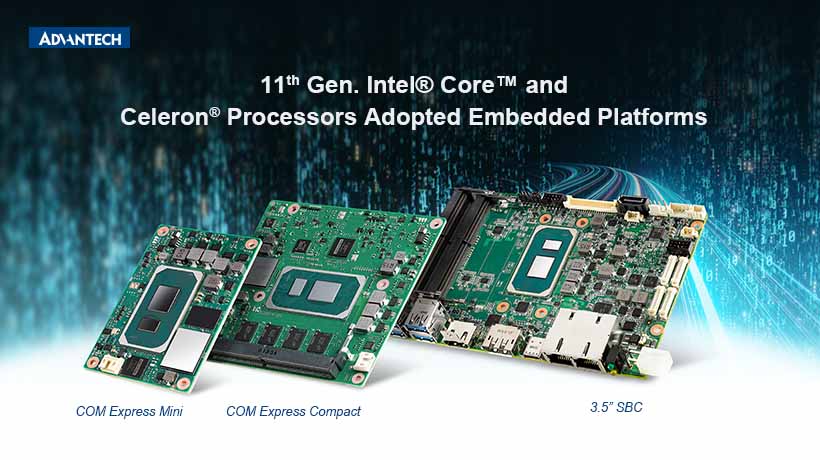 Taipei, Taiwan, October, 2020 — Advantech, a leading provider of embedded IoT solutions, is happy to unveil a range of embedded computing solutions featuring 11th Gen. Intel® Core™ and Intel® Celeron® processors. These solutions — which include SOM-7583 and SOM-6883 computers on modules, MIO-5375 and MIO-2375 embedded single board computers, and the Ei-52 edge intelligence system — feature the latest processors from Intel® and Advantech's WISE-DeviceOn, an IoT device management solution. Advantech's embedded solutions deliver high computing performance to machine vision, medical, defense, and AI applications.
Outstanding Performance for AI Inference and Machine Vision Application
The 11th Gen. Intel® Core™ and Intel® Celeron® processors deliver high-performance CPUs which are up to 25% faster than previous models. These CPUs use the 10 nm process technology to deliver low-latency to time-sensitive applications on a single platform. Using up to 96 GPUs and dual video decoder boxes, the 11th Gen. Intel® Core™ processors and Intel® Celeron® processors support up to 4x independent 4K displays or 2x 8K HDR outputs. This combination of I/O and high computing capability make Advantech's solutions excellent choices for applications in data centers, high-end medical equipment, and fighter aircraft navigation.
Empower Devices via Embedded Design-in Services and 24/7 Management
Advantech's Embedded Core Design-in Service is designed to address the technical requirements of IoT solution developers. This service is comprised of a series of hardware and software add-on services designed to help developers integrate their systems and reduce time to market. Additionally, using Advantech WISE-DeviceOn software, an intelligent networking solution for device monitoring and predictive maintenance, delivers stable operation and convenient remote management to IoT devices. The complete product line will be available in 2020 from Q4 to 2021 Q1. For more information, please visit: www.advantech.com.