Advantech Launches DeviceOn/iService Remote Device Management Software for IoT Applications
1/29/2021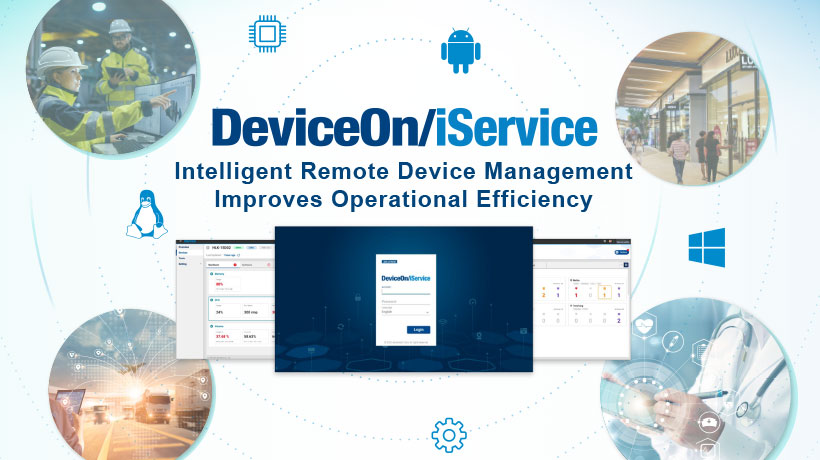 January 26, 2021, Taipei, Taiwan - Advantech (stock code: 2395), a leading provider of intelligent systems, is pleased to announce its DeviceOn/iService unified device management software based on the WISE-DeviceOn platform. Designed to meet market demands for solutions aimed at geographically dispersed devices, DeviceOn/iService enables remote access and management of Advantech devices across multiple operating systems (OS), peripherals, and software from a centralized platform. The provision of over-the-air (OTA) updates and batch control functions allows enterprises to maximize the efficiency of IoT operations and device management.
Versatile Management Solution Ensures Flexible Integration
DeviceOn/iService connects a wide variety of Advantech devices, from hardware and peripherals to software. Compatible with multiple OS, including Windows, Android, and Linux, DeviceOn/iService allows diverse field devices, peripherals, and software to be managed concurrently, while increasing their visibility for real-time monitoring. Moreover, the DeviceOn/iService SDK supports the integration of additional devices and peripherals as well as restful APIs for incorporating third-party services.
Real-Time Remote Access Reduces Downtime
Minimizing system downtime is a key concern for enterprises. DeviceOn/iService enables real-time monitoring of hardware, software, and peripherals deployed in geographically dispersed locations around the world by providing real-time alert notifications. This allows staff to identify and resolve issues promptly and to conduct preemptive maintenance in order to minimize critical failures and unnecessary downtime. Additionally, DeviceOn/iService enables on-site troubleshooting by allowing remote device access and supporting remote desktop sessions and screenshots.
Plug-and-Play Edge Device Delivers Operational Efficiency
The client-server architecture and plug-and-play functionality of DeviceOn/iService ensure simple and rapid deployment on on-site servers, clouds, and client devices. DeviceOn/iService uses customizable labels equipped with meaningful device information, such as hardware type, OS, and location, to facilitate rapid device filtering for OTA updates, remote access, and batch control operations. The batch control function allows hardware configuration or OTA updates to be performed on multiple devices simultaneously, minimizing execution time and maximizing the efficiency of IoT management.
Supports Advantech devices equipped with Windows, Android, and Linux OS

Flexible device, location, user, and permissions management

Enables remote monitoring and control of hardware, software, and peripherals

Supports over-the-air (OTA) firmware and software updates

Ensures quick, easy, and secure device onboarding

RESTful APIs for third-party system integration
Advantech's corporate vision is to enable an intelligent planet. The company is a global leader in the fields of intelligent IoT systems and embedded platforms. To embrace the trends of IoT, big data, and AI, Advantech develops IoT hardware and software solutions based on its edge intelligence WISE-PaaS core to assist partners and clients with connecting industrial chains. Advantech is also collaborating with various partners to co-create business ecosystems that accelerate the realization of industrial intelligence. (www.advantech.com)
SIoT Marketing
Dev Lee
Tel: +886-2-2792-7818, Ext. 9756
Mobile: +886-925-917-316 Dev.lee@advantech.com.tw