Advantech Foresees Potential in Russian Market and Officially Establishes Russian Branch
9/6/2018
Advantech (2395), a leading provider of intelligent systems, will be holding an Industry 4.0 forum in Moscow at the inaugural ceremony of its new branch office on September 6. Advantech recently announced the establishment of business in Moscow that will strengthen local services for Russian customers and partners, while also cultivating the local market. Chung-Yung Keng and Yu-Lin Chang, Representative and Director of the Economic Division of the Representative Office in Moscow for the Taipei-Moscow Economic and Cultural Coordination Commission, respectively, Shih-Chang Chang, Director of the Moscow Representative Office and the Taipei World Trade Center, as well as more than 100 Advantech customers and partners in Russia, all attended the event.
Advantech Board Director Chaney Ho highlighted how Russia has rich reserves of natural resources and occupies a strategic location in the Eurasian continent. Additionally, the expansion of multilateral trade relations and economic integration with neighboring countries in recent years, including its accession to the World Trade Organization (WTO) in 2012 and the formulation of the Eurasian Union (EAU) with Belarus and Kazakhstan in 2015, has strengthened the freedom of movement of products, services, capital, and labor. Advantech recognized the potential in this wave of expansion and established a branch company in Moscow to provide local customers and partners with more comprehensive and rapid customer service and support.
According to Advantech's Russia General Manager, Vincent Chang, Advantech established offices in Moscow and Saint Petersburg in 2006 and 2014, respectively. Advantech's branch office in Moscow is aimed at strengthening local services for Russian customers and partners and cultivating the local market. The branch will actively pursue the following development strategies:
Cultivate local vertical industries: Focus on key industries, including intelligent manufacturing, power & energy, intelligent transportation, networks and security, intelligent logistics, and intelligent services.
Move toward a "solution-ready package (SRP) selling model": With the development of the Internet of Things, Advantech's local distribution model is shifting from product-oriented solutions to SRPs.
Seek partners for collaboration to co-create industrial solutions: To facilitate the gradual advancement of the SRP selling model, Advantech welcomes the establishment of co-creation relationships. Advantech will actively seek partners to provide solutions for local industries, and has already engaged in intensified cooperation with several local partners.
Vincent Chang also pointed out that the establishment of a branch office is only the first step. Advantech will soon establish a local logistics center, training center, and return merchandise authorization center to increase the efficiency of services provided to the local market and customers. The company expects a three-fold expansion of manpower within three years.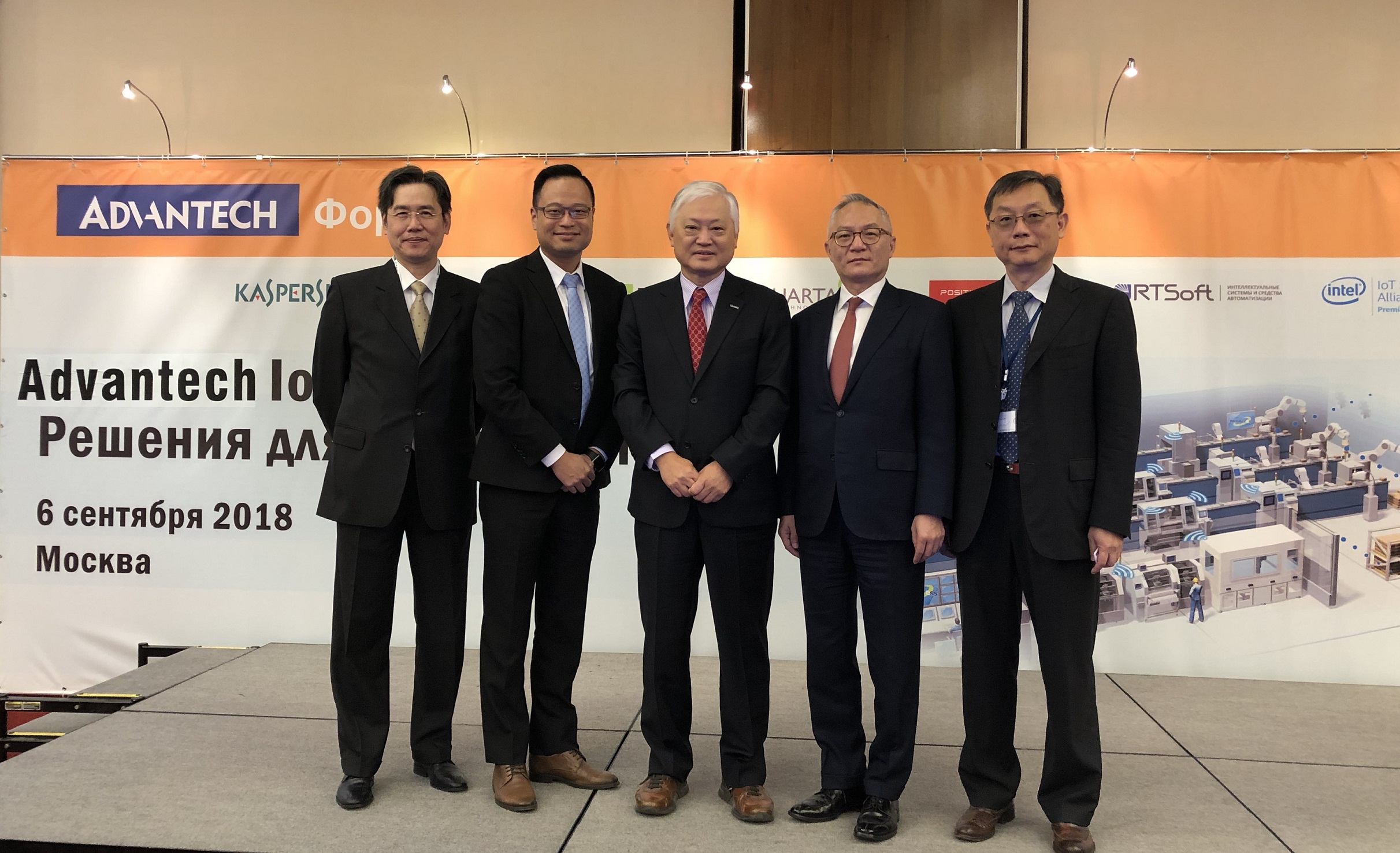 Advantech announced the establishment of Russian Branch that will strengthen local services for Russian customers and partners, while also cultivating the local market. (left to right: Shih-Chang Chang, Director of the Moscow Representative Office and the Taipei World Trade Center, Vincent Chang, General Manager of Advantech Russia, Chaney Ho, Advantech Board Director, Chung-Yung Keng and Yu-Lin Chang, Representative and Director of the Economic Division of the Representative Office in Moscow for the Taipei-Moscow Economic and Cultural Coordination Commission)