Advantech entra nell'Industrial Quotient (IQ) Partner Program di Micron per garantire l'affidabilità e la longevità dei settori industriali AIoT
3/9/2020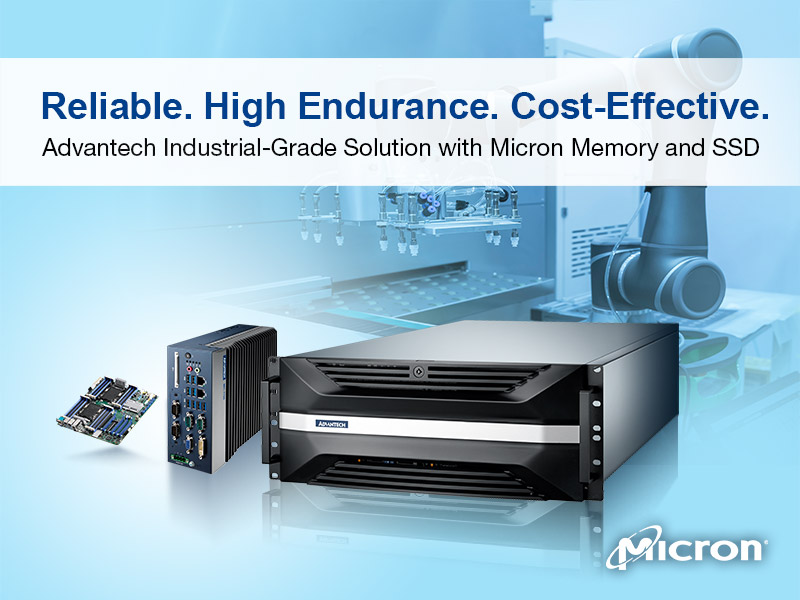 Taipei, Taiwan, marzo 2020 — Advantech, leader nella fornitura di computer industriali, fornisce una gamma completa di soluzioni AIoT (Artificial Intelligence of Things) per cogliere le opportunità crescenti nelle applicazioni IoT industriali.
Advantech vanta strette collaborazioni con numerosi partner per fare innovazione di prodotto e per sviluppare soluzioni collaborative, fornendo servizi concreti a clienti industriali nell'era dell'intelligenza artificiale e del 5G.
Nel 2020 Advantech diventa uno dei partner del programma Industrial Quotient (IQ) di Micron.
Da oltre trent'anni Micron è leader nello sviluppo di soluzioni di memoria per il mercato industriale. Grazie a questa esperienza, nel 2017 l'azienda ha sviluppato il programma IQ Matters che costituisce la base del nuovo IQ Partner Program. Micron condivide lo stesso impegno di Advantech verso il mercato industriale: realizzare prodotti di alta qualità, robusti e durevoli. Le soluzioni di memoria e storage di Micron, combinate a una tecnologia di processori avanzata, sono ideali per le applicazioni IoT industriali dove è prioritario ridurre al minimo i tempi morti, ad esempio automazione di fabbrica, sorveglianza, trasporti intelligenti e server. Le DIMM DDR4 senza buffer e registrate, le SATAIII e gli SSD U.2 PCIe 3D NAND TLC di Micron sono certificati per l'utilizzo con i sistemi di Advantech per offrire livelli superiori di prestazioni e affidabilità.
Il server SKY, i PC industriali e i computer Edge di Advantech sono largamente diffusi in applicazioni mission-critical, fra cui apparecchiature medicali, manifattura intelligente, sistemi di controllo dei trasporti, soluzioni per l'ambiente e l'energia. Il server SKY-6000 GPU di Advantech viene utilizzato per piattaforme di inferenza deep learning ed edge, mentre SKY-8000 è un server carrier-grade per applicazioni telecom. I server HPC e ASMB sono destinati a sistemi di imaging medicale, mentre i sistemi AOI sono particolarmente indicati per la produzione nel settore delicato dei semiconduttori. Fra le workstation edge, il sistema compatto senza ventola MIC-770 viene impiegato nel settore food and beverage e nella produzione elettronica, nel telepedaggio, nel riconoscimento facciale e nei veicoli autonomi. In queste applicazioni sono estremamente importanti l'affidabilità del sistema e il controllo delle revisioni. Il server SKY e la serie MI di Advantech sono ora validati con la memoria SSD di Micron per abbattere le esigenze di manutenzione e i tempi morti per i clienti.
"Advantech è entusiasta di collaborare con Micron nell'ambito del programma IQ. Advantech e Micron condividono la stessa proposta di Industrial Quotient dove le priorità principali sono longevità, affidabilità, qualità e facilità di manutenzione. Questi valori aggiunti portano grandi benefici ai clienti che devono realizzare applicazioni mission-critical nei mercati industriale ed embedded," sottolinea Linda Tsai, presidente della divisione Industrial IoT di Advantech.
"L'Industrial Internet of Things sta trasformando il mondo manifatturiero a grande velocità, sta cambiando il modo in cui le soluzioni industriali vengono progettate, con una maggiore richiesta di coordinamento e collaborazione nello sviluppo di tecnologie e prodotti. Grazie all'IQ Partner Program possiamo lavorare insieme a un'azienda come Advantech per fornire computer industriali di alta qualità, robusti e durevoli," afferma Kris Baxter, Vice President of Embedded Business Marketing di Micron.
Grazie alla stretta collaborazione con leader tecnologici mondiali come Micron, Advantech può continuare a fornire soluzioni di prodotto e applicazioni innovative in ambito AIoT.