Advantech en VanRoey.be slaan de IoT-handen in elkaar
2/16/2020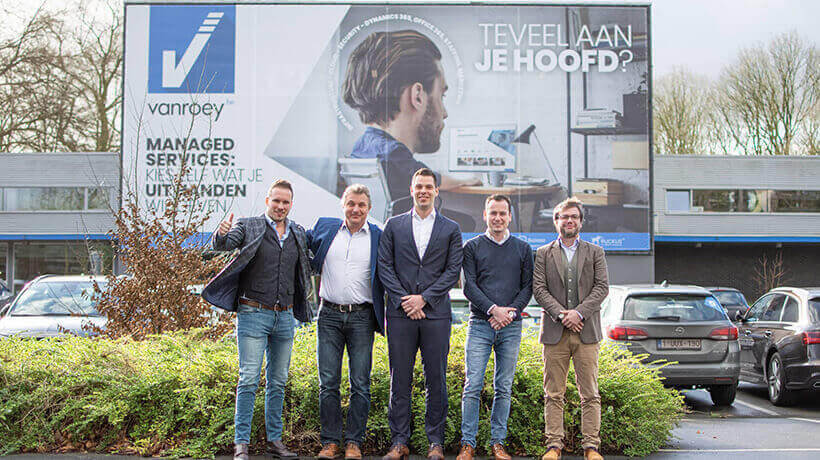 Als digitale dienstverlener startte VanRoey.be in 2017 met een actief programma om diverse IoT oplossingen in haar aanbod te integreren. Door de nauwe samenwerking met Microsoft en de grote expertise in de Microsoft productiviteitsoplossingen bouwde VanRoey.be heel snel een diepgaande kennis op als software ontwikkelaar voor Microsoft Azure IoT Central. Dit is, zoals de naam het zegt, het centrale platform waarop edge devices en gateways connecteren en waarop applicaties draaien die inkomende data vanuit deze devices monitoren, beheren en inzichtelijk maken.





Met een klein leger aan software specialisten in huis zocht VanRoey.be een competente partner die de hardware kant van IoT als geen ander kent. Dat is een absolute noodzaak want IoT projecten kan je niet op je eentje voeren. IoT draait in essentie om sterke partnerships.


Een sterke IoT hardware partner
Nicolas Mertens, Sales Specialist IoT: "Deze sterke partner vinden we nu met Advantech. Al van bij onze eerste ontmoetingen overtuigden de mensen van Advantech ons met hun kennis ter zake, wat belangrijk is om onze klanten kwalitatief hoogstaande oplossingen aan te bieden. Advantech heeft een uitgebreid productgamma en wordt wereldwijd erkend als voorloper op gebied van IoT apparatuur. Het feit dat Advantech een gecertificeerd partner van Microsoft is voor Azure IoT, getuigt van deze erkenning."


VanRoey.be gebruikt nu vooral de Advantech Edge gateways in haar Microsoft Azure IoT Central oplossingen. Door meer data op "the edge" (raakvlak fysieke en virtuele wereld) te verwerken, worden de communicatielijnen minder belast en kan het IoT netwerk beter functioneren. De Advantech Edge gateways zijn intelligent en filteren de data al meteen bij de bron. Op deze manier kan snelheidswinst en data optimalisatie gegarandeerd worden. Advantech levert generieke hardware, maar evengoed custom-made volgens de wensen van de klant.


Local Touch
"Naast de technische kennis is het uiteraard ook belangrijk dat we op een efficiënte manier met onze partners kunnen samenwerken. Ook op dit aspect scoort Advantech zeer goed. Het is een globaal bedrijf met een echte local touch. Advantech assembleert haar producten onder andere op het Science Park in Eindhoven, op slechts een steenworp van VanRoey.be. Belangrijker is dat die local touch zich ook vertaalt in een vlotte relatie en een laagdrempelig contact. Het is geen probleem om rechtstreeks met de Sales en met Product Owners in contact te komen. Dat is erg waardevol wanneer er in korte iteraties aan projecten samengewerkt moet worden. Van een taalprobleem is er al helemaal geen sprake."


Met dit partnership wordt VanRoey.be meteen Preferred Supplier van IoT projecten in België voor Advantech. Zo waardevol als Advantech voor VanRoey.be is met haar hardware expertise, zo waardevol is VanRoey.be voor Advantech met haar software kennis. Een prima match dus en een win-win voor beide bedrijven.


Groepsfoto van links naar rechts: Max Beeks (Channel Manager Benelux Advantech), Pat Van Roey (General Manager VanRoey.be), Michael Wernaert (Sales Manager Benelux Advantech), Nicolas Mertens (IoT Cloud Solution Architect) en Alexandre Caghassi (Head of Europe Channel Management Advantech).


About Embedded-IoT Group As a leader in the embedded market, Advantech Embedded-IoT Group not only delivers a wide range of embedded design-in services but also develops a series of integrated IoT solutions and services to assist customers approaching IoT market with minimizing uncertainty and risk. Advantech Integrated IoT Solutions are including sensor nodes, gateway to WISE-PaaS IoT software platform. Embedded-IoT.advantech.com


About Advantech Advantech has the corporate mission to "Enable an Intelligent Planet". The company is a global leader in the fields of IoT intelligent systems and embedded platforms. To embrace the trends of IoT, big data, and artificial intelligence, Advantech promotes IoT hardware and software solutions with the Edge Intelligence WISE-PaaS core to assist business partners and clients in connecting their industrial chains. Advantech is also working with business partners to co-create business ecosystems that accelerate the goal of industrial intelligence. (Corporate Website: www.advantech.eu).