Advantech and Techman Robot to Present AI Robotics Applications at GTC 2022
3/8/2022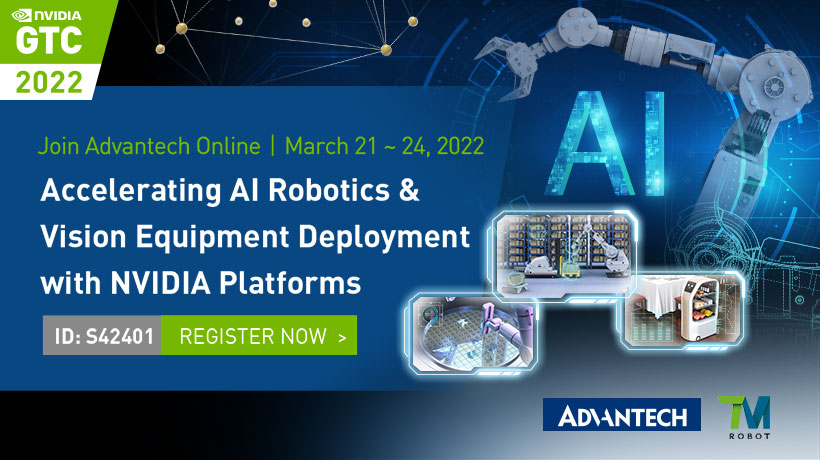 March 14, 2022, Taipei, Taiwan - Advantech, a leading industrial edge AI solution provider and integrator of NVIDIA solutions, is proud to announce its intention to present at NVIDIA GTC 2022. As an NVIDIA Elite Partner, Advantech works with its ecosystem partners to develop versatile industrial AI systems and realize AI deployment at the edge. Accordingly, Advantech will discuss several success stories at GTC 2022. These will demonstrate how Advantech and its partner Techman Robot accelerate AI robotics and vision equipment deployment.
In the session Accelerating AI Robotics & Vision Equipment Deployment with NVIDIA Platforms, Advantech and Techman Robot will share the insights and opportunities related to the transition from traditional robotics programming to AI enabled robotics. Advantech will also discuss building blocks for AI robotics applications using NVIDIA AI platforms and corresponding real-world examples.
Techman Robot is the world's second largest collaborative robot brand. They are dedicated to developing AI in smart manufacturing and closing the gap between automation and industry. Techman will share their robotics industry experiences and discuss their collaboration with Advantech on AI robots designed for quality control. Likewise, Advantech will discuss hardware and software offerings for AI robotics and vision equipment. This session will also survey examples in which Advantech helped customers accelerate solution deployment.
Advantech will also unveil a series of compact edge AI systems and AI servers powered by NVIDIA® Jetson™ family, Tesla, and Quadro GPUs at GTC 2022. These solutions support NVIDIA Issac SDK, Advantech's ROS design-in services, and WISE-DeviceOn remote management software for diverse retail, factory and smart city applications. Our session starts on March 21, 2022. To attend, register for free now at NVIDIA GTC.
Robotics applications have seen massive demand in many sectors. Likewise, AI has made advances in many industries due to its potential to make traditional robotics programming more precise and efficient. Accordingly, we will explore the applications that can leverage AI robotics and vision equipment and the challenges associated their deployment in this session. Advantech's AI solutions use NVIDIA AI platforms that empower the user to design applications effectively.
AI Robotics and Vision: Challenges and opportunities
Important applications driving demand for autonomous AI robots
Real world applications in manufacturing and collaborative robots
Building blocks for AI robotics applications using NVIDIA AI platforms

David Huang, Lead of Vision Business Department, Techman Robot

Brian Wilson, AVP of Sales, Advantech USA

Christine Liu, Product Manager, Advantech

Jason Yang, Sales Manager, Advantech Middle East & Africa