Advantech's USM-210 Multimedia Digital Signage Player Delivers Superior Graphics
11/7/2019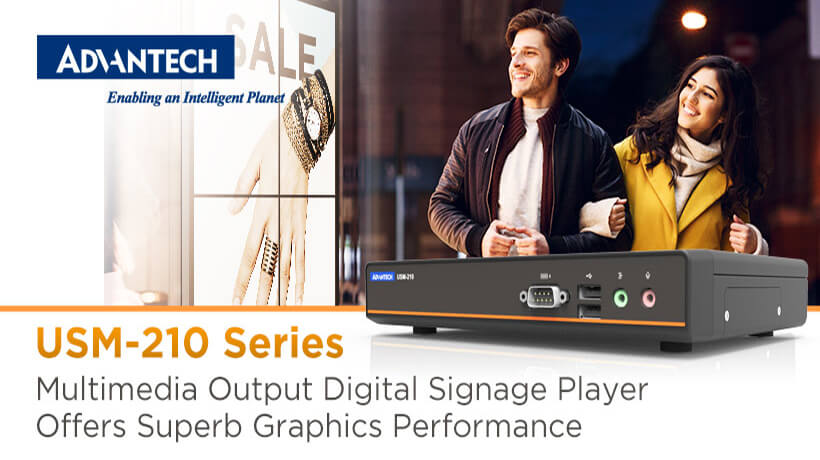 Taipei, Taiwan, December 2019 – Advantech, a leading provider of certified computing systems and services, is pleased to introduce USM-210 – a multimedia digital signage player. Featuring an Intel® Celeron® J3455 processor, up to 8 GB of memory, and M.2 2280 SSD or 2.5" 7mm HDD/SSD storage, this fanless box PC delivers superior graphics with full HD video for markets that require multi-screen high-performance graphics in a cost-effective platform. In addition to supporting full HD video, USM-210 offers 4 HDMI interfaces that support quad FHD output at 1080p resolution, one 4K signal display outputs, or a 2x2 video wall with one 4K video. Additionally, to deliver the reliability required for various retail and hospitality applications, USM-210 also features lockable HDMI ports that prevent signal interruptions due to loose or faulty connections. Moreover, USM-210 can be integrated with Advantech's WISE-PaaS/SignageCMS digital signage software, which supports remote management for convenient real-time control, making it the ideal multi-functional digital signage player for a wide range of digital signage applications.
Fanless High-Performance Intel® Celeron® Processor
Advantech's USM-210 digital signage player is powered by an Intel® Celeron® J3455 processor that supports Windows 10 operating system. The processor's fanless power-efficient design ensures quiet operation and prevents the accumulation of dust and foreign contaminants while also reducing overall energy costs. This cost-effective signage platform is also designed for enhanced heat dissipation, which extends the product's overall service life.
Diverse I/O for Integrating a Wide Range of Peripherals
The system I/O, which includes 4 x HDMI, 2 x USB 2.0, 2 x USB 3.0, and 2 x COM, allows the USM-210 digital signage player to be integrated with up to four displays and additional optional peripherals, such as an RFID reader or barcode scanner, to support a wide range of signage applications. The diverse I/O also ensures easy installation and convenient expansion according to specific usage scenarios and deployment requirements.
Compatible with WISE-PaaS/Signage
CMS Digital Signage Software USM-210 is also compatible with Advantech's WISE-PaaS/SignageCMS web-based digital signage software. WISE-PaaS/SignageCMS provides a centralized management platform that allows users to layout, schedule, and dispatch signage content over the Internet, enabling the remote delivery of high-resolution multimedia. Furthermore, the WISE-PaaS/SignageCMS software platform serves as a WISE Agent framework for data acquisition and supports web services for online access and control.
With its excellent graphics performance, easy installation, and integrated management software, Advantech's USM-210 provides a cost-effective and user friendly solution for displaying and managing digital signage content.
Fanless Intel® Celeron® J3455 processor
High-performance graphics and FHD video output
User friendly design for convenient operation and easy maintenance
Compatible WISE-PaaS/SignageCMS digital signage software
Supports Windows 10 OS
Supports optional Wi-Fi/4G M.2 module for real-time data transmissions

Advantech's USM-210 multimedia digital signage player is available for order now. To obtain more information regarding USM-210 or other Advantech products and services, contact your local sales support team or visit the Advantech website at www.advantech.com
Founded in 1983, Advantech is a leading provider of trusted, innovative products, services, and solutions. Advantech offers comprehensive system integration, hardware, software, customer-centric design services, embedded systems, automation products, and global logistics support. We cooperate closely with our partners to provide complete solutions for a wide range of applications in diverse industries. Our mission is to enable an intelligent planet by developing automated and embedded computing products and solutions that facilitate smarter working and living. With Advantech products, the application and innovation potential becomes unlimited. (Corporate website: www.advantech.com).