DS-081 Delivers Immersive Digital Experiences in Quick Service Restaurants and Retail Applications
12/18/2017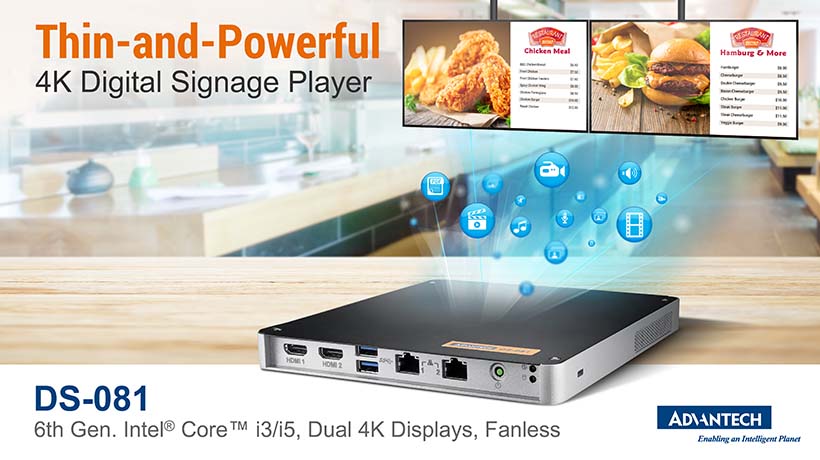 Dec, 2017, Taipei –Advantech (2395.TW), a global embedded computing leader providing embedded platforms across vertical markets, is excited to announce the launch of DS-081, a new innovative slim 4K digital signage player. This powerful 4K signage system delivers an immersive visual experience and demands attention with its high impact output powered by 6th Gen. Intel® CoreTM i3/i5 processors and integrated Intel® HD Graphics. DS-081 boasts an ultra slim profile of just 19mm, and its fanless and cable free design allows easy and quick installation behind signage displays using a VESA mounting kit. The thin-and-powerful signage media player can drive simultaneous dual UHD(4K)/FHD(1080P) displays via HDMI, delivering seamless and smooth content flows across digital menu boards, self-ordering systems, retail applications, queuing systems, multi-media kiosks and much more.
Thin and Powerful Design Delivers an Immersive Experience
Measuring only 19 mm in profile in a small 18 x 19 cm footprint, DS-081 is the world's slimmest digital signage player powered by the latest Intel® Core™ i3/i5 processors supporting dual display output in UHD/FHD resolutions. Other commercial grade processors are also available as an option. This thin-and-powerful signage player is sleek enough to fit in just about anywhere with the performance features necessary to deliver compelling dynamic graphics and video advertising in 4K resolution. DS-081 is designed to be fanless and cableless, which ensures solid system reliability and easy maintenance. For secure installation mounting, DS-081 offers a bracket that supports wall mount, VESA, and DIN rail mounts. In terms of cost/performance ratio, functionality, and connectivity, DS-081 provides an economical, super-compact yet powerful computing platform that empowers all kinds of digital signage projects.
Simplified Digital Signage Network Management
Advantech DS-081 comes integrated with both WISE-PaaS/SignageCMS multimedia content management software, and WISE-PaaS/RMM remote device management software for easy signage network management. Using WISE-PaaS/SignageCMS, users can easily edit content layout, schedule, and dispatch content. In addition, an up-to-date scheduling function allows real-time information and advertising campaign management. DS-081 also incorporates the cloud-based device management software WISE-PaaS/RMM, which can manage signage devices in real-time, make maintenance easier, and reduce the need for costly on-site support. Moreover, WISE-PaaS/RMM provides a McAfee whitelist security function to ensure on-screen content is secured and Acronis tools to recover essential data and make backups. As a result, DS-081 helps simplify digital signage network management, while reducing your total cost of ownership and time-to-market.