Advantech Launches Short-depth Front-I/O Chassis
1/12/2017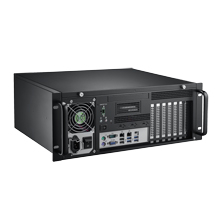 Taipei, Taiwan Jan 12, 2017– Advantech (2395 TW), the leading IPC vendor, is launching its 4U, front I/O, short-depth (350mm), industrial chassis IPC-631, designed for machine automation and machine vision applications.

Responding to market requests for a rack-mountable, front I/O, high scalability, power computing solution, the Advantech IPC-631 with its 4U 350mm short-depth chassis is ideal. With its front I/O design and support for a 500W single or redundant power supply and server grade motherboard with up to 120W TDP Xeon® processor, it facilitates system integration and high computing power for high end machine vision applications. TheIPC-631 supports features for machine automation, such as dual shock resistance, hot swappable 2.5" drive bays for RAID 0/1, and 7 expansion slots on the supported ATX motherboard allow users to install GPU, DSP, vision, or motion cards.

IPC-631's short depth makes it easily integrated into equipment; its front I/O design allows user access to the motherboard coast line, add-on card connectors, disk drawers, LEDs and buttons, AC inlet, and redundant power modules from the same side, providing for easy cable routing and maintenance. It supports Advantech's AIMB-7XX series desktop, ASMB-7XX workstation and ASMB-8XX server grade single processor motherboards, up to Xeon® E5 26XX processor, and multiple PCIe x16/x8 expansion slots offer more than enough CPU/GPU/DSP computing power for high end machine vision applications.

Furthermore, IPC-631 supports dual, hot swappable drive bays for RAID 0/1 and redundant power modules to offer maximum redundancy, forestalling disruptions due to disk or power supply failures. IPC-631is equipped with two 12 cm PWM fans offering sufficient air flow to cool high TDP (thermal design power) CPUs and add-on cards; the fan speed is controlled by the motherboard, so when thermal demands are not critical the fans can run at low speed to reduce the noise level, making for more comfortable machine operation. The fan filter has a magnetic cover plate for easy maintenance.

The IPC-631 is a powerful industrial chassis solution, ideal for machine vision/automation applications, and will be available starting in February, 2017. Please visit http://www.advantech.com, or contact your local Advantech sales team for more product information.