New Qseven 2.1 Module with Intel® Atom™ E3800 & Celeron® Series Processor
7/18/2016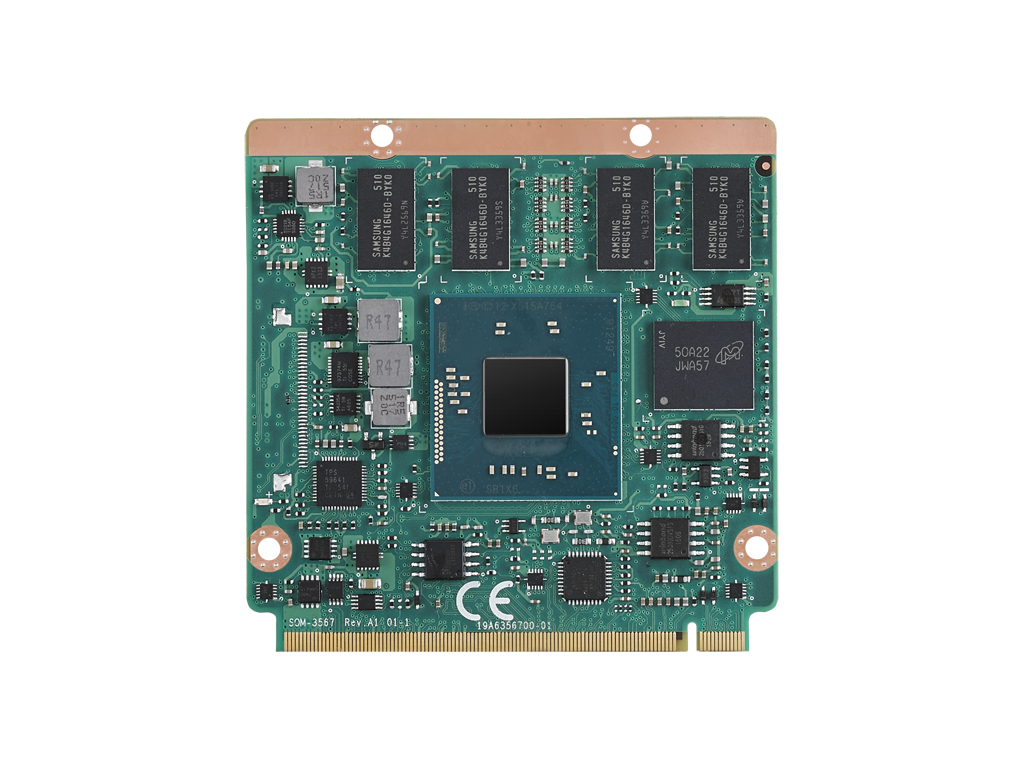 July, 2016, Taipei
— Advantech, a leading provider of embedded computing solutions, today announced the release of
SOM-3567
, a new, low-power, fanless Qseven module, compliant with Qseven revision 2.1 specifications. Powered by an Intel® Atom® E3800 processor with native extended temperature support,
SOM-3567
delivers superb graphics and processing performance in a compact (70 x 70 mm) ultra-low profile Qseven form factor. Featuring up to 8 GB of dual-channel DDR3L-1333 memory onboard and optional eMMC support (up to 32 GB),
SOM-3567
provides the ideal solution for battery-operated, thin, and compact installations, such as in-vehicle, medical, and industrial mobile computing devices.
Supports Multiple Display Interfaces and Advance Hardware Acceleration

Channel reservation between eDP and LVDS allows SOM-3567 to support dual displays in an legacy LVDS or advance eDP panels with HDMI/DP interfaces.
SOM-3567
also supports 3D APIs which includes DX11, OGL3.2, OCL1.1, and hardware accelerators in H.264/AVC, VC-1, MPEG2, thereby enable high-resolution playback and graphics-intensive applications without substantial CPU load.
Rich I/O Interfaces and Design for Extended Temperture

The
SOM-3567
moduleprovides 3 PCIex1 Gen.2 5.0 GT/s by default and option to be 1 PCIe x4 whlie remove GbE supporting, allows a huge bandwidth for data transceiving. It also features GbE, USB 3.0, 6 USB2.0 for for maximum connectivity. Due to the processor is natively support extended temperature, most components and especially key parts are design with extended tempertuare support, to benefit customer applications work under crucial environment more reliable.

Easy- to-use iManager, WISE-Paas/RMM APIs

To fulfill the ever-changing specialized demands for various applications,
SOM-3567
is shipped with WISE-Paas/RMM kit in accessory box and an intelligent self-management agent with software control functions and standalone hardware design: iManager on board.
It's a built-in solution chip, a perfect solution that provides a standardized, unified API,integrating several unique platform consolidating functions needed by embedded system integrators to improve consistency, reduce the developers' efforts and make the product time-to-market. Most importantly, the standalone chip works individually to CPU core logic, that is, it's an out-of-band control and not influenced by CPU loading providing reliable monitors and controls.

Key Features
New Qseven Rev. 2.1 compliant
Intel® Atom™ E3800 and Celeron® Series processor
Onboard DDR3L-1333 up to 8GB and optional eMMC up to 32 GB
Supports LVDS/eDP and HDMI/DP display interface with hardware transcode accelerators in H.264/AVC, VC-1, and MPEG2
1 x GbE, 3 x PCIe x1, 1 x USB 3.0, and 6 x USB 2.0 for various, sufficient connectivity
Supports Advantech iManager 2.0, WISE-PaaS/RMM, and embedded software APIs
Advantech's
SOM-3567
will be available in Q3, 2016. For more information, contact your local Advantech sales representative or visit us online at
www.advantech.com.tw/embcore/
.


###

About Embedded Core Service
Advantech Embedded Core Services offers design-in services and streamlined solutions that broadly integrate embedded boards, peripheral modules, and software. This emphasis on embedded design-in services is aimed at satisfying electronic engineering demands at the design phase to shorten the design and integration phases, thereby minimizing uncertainty and risk.
www.advantech.com/EmbCore

About Advantech
Founded in 1983, Advantech is a leading provider of trusted innovative products, services, and solutions. Advantech offers comprehensive system integration,hardware, software, customer-centric design services, embedded systems, automation products, and global logistics support. We cooperate closely with our partners to provide complete solutions for diverse applications across a wide range of industries. Our mission is to enable an intelligent planet with automation and embedded computing products and solutions that enable smarter working and living. By using Advantech products, the number of potential applications and possible innovations becomes unlimited.
www.advantech.com