Advantech 3.5" Intel® Celeron® N2930 SBCs for Robotics Automation - MIO-6300
9/2/2016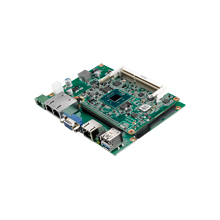 September 2, 2016, Taipei – Advantech, a global intelligent systems leader providing solutions across multiple vertical markets, announces the launch of MIO-6300, a 3.5" (146 x 120 mm) System-on-Chip (SoC) slim SBC that incorporates a quad core Intel® Celeron N2930 processor and an EtherCAT Master Controller for intelligent robotics applications. MIO-6300 is a SoC board-to-board solution that offers low power consumption and high graphics performance and is targeted at the robotics automation industry.

MIO-6300 comes bundled with Advantech's value added smart software suite WISE-PaaS/RMM, which brings the benefits of cloud computing within reach of many embedded application developers. This tool provides the ideal solution for industrial applications and helps to speed up time-to-value for intelligent systems designers.
EtherCAT Solution to Implement Robotics Automation Applications
EtherCAT is a popular industrial standard for robotics and motion control systems because of its high-precision, performance/throughput, open structure, ease of integration and cost effective features. EtherCAT is highly suited for robotics requirements that require flexibility, adaptability, highly synchronized I/O, and time-deterministic control. Customers can implement EtherCAT effectively on MIO-6300 with its triple Intel i210 Gigabit Ethernet controller. Triple Gigabit Ethernet is the general requirement for robotics automation – one Gigabit Ethernet can be used for EtherCAT, another for the tech pendant of the robot controller, and the other can be for general purpose use.
Enhanced CPU and Graphics Performance
MIO-6300 delivers excellent CPU performance with its quad core processing. This Intel® Celeron® N2930 processer version almost doubles the performance compared to previous generations of Intel® Atom® N2800 processers. The graphics on MIO-6300 is based on Gen 7 Intel® Graphics Architecture with support for DirectX 11, Open GL 4.0, and OpenGL 1.2; and it has full HD video playback, video transcoding and encoding functionality. MIO-6300 comes with abundant connectivity for multiple I/O including 3x Gigabit Ethernet, 1x VGA, 1 x LVDS ,1 x USB 3.0, 3 x USB 2.0, 2 x COM, 1 x mSATA (F/S) and 1 x MiniPCIe (F/S) for verified CANBus module expansion. It also offers two kinds of power input options (12V/24V) especially for the robotics automation industry.
Rugged Solution for Embedded Applications
MIO-6300 complies with the IEC standard for Electro Static Discharge protection for the COM port transceiver with15kV air gap protection/8kV contact protection for RS-232. MIO-6300 was verified to pass the military standard (MIL-STD-202G/MIL-STD-810G) certifications for better vibration resistance. MIO-6300 is also designed with 100% solid capacitors which give better reliability than electrolytic capacitors and its high Tg PCB value (TG-170) means the PCB is more stable under high temperature operation.
Product Features and Specifications
Intel Atom SoC Quad cord N2930 1.83GHz

Single channel DDR3L 1066/1333 (SO-DIMM) w/ maximum size to 8GB

Triple Intel i210 Gigabit Ethernet with EtherCAT Master support

12V/24V DC power hot plug protection design, power tolerance range: +/-10%

Low power consumption (Kit TDP: N2930 7.5W)

DirectX® 11.1, OGL 3.0,OVG1.1 graphics support

24-bit LVDS and VGA with dual display support

1 USB 3.0/ 3 USB2.0/ 2 RS-232/422/485 / CANBus support (optional)

HD audio for Line in and Line out

1 x full size miniPCIe and 1 x full size mSATA for easy system integration

Optional heat spreader for better thermal dissipation

Supports Advantech WISE-PaaS/RMM and embedded software API and utilities

Supports WEC7.0, Win7 (64-bit), WES7, Win8/8.1, Linux & VxWorks OS (by customer request)

For more information about MIO-6300, please contact your local sales office, or visit us on the web at: http://www.advantech.com.tw/embcore/mio_extension_sbc.aspx.