Advantech Kostec Launches a New Series of Medical Grade Monitors KT-E320/E270/E240/D190
3/7/2017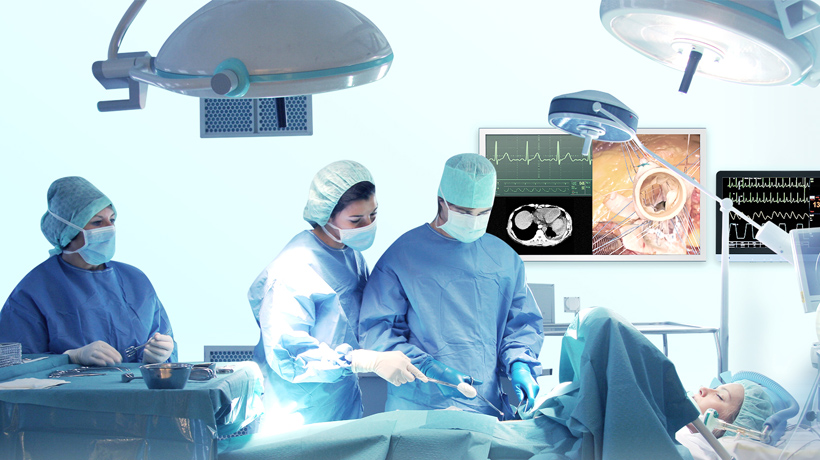 March 7, 2017, Taipei -Advantech (2395.TW), a leading medical computing platform service and solution provider, recently acquired a 60% stake in South Korea's medical monitor company Kostec on January 3rd 2017.
Designed for Operating Precision
Aiming to providing the best medical image quality, Advantech Kostec medical monitors are designed for high-quality imaging with various sizes of full high definition (Full HD) and 4K ultra-high definition (UHD) resolution monitors. With DICOM Part 14 standard and 14-bit look-up table support, the KT-Series medical monitors ensure precise representation of grayscale images. Utilizing Backlight Leveling Technology (BLT), they maintain their brightness at the previously calibrated maximum luminance level (L'max), and consistently match the Just Noticeable Difference (JND) level for image quality at each luminance step; thereby reducing backlight warm-up time and extending the lifetime of the monitor. Hybrid Gamma Encoding (HGE) technology will meet the demands for simultaneous monitor of colors and monochrome images on the same screen, which is very important for doctor reviews in the OR room environment.KT-E240, KT-E270 and KT-E320 come in widescreen sizes ranging from 24" to 32" inches, with flexible customization options that can be easily configured. With their innovative slim design, KT-Series medical monitors offer multiple I/O ports, which make them an excellent solution for doctor reviews anywhere in the hospital.
For Diagnostic Confidence
KT-D190 is typically for radiology applications, including Pixelworks DNX™ (Digital Natural Expression) technology. KT-D190 is 19" inches wide and can be easily placed without occupying too much space. A built-in front sensor, hidden behind the front bezel, allows the monitor to measure brightness levels and read color temperatures for automated self-calibration to the DICOM Part 14 standard.
Advantech Kostec KT-Series Monitors are available for order now. To obtain more information regarding Kostec KT-Series Monitors and their available optional accessories, please contact your local sales representative or visit the Advantech website at http://www2.advantech.com.tw/digital-healthcare/
Read more about Advantech Kostec: http://select.advantech.com/advantech-kostec/en-us/
Relying on its renown industrial experience and professional imaging techniques, Advantech Kostec is pleased to launch its first KT-Series of medical grade monitors, specifically designed for healthcare professionals and medical applications.