Advantech AIMB-505 Micro-ATX Powered by 6th Generation Intel® Core i Processors for Self-service Applications
1/3/2017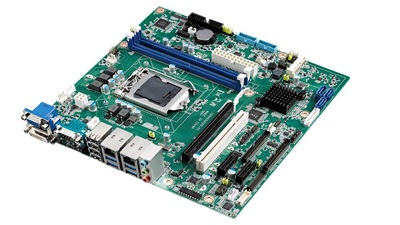 Advantech, a leading embedded computing solution provider introduces AIMB-505, a new vertical domain Micro-ATX motherboard supporting the latest 6th generation Intel® Core™ I /Pentium/Celeron processors. Providing high computing and graphic performance and rich expansion capability, AIMB-505 is an ideal platform for a multitude of applications in self-service, kiosks, control centers, automatic device centers and much more. Bundled with Advantech's own WISE-PaaS/RMM software suite that offers remote management and security features, the smart software boosts IoT applications from the edge to the cloud.
Numerous I/O Connectivity for Various Applications
AIMB-505 is equipped with multiple high speed I/O with reliable connectivity including: 8 x USB 3.0, 6 x USB 2.0, 3 x SATAIII, PCIe x16, 2 x PCIe x1, 1 x PCI, and 1 x MiniPCIe (F/S x 1) supporting mSATA. It also supports 8-bit digital programmable I/O, 10 x COM (2 x RS-232/422/485) and 6W audio amplifier (6W-2ch). AIMB-505 also comes with dual Gigabit Ethernet ports (Realtek 8111G) deliveringup to 1000 Mbps of bandwidth for network-intensive applications. All this high speed connectivity is packed into a Micro-ATX form factor which makes AIMB-505 suitable for all kinds of applications especially for kiosks/self-service.
Smart USB Control Voltage Regulator Design
AIMB-505 uses a special USB power on/off switch design, where each of the two ports can be powered on / off by GPIO. Users can use a SW API like WISE-PaaS/RMM to control the USB power on/off devices separately. This design plays an important role in kiosk/self-service applications as it lets USB devices operate more flexibly for special applications.
Moreover, AIMB-505 offers one external USB controller for two independent USB 3.0 ports onboard to help customers separate USB ports for admin and non-admin use. This ensures USB devices will not crash or run at lower speeds due to bandwidth limitations.
AIMB-505 also adds a voltage design on board. For kiosk applications, users will add lots of USB devices on the motherboard, so stable USB voltagae is very important. On AIMB-505, the voltage regulator can revised depending on the project.

Excellent Graphics Performance and Support System Protected with TPM2.0
With advanced HD graphics performance, AIMB-505 Micro-ATX motherboard integrates Intel HD Graphics with DX11.1, OpenCL1.2 and OpenGL4.0 to deliver enhanced graphics performance.
AIMB-505 supports dual independent displays, either in clone mode or extended mode using VGA, DVI, DisplayPort1.2, eDP(LVDS) with high 4K2K resolution for Displayport1.2, and eDP ports. With stunning graphics and imaging, AIMB-505 is ideal for digital signage applications. In addition, AIMB-505 can support TPM by BOM option. TPM IC colay TPM1.2 and TPM2.0. Users can upgrade TPM function with TPM2.0.
Enabling Intelligent & Embedded Systems: WISE-PaaS/RMM
AIMB-505
comes bundled with Advantech
WISE-PaaS/RMM
which provides remote device management and system recovery powered by
Acronis
, and system protection powered by
McAfee
; allowing users to easily monitor, configure, control, and even recover multiple systems through a single console from any remote site.
AIMB-505 Features
Supports the latest 6th generation Intel® Core™ i / Pentium/ Celeron processors
Supports DDR4 2133MHz 288-pin of non-ECC RAM up to 32 GB
Intel

®

Gfx support DX11.1, OpenCL 2.1, OpenGL 5.0
Supports triple displays: VGA, eDP(LVDS), DisplayPort1.2, DVI-D
Rich I/O & expansion options: 8 x USB 3.0, 6 x USB 2.0, 3 x SATAIII, 10 x COM ports and 8-bit GPIO, 1 PCIe x16,1 PCI, 2 PCIe x1, 1 Mini PCIe sockets (F/S x 1 supports mSATA, and BOM optional WiFi module)
Up to 2 USB 3.0 controllers
FCC/CB Class B Certificate
Comes with Advantech WISE-PaaS/RMM
AIMB-505 is available now, for more information, please contact an Advantech local sales office.