Advantech Launches UTC-207/210 7"/10" Fanless, Open Frame Panel PC
10/3/2019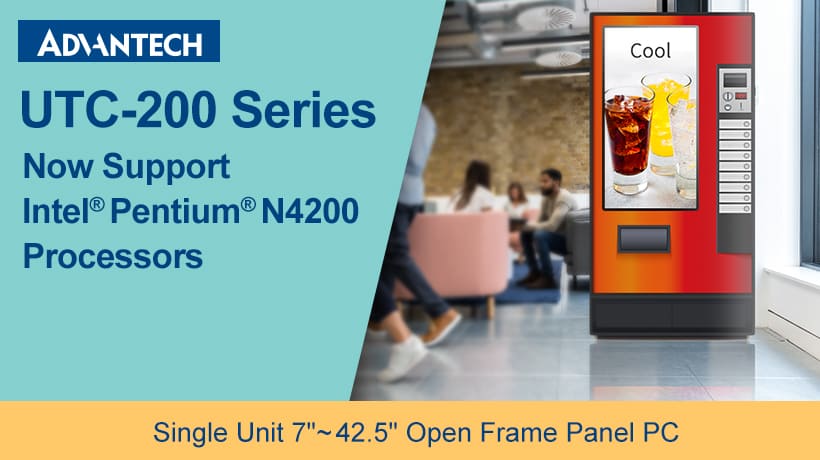 Taipei, Taiwan, October 2019 – Advantech, a leading industrial computing platform provider, is pleased to announce its UTC-200 series open-frame panel PC. Powered by a sixth-generation Intel® Celeron ® N3350/ Pentium ® N4200 processor and equipped with up to 8 GB of memory, UTC-207/210 delivers excellent performance for a wide range of applications. Aimed at diverse embedded applications, UTC-200 series features an open-frame bracket and single-unit system design for easy integration in kiosks, cabinets and any kinds of equipment. In the future, besides the 7"(UTC-207) and 10"(UTC-210) models, the UTC-200 series of panel PCs will include additional screen size (7" ~ 55") and CPU options. With a 16:9 widescreen TFT LCD monitor that offers 1920 x 1080 resolution and up to 250 to 300-nit brightness, the UTC-200 series systems provide a superior viewing experience. Multiple I/O ports, including two Gigabit Ethernet ports, two COM, and up to four USB ports, increase the system's extendibility and flexibility, while the fanless design and IP65-rated front panel offer industrial-grade reliability that ensures stable operation. The provision of multiple OS support and flexible installation options makes UTC-200 series system ideal for embedded applications, such as self-service kiosks, interactive signage, HMI terminals, and equipment control terminals.
Industrial-Grade Panel PC with Excellent Performance and Multiple OS Support
Advantech's UTC-207G/210G is powered by an Intel® Celeron ® N3350/Pentium ® N4200 processor. Platforms is equipped with up to 8GB of DDR3L memory and provide excellent computing performance. To ensure flexible installation and suitability for a wide range of applications, UTC-200 series systems support multiple OS, including Windows® 10 IoT Enterprise, Linux Ubuntu16.04/18.04, and Android 6.0. Like other models in Advantech's UTC product line, the UTC-200 series features a low-power, fanless design for superior energy efficiency, quiet operation, and to prevent the accumulation of dust and foreign contaminants, thereby extending the overall product lifecycle. Moreover, in accordance with environmental specifications for industrial and commercial environments, the front panel is IP65-rated for protection from water and dust, ensuring industrial-grade reliability for stable operation.
Single-Unit, Open Frame Design for Easy System Integration and Installation
Specifically designed for integration, the UTC-200 series systems provide simple, single-unit solutions for diverse applications that require industrial-grade open frame PCs. The system bracket is engineered to be easily embedded into any kiosk, cabinet, or wall mount. Unlike traditional two-unit solutions that comprise one box PC and one display, Advantech's compact, single-unit open frame system enables a slimmer kiosk design for space savings. The thin, flat front panel allows the UTC-200 series systems to be completely flush with the surrounding wall for a truly seamless appearance, ideal for embedded wall applications.
Wide Range of Screen Sizes with an Ultra-Thin Bezel and Full-HD Resolution
Featuring a 16:9 widescreen TFT LCD monitor that supports 1920 x 1080 resolution and 350 to 450-nit brightness,UTC-200 series panel PCs offer a wide viewing angle and enhanced visuals for industrial-grade display applications. In addition to the initial 7" (UTC-207) and 10" (UTC-210) offerings, the UTC-200 series will soon comprise a wider range of screen size options (7" ~ 55") to satisfy diverse usage requirements. Furthermore, UTC-200 series systems feature an ultra-thin bezel design (only 30mm) that maximizes the display space and an extremely responsive touchscreen that supports multi-touch control to enable simultaneous multi-user operation.
Built-in Intel® Celeron®N3350/Pentium® N4200processor with up to8GB of DDR3L memory
7" and 10" TFT LCD (21.5" and 32" are ready, 15.6", 42.5", and 55" coming soon)
Supports1920 x 1080 resolution and 350 to 450-nit brightness
Supports both portrait and landscape display modes
Low-power, fanless system design with IP65-rated front panel for reliable operation
Multiple I/O, including 2 x Gigabit Ethernet,2 x COM, and up to 4 x USB ports
Easy cable routing and management
Supports Windows® 10 IoT Enterprise, Linux Ubuntu 16.04/18.04, and Android 6.0

Advantech's UTC-207/210 open frame panel PC will be available for order from Oct 2019. For more information about this or other Advantech products, contact your local sales support team or visit our website at www.advantech.com