New Qseven 2.1 Module with Intel® Pentium®/Celeron® N3000 Series & Atom™ Processor
7/18/2016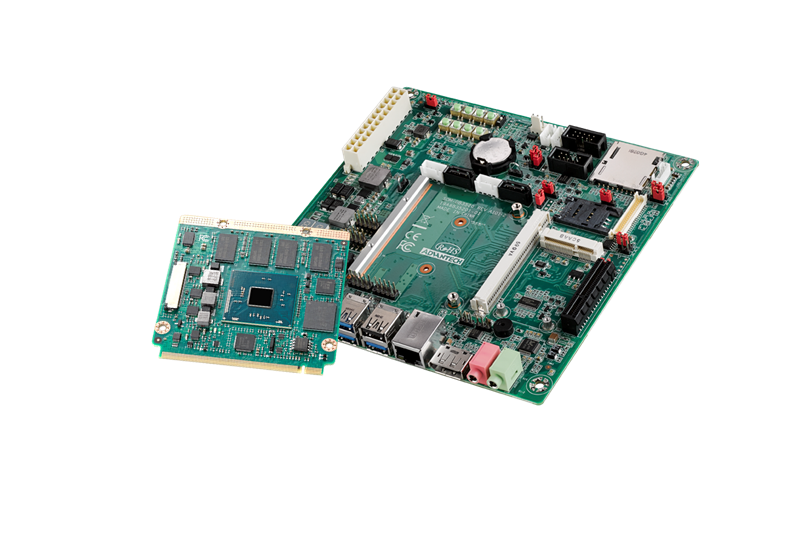 July, 2016, Taipei -
Advantech, a leading embedded computing solution provider, today announced the release of its new, low power, fanless, Qseven CPU Module–the
SOM-3568
; and also the state-of-the-art, Qseven Rev. 2.1 reference development carrier board–
SOM-DB3520
.
SOM-3568
comes equipped with the latest 14nm Intel® Pentium® and Celeron® N3000 series processors, which lower TDP to 4W/5W/6W for better power savings and less heat, yet with high performance. With its onboard memory and onboard eMMC storage capability, SOM-3568 is suitable for small form-factor, battery powered, and ruggedized applications infields such as industrial automation, medical, military, and portable instruments.

Driving Rich Media Content
SOM-3568
, featuring low-power Intel® gen 8 graphics integrated in the SoC with up to 16 execution units, provides two times the graphics performance of previous generation platforms, and supports the latest DX11.1, OpenGL 4.2, OpenGL ES 3.0, OpenCL 1.2, plus hardware acceleration for VP8, VP9 and HEVC/ H.265 codecs. In addition, SOM-3568 provides next-generation 4K display resolutions via various display interfaces e.g., LVDS, eDP, HDMI, and DisplayPort, and allows triple simultaneous independent content displays.
High Expansion Flexibility

SOM-3568
integrates a rich array of I/O interfaces including 4 PCIe x1 ports (without GbE) or one PCIe x4, up to 3 USB3.0 and 5 USB2.0, and LPC for legacy expansion interfaces. It also provides high bandwidth, onboard, dual-channel DDR3-1600 capacity for up to 8GB of system memory, and optional onboard storage with eMMC 4.51 specifications providing integrated, rugged, space saving storage at an attractive low cost. These sufficient I/O interfaces on a highly integrated system make the
SOM-3568
ideal for portable and ruggedized applications.
New Qseven Rev. 2.1 Reference & Development Board

SOM-DB3520
is a new, Qseven Rev.2.1 development board, designed in a Mini-ITX (170 x 170 mm) form factor. It features compatibility with Qseven 2.1 modules, and assists customers in emulating functions while developing their own carrier boards.
ATX or DC-in Power Acceptance with Multiple Expansion Interfaces

SOM-DB3520
has multiple expansion interfaces to meet various customer requirements, such as 1 PCIe x4 slot (may be used for PCIe x1 via a riser card), 1 Mini-PCIeslot w/SIM socket, 1 GbE, 1 SATA, 1 mSATA, 3 USB 3.0 and 8 USB2.0, 2 COM ports, 1 SD socket, TPM, CAN Bus and HD audio. The
SOM-DB3520
also provides flexible alternative power options, such as standard ATX power supply and 12V DC-in adapter to satisfy diversified application scenarios. This carrier board has low profile I/O connectors, suited for both standard I/O shielding or low profile I/O shielding, and can fit into any standard or slim Mini-ITX chassis to meet most environmental requirements. Customers can emulate required functions on
SOM-DB3520
as a reference design board, or sometimes customers integrate the
SOM-DB3520
directly into their product as the application board.
SOM-3568
and
SOM-DB3520
will be available in Q3 2016. Please contact your local Advantech sales rep or visit the website (
http://www.advantech.com.tw/embcore/)
for more details.
SOM-3568 Features:
QSeven Rev. 2.1 CPU module for Intel® Pentium® and Celeron® Processors N3000 & Atom™ Series SoC
Supports onboard, dual channel DDR3L-1600 up to 8GB and onboard eMMC 4.51 up to 32GB
Intel® low power, gen 8 graphics engine supports DX 11.1, OpenGL 4.2, OpenGL ES 3.0, OpenCL 1.2 and hardware decoder for HEVC/H.265, H.264, VP8, and MPEG2
Supports triple simultaneous independent displays
Supports GbE, 3 PCIe x1 (up to 4 ports without GbE), 2 USB 3.0, 5 USB 2.0
Supports Advantech iManager 2.0, WISE-PaaS/RMM, and Embedded Software APIs

SOM-DB3520 Features:

Advantech Qseven Rev. 2.1 Development Board
Supports standard ATX or 12V DC power input
Supports dual channelLVDS display, eDP, DP/++, and HDMI (through DP++)
Supports 1 PCIe x4 slot, 1 Mini-PCIe slot w/SIM socket, 1 GbE, 2 SATA, mSATA, 3 USB 3.0 and 8 USB2.0, 2 COM ports, 1 SD socket, TPM, CAN Bus and HD audio

###
About Embedded Core Service
Advantech Embedded Core Services offers design-in oriented services. These streamlined solutions broadly integrate embedded boards, peripheral modules and software. This dedicated focus on Embedded Design-in services fulfills electronic engineering demands at their design-in phase, and brings benefits that shorten the design and integration cycles, minimizing uncertainty and risk. www.advantech.com/EmbCore

About Advantech
Founded in 1983, Advantech is a leader in providing trusted, innovative products, services, and solutions. Advantech offers comprehensive system integration, hardware, software, customer-centric design services, embedded systems, automation products, and global logistics support. We cooperate closely with our partners to help provide complete solutions for a wide array of applications across a diverse range of industries. Our mission is to enable an intelligent planet with Automation and Embedded Computing products and solutions that empower the development of smarter working and living. With Advantech, there is no limit to the applications and innovations our products make possible. (Corporate Website: www.advantech.com).