Advantech Launches UTC-510D(PoE) 10.1'' All-in-One Touch Computer with an Interactive Display and PoE Support
12/12/2016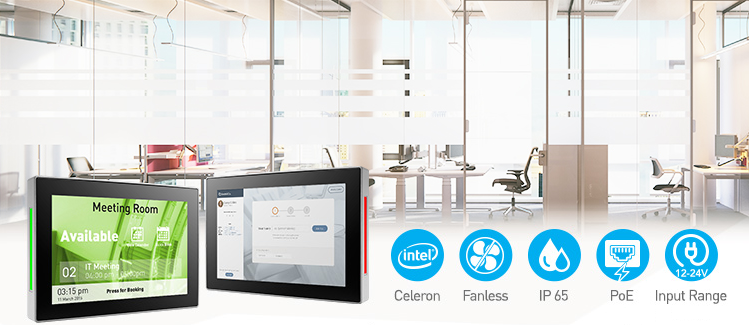 Breda, The Netherlands, December, 2016
– Advantech, a leading provider of embedded platform solutions, is pleased to announce the newest model of its UTC series - UTC-510D(PoE), which features Power-over-Ethernet(PoE) capabilities. Equipped with a fourth-generation Intel® Celeron® N2807/J1900 processor and up to 8 GB of memory, UTC-510D(PoE) is a multi-purpose all-in-one computer with a 10.1" TFT LCD and 16:10 aspect ratio. The system's fanless design and enhanced input voltage (12 ~ 24 V) and operating temperature (0 ~ 45 °C) provide industrial-grade reliability to ensure stable operation in harsh environments. Similarly, the IP65-rated front panel protects the system from damage due to water and dust, thereby extending the product's lifecycle. In addition to rich I/O that includes dual Gigabit Ethernet, two RS-232 COMs, and up to five USB ports for flexible expansion, UTC-510D (PoE) supports customization according to specific application requirements. The built-in 5M camera, Wi-Fi connectivity, and ability to integrate diverse optional peripherals make UTC-510D(PoE) ideal for use as self-service kiosks, price/inventory checking systems, customer feedback terminals, equipment control systems, meeting room management platforms, interactive information displays, and smart facility control terminals. Furthermore, UTC-510D(PoE) supports multiple OS, including Windows® Embedded Standard 7, Windows® Embedded Standard 8, Windows® 10 IoT Enterprise LTSB 2016, Embedded Linux Ubuntu 14.04, and Android 4.4.2, ensuring high compatibility for multiple applications.
Enhanced Industrial-Grade Design with PoE Support Offers Superior Performance
Powered by a fourth-generation Intel® Celeron® N2807/J1900 processor and equipped with 8 GB of DDR3L memory, UTC-510D(PoE) is a competitively priced solution that delivers industrial-grade performance. Compared to the previous iteration, UTC-510D, Advantech's latest UTC-510D(PoE) model is equipped with PoE technology, eliminating the need for additional conduits and electrical wiring and facilitating more convenient installation. Additionally, UTC-510D(PoE) supports a wider input voltage range (12 ~ 24 V) as well as a wider operating temperature range of 0 to 45 °C to satisfy industrial application requirements and ensure flexible integration in diverse, potentially harsh operating environments.
Multiple Mounting Options Ensure Flexible and Convenient Installation
Like the rest of the UTC series, the UTC-510D(PoE) is a fanless system, which ensures quiet operation and reduces the accumulation of dust and foreign contaminants. The front panel is IP65 certified for water and dust protection, while the system's low power consumption offers reduced costs and superior energy efficiency. The system's bezel-free design makes UTC-510D(PoE) a comparatively thinner and slimmer computing platform. Moreover, the system is compatible with a variety of mounting options, such as table stands and wall mount kits, to ensure flexible installation. With recessed wall mounting, the UTC-510D(PoE) front panel can be made completely flush with the surrounding wall for a truly seamless appearance, which is ideal for embedded wall applications.
Rich I/O Enables System Expansion and Peripheral Integration
UTC-510D(PoE) is designed with rich I/O ports, including built-in dual Gigabit Ethernet (supports wake-on-LAN function), two COMs, and up to five USB ports, that allow the system to be equipped with various peripherals as required. Peripherals such as a magnetic strip reader, NFC/RFID reader, iBeacon module, and barcode scanner can be integrated to extend the system functionalities. UTC-510D(PoE) can also be fitted with LED indicators on the sides to support meeting room management applications. These indicators would enable users to easily determine whether a meeting room has been booked based on whether the LEDs are emitting a green or red light.
Key Features
• Intel® Atom™ processor with capacitive touchscreen and 8 GB of DDR3L memory
• 10.1" LCD with 16:10 widescreen, 1280 x 800 resolution, and 350-nit brightness
• Low-power, fanless system design with IP65-certified front panel
• Removable mounting frame with standard VESA mount holes (75 mm)
• Recessed cable routing and management
• Supports PoE technology
• Rich I/O, including 2 x Gigabit Ethernet, 2 x COM, and up to 5 x USB ports
• Input voltage range (12 ~ 24 V) (with optional DC input)
• Operating temperature (0 ~ 45 °C) facilitates operation of the N2807 SKU
• Optional green and red LED indicators located on the side
• SupportsWindows® Embedded Standard 7, Windows® Embedded Standard 8, Windows® 10 IoT Enterprise LTSB 2016, Embedded Linux Ubuntu 14.04, and Android 4.4.2

Advantech's UTC-510D(PoE) all-in-one touch computer will be available for order from December 2016. For more information regarding UTC-510D(PoE) or other Advantech products and services, contact your local sales support or visit our dedicated Retail and Hospitality division iRetail at www.advantech.eu/iretail-hospitality or the company website at www.advantech.com.