【New Product Announcement】The vehicle terminal for frequent writers – The new Advantech-DLoG DLT-V7210K
6/26/2017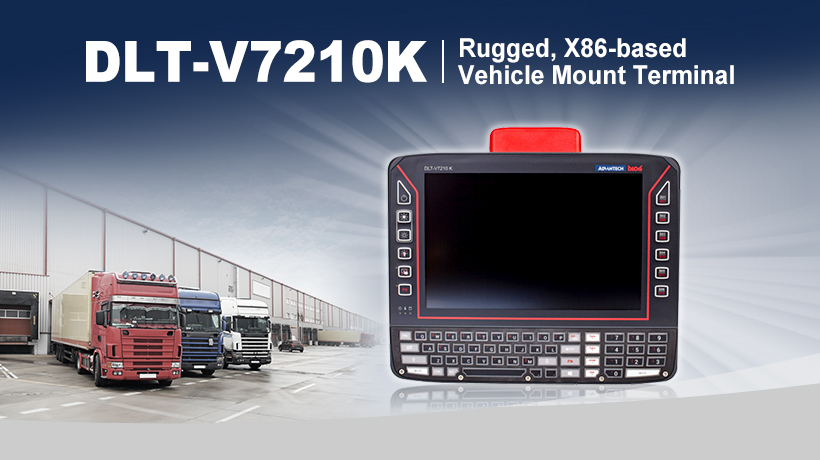 The vehicle terminal for frequent writers – The latest DLTV7210Kfrom Advantech-DLoG with integrated keyboardThe new Advantech-DLoG vehicle terminal DLT-V7210K has been equipped with a 55-key keyboard and number pad for easy handling as well as fast and secure data entries in distribution, logistics and warehouses.
April 24, 2017 (Germering,Germany) – Just as in sports, logistics demands top performance –anytime, anywhere and even under toughest conditions. And just as in sports, the right equipment is also crucial in logistics for the service provided. With the new DLT-V7210K,Advantech-DLoG has now launched a vehicle terminal with integrated keyboard, which facilitates data collection and handling and it can even be exchanged in use.
Digital Logistics Terminal with integrated Keyboard
The fast and simple handling of a vehicle terminal is the key to logistics", says ManfredLachauer, General Manager of Advantech-DLoG. Above all, where a lot of data must becollected, the recording must be efficient and error-free. Advantech-DLoG´s solution – avehicle terminal with integrated keyboard.

The integrated keyboard eliminates the need to connect a separate keyboard in the first step. The keyboard is available in three country versions and can be changed in four easy steps. It is also possible to switch to another country version. The keyboard is illuminated;the brightness can be adjusted using front buttons, regardless of the brightness of the display.
Powerful vehicle terminals ensure performance and quality in logistics
As a successor to the MTC-6 series, the terminals of the DLT-V72 series are equipped witha wide range of functional improvements that further enhance the efficiency of logistics and warehouse management.

The new processor has tripled the performance of the vehicle terminal and the uninterrupted power supply ensures continuous operation. The built-in Wi-Fi and Bluetooth technology ensure interruption-free communication.

The DLT-V7210K is equipped with a high-resolution color display, the brightness of the display can be varied as required and it is easy to read even in bright sunlight. The touchscreen of the scratch-resistant display is made of glass. Thanks to newly developed electronics, it can even be operated with thick gloves. The user can set the sensitivity of thePCT display individually using the configuration tool.

Various mounting options allow the use of the new vehicle terminal for a large number of different vehicle types. A comprehensive software portfolio supports the existing IT environment and company-specific requirements.
Features of the DLT-V7210K at a glance
• 10,1" color display with capacitive multi-touch-screen (PCT)
• 55-key keyboard incl. number pad in 3 country versions (QWERTY, QWERTZ,AZERTY)
• Programmable function keys
• Flat dual-band diversity-antenna
• Interfaces for external devices (LAN; 4x USB 2.0; 1x USB 3.0; 2x RS-232)
• Dust, splash and water-resistant up to IP65, vibration-insensitive after 5M3
• Impact-resistant screen according to IK08 as well as abrasion and scratch resistant
• Temperature range from -30 °C to +50 °C
• Powerful Intel® ATOM™ Quad Core 1.91 GHz, 4 GB RAM, 8 GB CFAST or more
• Operating systems: MS Windows 10 IoT Enterprise, WES7, Windows 7 Prof.,WE8S, Windows 8.1 Ind. Pro, Linux with graphical user interface, IGEL Linux
• Internal wide-range power supply for 12/24/48 V nominal
• Interruption-free power supply (UPS)
BU: Key.Fact. – DLT-V7210K
Further information at: https://www.advantech-dlog.com/de/unternehmen/presse/
About Advantech-DLoG:
Advantech-DLoG is a global player in the area of industrial PC and vehicle terminal solutions for extremely demanding areas of application for construction machinery, forklift trucks, heavy trucks, in the mining industry and in industrial production.

The goal is to make Advantech-DLoG a leading provider world-wide for selected vertical markets such as warehousing, heavy load and fleet management, and iRetail.

The trade name Advantech-DLoG stands for industry-leading innovations and the highest quality standards of "Made in Germany".

Advantech-DLoG's quality management system is certified according to DIN ISO 9001:2015 and ensures the high quality of Advantech-DLoG products and processes all the way through to the partners and customers.

Across the extensive support, sales and marketing network, over 7,800 employees are committed to fast time-to-market service for Advantech-DLoG's customers worldwide.

The trade name Advantech-DLoG, which was launched in 2010, combines the experience and the leading market position of DLoG GmbH, founded in 1985, and the Advantech Group. DLoGGmbH is a subsidiary of the Advantech corporate group in Taiwan.

More information at www.advantech-dlog.com
Advantech-DLoG
Industriestr. 15
82110 Germering
Germany
Phone: +49 (0) 89 411191 0
Fax: +49 (0) 89 411191 910

Media contact:
Katharina Ruhland
Marketing Communication Specialist
Phone: +49 (0) 89 411 191 311
E-Mail: Katharina.ruhland@advantech-dlog.com