Artificial Intelligence Moves Forward as Advantech's WISE-PaaS 3.0 Drives Innovation
6/13/2019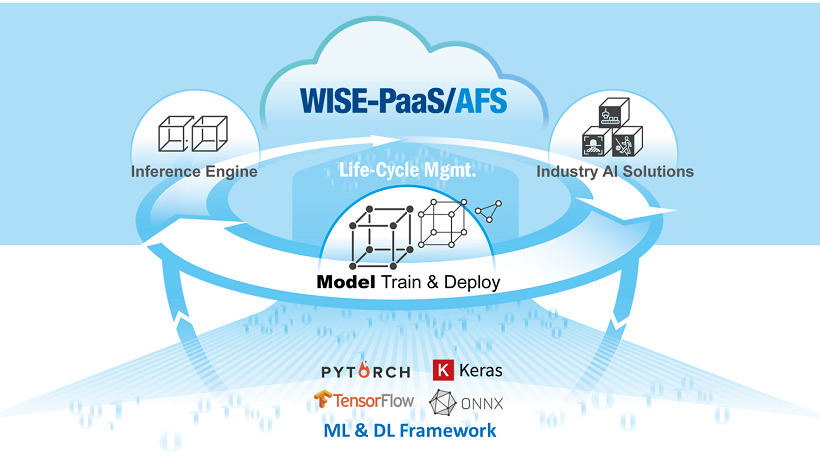 Author: Chloe Liao
Photos: Advantech
Interviewee: Advantech IoT.SENSE Project Manager | David Yeh
At the Advantech IoT Co-Creation Summit held on November 1-2, 2018, Advantech announced the official launch of WISE-PaaS 3.0, releasing four major function modules: the WISE-PaaS/SaaS Composer, a cloud configuration tool with visible workflow; the WISE-PaaS/APM, an equipment network connection remote maintenance service framework; the WISE-PaaS/AFS, an artificial intelligence (AI) training model and deployment service framework; and Microservices, a development framework to provide more complete core services.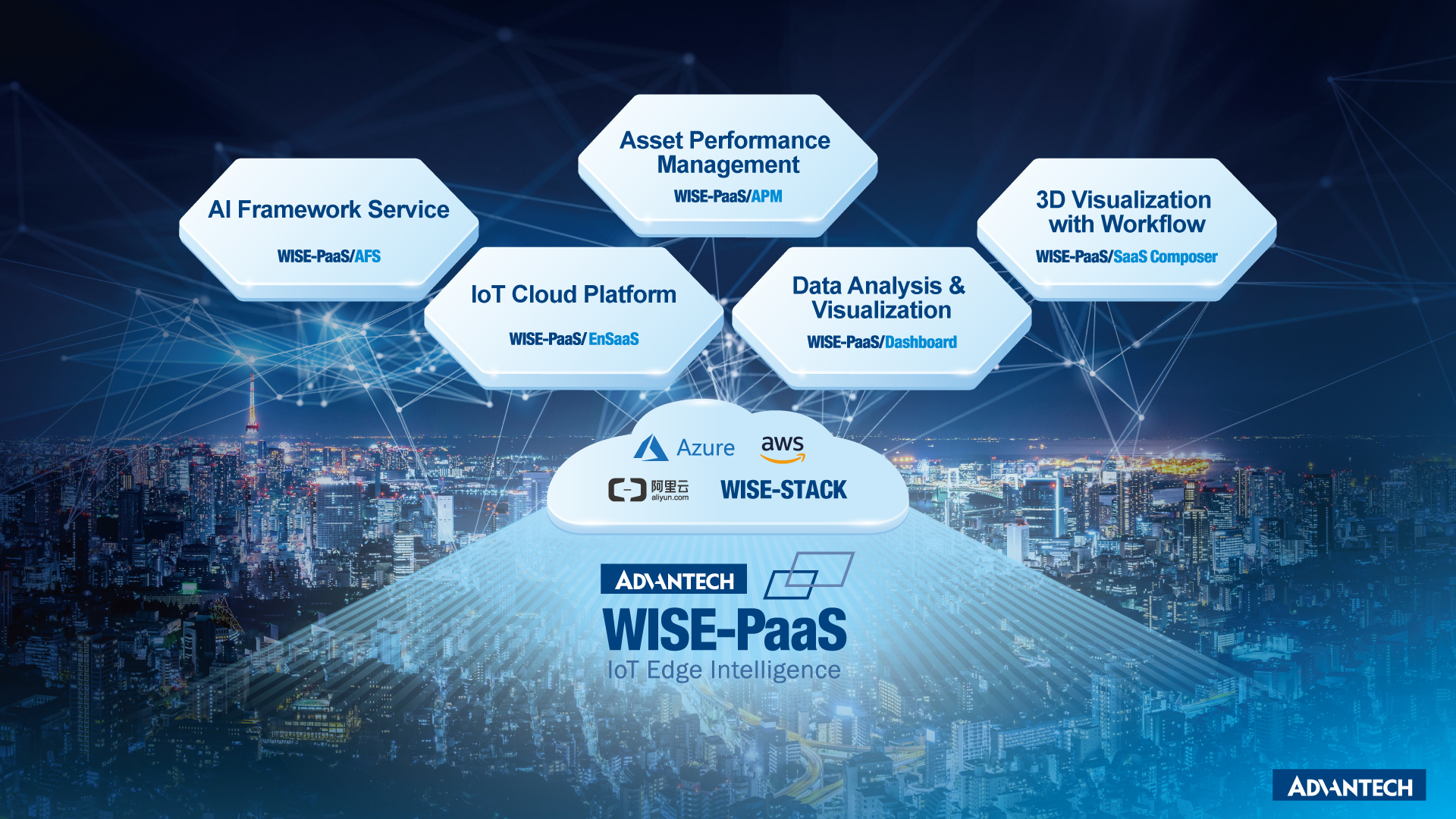 Core services are the highlight of WISE-PaaS 3.0. In the past, with WISE-PaaS 1.0 and 2.0, more emphasis was placed on slight modifications to the overall framework. This time, Advantech chose to officially announce the WISE-PaaS 3.0 at a major event attended by over 6,000 people. The biggest difference in the upgrade to 3.0 is that Advantech made the cloud and service elements more prominent to move towards data-driven innovation.
WISE-PaaS/AFS, launched especially for the AI development environment, has attracted considerable attention because it is a new field that has never before been developed by Advantech. WISE-PaaS/AFS helps developers quickly enter an AI training model and edge deployment. In the next decade, the momentum behind AI will only accelerate. The launch of the WISE-PaaS/AFS tool shows that Advantech's plan for the AI market has deepened into service-oriented thinking.

Integrate AI Development Tools to Quickly Enter Edge Deployment
Because customer's initial understanding of IoT is often not comprehensive enough, there can be a painful early transition period. Advantech works with many partners to further integrate hardware and software through the WISE-PaaS industrial IoT cloud platform, while our co-creation model provides software and system integrators with the ability to focus on customer needs to develop customized solutions. Facing a fragmented and decentralized IoT market, Advantech, as a benchmark hardware supplier, helps customers collect and aggregate information accumulated in various application scenarios. The company knows more about how to integrate chaotic architecture and standards than most vendors and can effectively develop and utilize valuable data assets. For these reasons, Advantech decided to develop the WISE-PaaS industrial IoT cloud platform and IoT software services.
In the emerging AI era, data provides a treasure trove of valuable information for companies who are able to collect it. However, companies must adapt to this new reality: without well-developed infrastructure, it is difficult to extract precious data and turn it into valuable insights.
Therefore, in addition to setting up a basic IoT environment, Advantech saw an opportunity based on the needs of AI development and further expanded the WISE-PaaS cloud platform into a service that integrates AI development tools. In addition to launching new services, Advantech upgraded its previous products to meet current AI development needs. For example, WISE-STACK is a completely private cloud environment that was developed based on the need of many customers for data privacy. The entire WISE-PaaS platform is moved to a private cloud environment, allowing customers to enjoy the full experience of a public cloud as well as the privacy of a private cloud.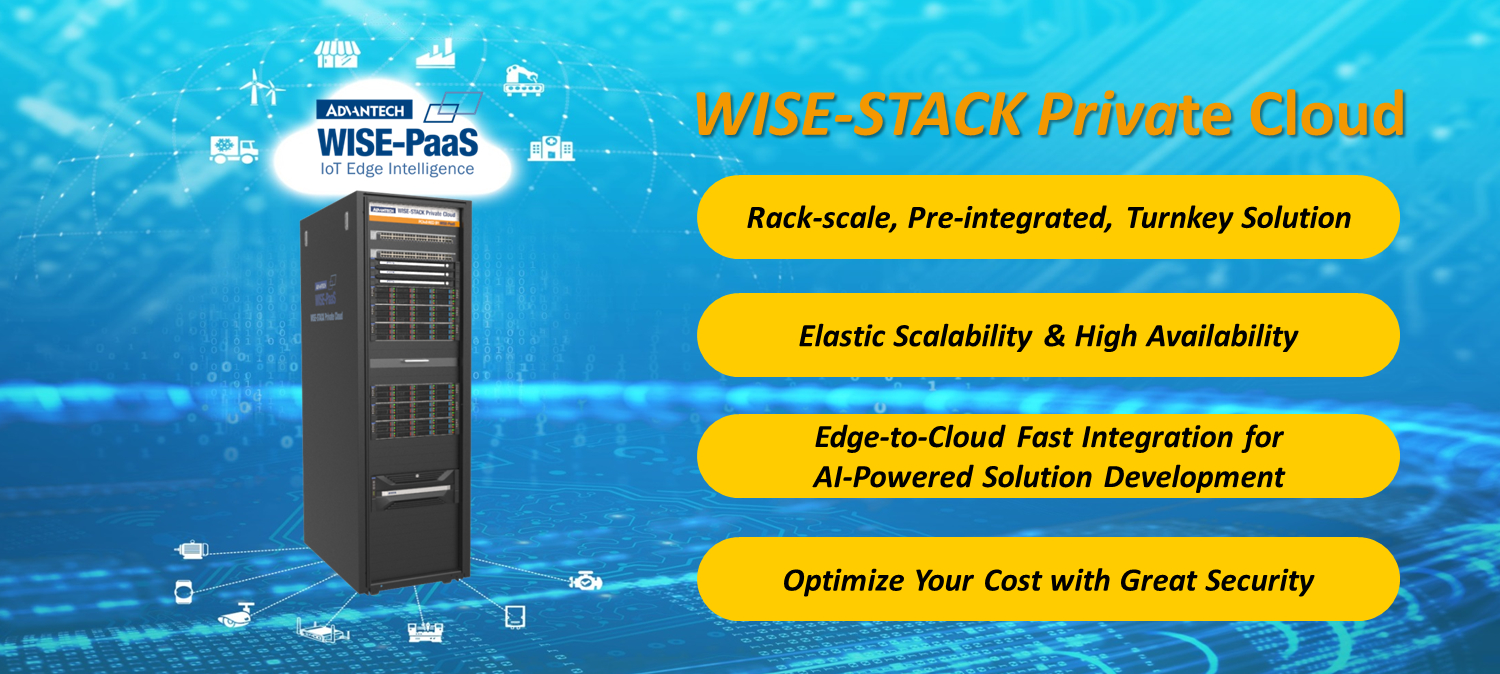 David Yeh, Project Manager of Advantech IoT.SENSE, said that the AI development environment — from the configuration of hardware resources, the deployment of the development environment, and the development of algorithms to the training of models, and even the deployment to the terminal environment — is built using different systems. Because of the decentralization of the system, developers face a broken development environment which poses major challenges at a time when many companies lack sufficient AI talent. With the technology popularization of AI, the ideal situation for users is to make a simpler and easier AI development process.
David Yeh said: "Our goal is very simple, that is, to let users focus on the development of algorithms and models. In project development, most time should be spent on analyzing and exploring the meaning of data, rather than spending time worrying about how to build the development environment, how to switch between training models, and the deployment of the inference engine in different development environments."
With the WISE-PaaS/AFS development tool launched by Advantech, the tools needed to develop the AI project are pre-configured. Through the easy-to-use interface, developers can quickly import industry data and AI algorithms to build an effective inference engine. David Yeh points out that the pre-built development environment can reduce overall development time. On the other hand, system integrators can quickly verify the functions and let customers see the actual results in a short amount of time.
Join Hands with Partners to Realize the Power of the Internet of Things
In combination with Advantech's expertise in terminal deployment, after completing the training of the model, the inference engine can be automatically deployed to the edge computing platform through WISE-PaaS/AFS. Users can even tune the model on each terminal device as WISE-PaaS/AFS provides model accuracy management. David Yeh believes that models have life cycles. As the environment changes, models may fall out of alignment. Therefore, once the terminal is online, users can still continuously correct the model through AFS and continuously feed back to the system through the terminal's big data for re-optimization to improve accuracy and achieve self-monitoring of the model.
David Yeh indicated that WISE-PaaS/AFS mainly emphasizes two functions: one is to accelerate development, and the other is to maintain the quality of the project. It is a "maintenance" AI model from the training and generation of the model, to the deployment of the inference engine to the edge device, and even the maintenance and modification of the model at the terminal in the future.
While data is an invaluable asset for AI development, IoT security is a major concern across different industries. Before Taiwan enacted well-developed cloud platform certification standards, Advantech already led other domestic players in passing China's authoritative certification system, the "Trustworthy Service Assessment Requirements of Industrial Internet Platforms." The certification system provides a rigorous authentication mechanism for items such as stability, security, protection against attacks, edge computing links, and security breach detection.
While there are more than one hundred IoT cloud platform services in mainland China, at present only a few dozen cloud platforms stand out by having achieved this certification; Advantech's WISE-PaaS cloud platform is one of them. The company operates in China's growing market, where competition is relatively fierce. With the support of the public cloud's comprehensive security mechanism, the need for private cloud environment deployment for specific industries that have always attached importance to the manufacturing process confidentiality was developed. By upgrading WISE-PaaS to 3.0, Advantech has strengthened local deployment via the WISE-STACK private cloud solution, allowing businesses to keep data access to themselves while enjoying cloud services.
WISE-STACK integrates Advantech's industrial-grade servers and the WISE-PaaS cloud platform. In addition to a public cloud experience, within the company users can completely control the network connection mechanism through the terminal connection's comprehensive privacy measures. A fully private cloud development environment lets customers manage their data assets and securely store data and AI models in the WISE-STACK private cloud environment.
From hardware products as the main driver of sales, to software-hardware integratedSRPs (solution-ready packages), to cloud and service deployment, Advantech is transforming from an industrial computer manufacturer into a major player in IoT and data-driven innovation. More appropriately, this shift should be referred to as an "extension." Advantech's familiarity with IoT needs in various industrial fields helps customers quickly realize projects, something traditional IT vendors cannot accomplish. Through the WISE-PaaS 3.0 AIoT edge-to-cloud architecture, Advantech joins hands with industry partners to co-create cloud services and realize an ecosystem where everyone wins.