Wireless ePaper Display Solutions in Advantech RMA Headquarters
2/13/2020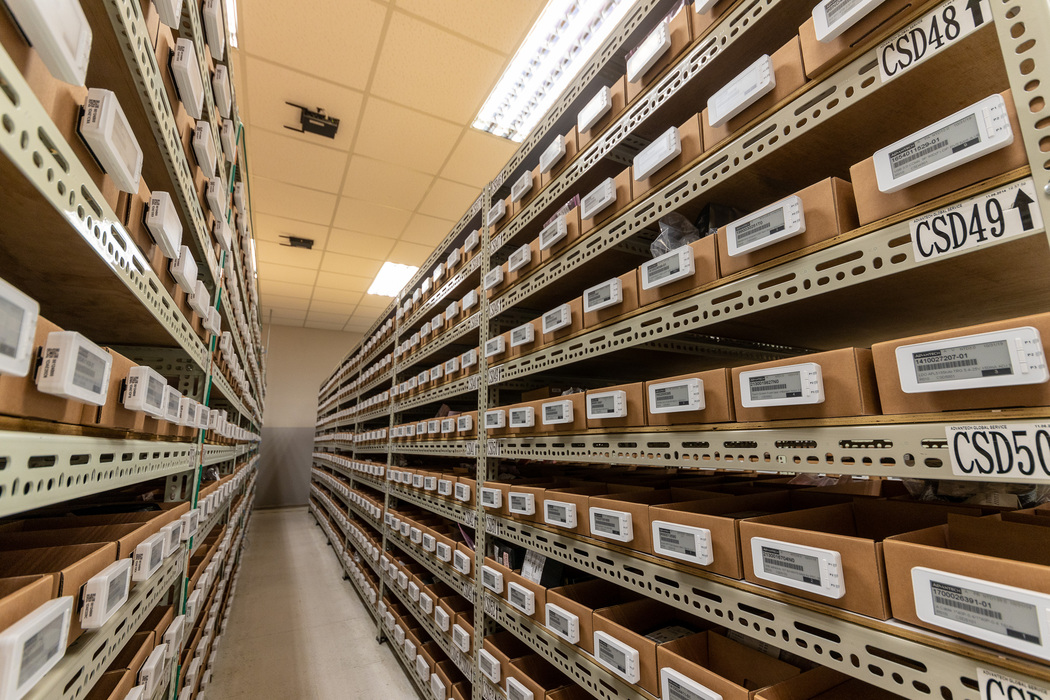 In a time of increasing globalization, maintaining accurate inventory across different regions is essential for controlling costs and upholding efficiency in the manufacturing industry. Accordingly, Advantech has developed Wireless ePaper Display Solutions for visualizing data in an ultra-low power consuming way.
In this case study, we are going to introduce how 2.9-inch wireless ePaper devices (EPD-023) empower warehouse operators to easily locate goods, verify components according to ordering instructions, and automatically update all data via the ePaper Manager software with the existing RMA inventory management system, thereby greatly improving the efficiency of global inventory management.
When implemented at Advantech's RMA center, the EPD-023 wireless ePaper display solutions not only increased picking efficiency and reduced human errors, but also improved inventory accuracy with the automatic deduction function. This solution enables Advantech to effectively manage material inventories at 15 repair centers around the world.
Wireless ePaper Display Solutions Transform Warehouse Operations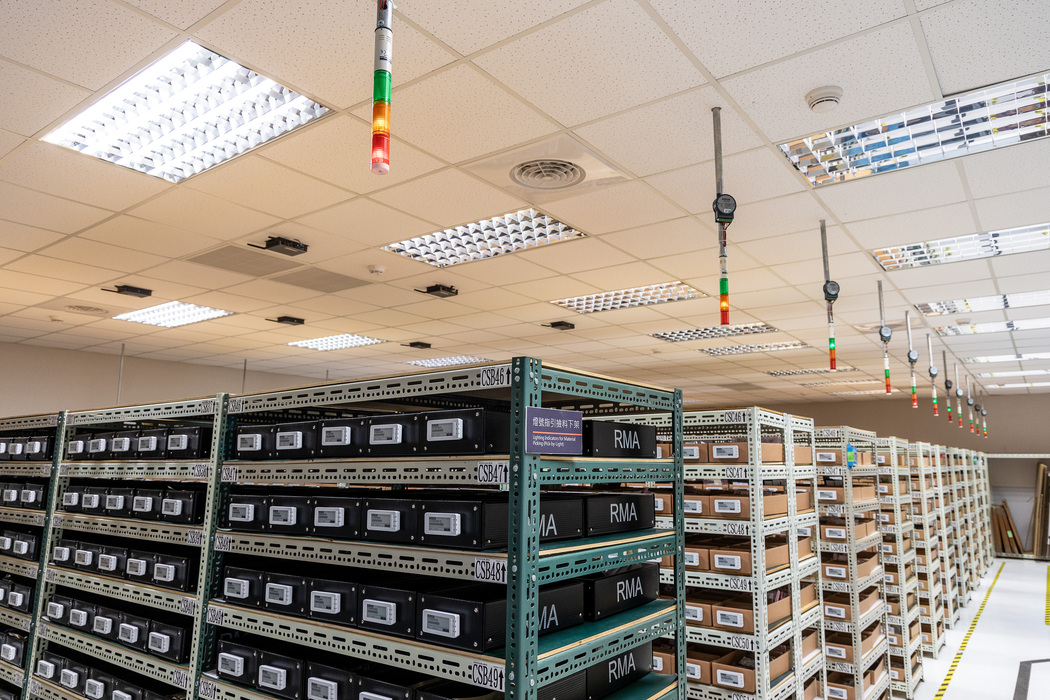 According to Jonhan Wu, Senior Manager of the Advantech Taiwan Service Center, the Advantech RMA center is equipped with 10 rows of two-way storage cabinets that contain an inventory of more than 5000 repair materials/components. Previously, when picking was conducted manually, warehouse operators had to rely on the storage coding logic and inventory organization to locate the correct components. Moreover, inventory information had to be manually updated after picking, increasing the likelihood of missed updates or data errors.
With the implementation of EPD-023 wireless ePaper display devices, warehouse operators can now pick materials quickly and efficiently. Similar to the way intelligent parking lots use lights to indicate empty parking spaces, the RMA center is equipped with indicator lights on each aisle that indicate the exact location of specific materials. Warehouse operators simply input the material information they need into the inventory management system and the order will be transmitted to EPD-023 wireless ePaper device. Then, all the operators need to do is follow the aisle lights to track down the correct location without needing to memorize it. When they fetch the correct box item, warehouse operators use the QR code scanner to scan it on the EPD-023 wireless ePaper device. This will turn off the indicator light, while also automatically updating the inventory data.
Jonhan Wu reported that the advantages provided by EPD-023 wireless ePaper display solution are the visualization of inventory data and more convenient picking. In the past, manual locating, verification, and inventory update processes were extremely time consuming and lead to numerous inaccuracies due to human error. Moreover, because previously the materials needed to be organized and stored according to a specific logic, only experienced picking personnel were allowed to retrieve materials. These personnel were also responsible for receiving, counting, and restocking all inventory materials, which meant that picking tasks were delayed, with requested materials distributed only once every 15 minutes.
The current solution featuring LED lights as location indicators and automated verification and inventory updates has greatly improved operational efficiency and accuracy. With the guidance of the aisle lights and the EPD-023 wireless ePaper devices, engineers can now retrieve materials by themselves, which eliminates the need for specific picking personnel. In less than a minute, engineers can collect the material and return to their tasks, greatly reducing down time for increased productivity. Additionally, because the EPD-023 wireless ePaper devices have three built-in indication lights, three engineers can collect materials at the same time by following the specific light color. Thus, the solution not only accelerates repairs, but also enables more accurate inventory management, which realizes the goal of "centralized planning, global execution".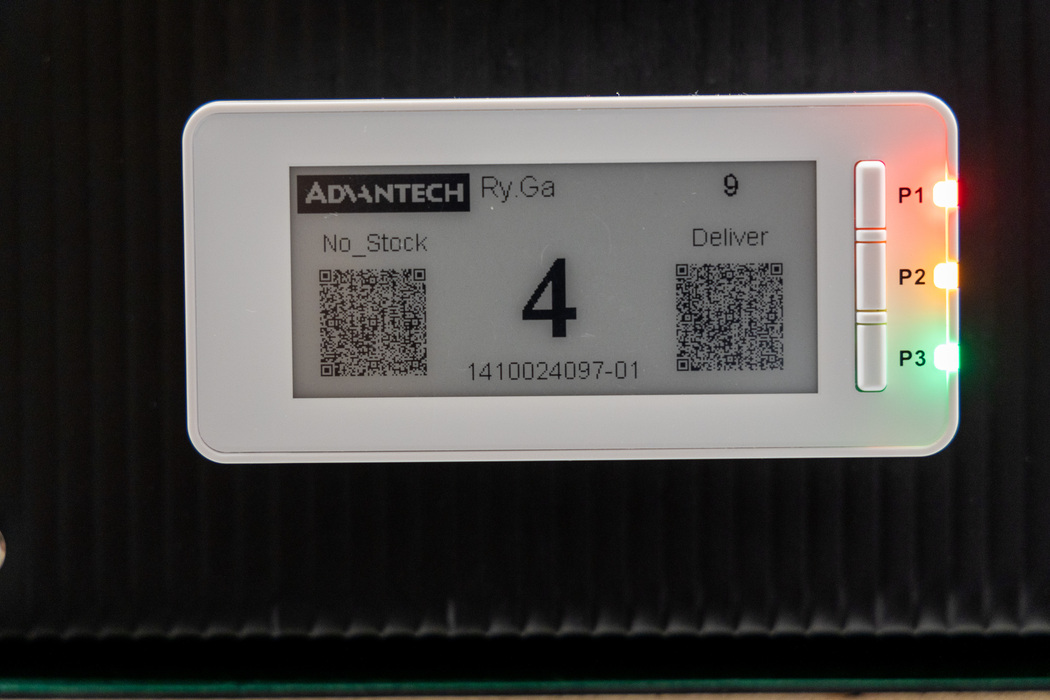 Jonhan Wu explained that inventory planning and management involves consideration of product sales, field-based wear and tear, failure rates, lead time, etc. Managers with sufficient experience are very important to ensure adequate inventory and avoid over or understocking. Consequently, Advantech hopes to extend the implementation of Wireless ePaper Display Solutions to its 15 overseas repair centers. This will enable managers at headquarters to understand the inventory situation at each repair center, and based on the cumulative stock levels organize a centralized material replenishment plan. If all the repair centers follow the centralized plan, local supplies of materials will be sufficient and the risk of global inventory stagnation will be eliminated. In this way, Advantech improves the operating efficiency of its repair centers around the world by effectively reducing repair times caused by material shortages. This ensures a consistent global repair service and ultimately, increases customer satisfaction and loyalty.
Wireless, Battery-Powered ePaper Display Provides an Innovative IoT Interface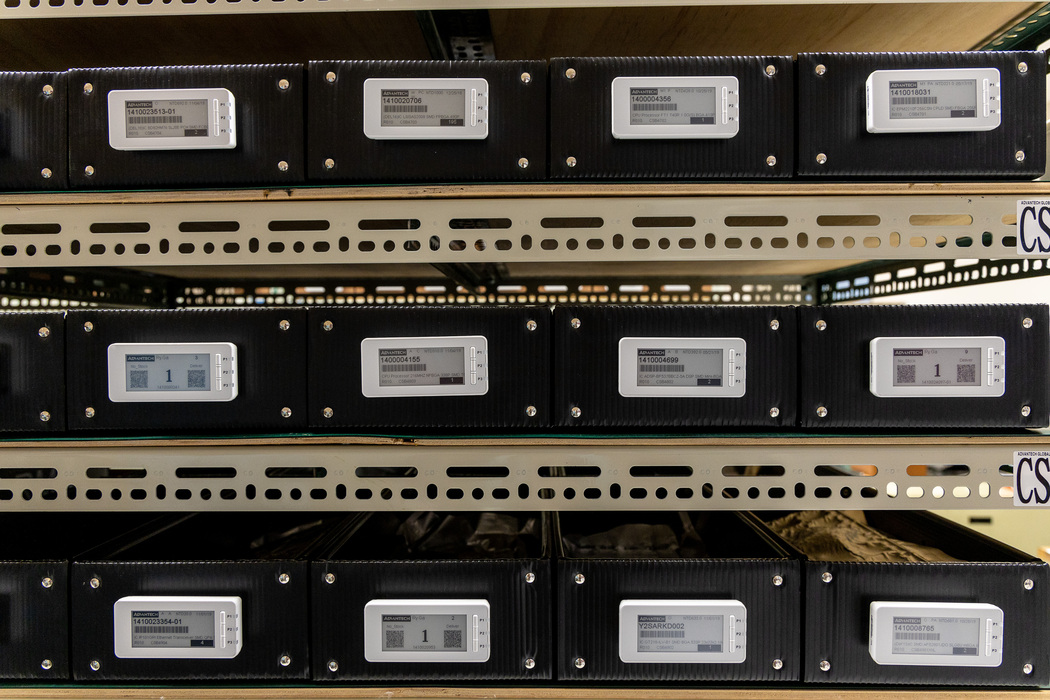 In addition to the RMA center, the Advantech Linkou Campus features many other applications of the Wireless ePaper Display Solutions. For example, as smart bus stop information displays, conference room door signage, production line logistics trolleys, and external information billboards. Sabrina Li, Product Manager of the Wireless ePaper Display Solutions believes that these devices can be used for any application that involves displaying information where color displays are unnecessary. Sabrina Li also emphasized that ePaper devices are lightweight and readable in direct sunlight, making them ideal for IoT applications.
Advantech developed its Wireless ePaper Display Solutions by leveraging over 30 years of experience to design a series of products that could satisfy the needs of diverse industries. Once installed and activated, all the ePaper devices automatically connect to the network without complex setup procedures. Back to the star product of this story, the EPD-023 ePaper device is equipped with a built-in battery that supports up to 3 years of operation, eliminating the hassle of frequent recharging.
Regarding software and hardware product design, EPD-023 ePaper device has three features that are created to improve application flexibility. First, the solution supports three LED indicator colors that have a corresponding physical button. When these buttons are pressed, the information is displayed on the EPD-023 ePaper device. Second, using a RESTful API, system integrators can easily integrate other equipment with the Wireless ePaper Display Solutions. Third, it features a visualization interface that allows systems integrators to simply drag and drop graphs for easier template design. This key feature allows the ePaper display image to be dynamically customized for diverse data.

In this era of widespread IoT development, Advantech's Wireless ePaper Display Solutions, with their advantages of simple installation, wireless control, ultra-low power consumption, and sunlight readability, are set to become the new HMI solution for networking devices, creating innovative, intelligent IoT applications for a wide range of industrial sectors.