Remote Monitoring & Early Fault Diagnostics of equipment
6/7/2019
Advantech & partner's cloud-based solution, enables cooling tower manufacturer EWK to increase the lifespan of its equipment and considerably reduce service costs
Introduction


Smart Care for Cooling Towers is one of the most advanced IoT solutions available on the market today. It allows for the remote monitoring and diagnostics of cooling tower assets as well as the measurement of its overall performance and the state of each of its components. Being a cloud-based solution it eliminates the need for numerous hardware devices. This is made possible through the combination of multiple technologies from the following contributors: Ericsson Cloud (IoT Accelerator), SmartLog (Dashboard Solution - AKURU), Advantech's Smart Edge platform "ECU-& EdgeLink" and a leading telecommunications operator.
The Client
Spanish based company EWK designs and manufactures cooling towers, evaporative condensers and adiabatic equipment, designed to obtain the highest energy efficiency. Over the years the company has produced and installed tens of thousands of cooling towers across the globe.
The Challenge

One of the most frequent challenges for owners of cooling towers is when the system fails, it stops without any warning. Many of EWK's clients operate 24/7 production facilities and in the event that the system fails, the temperature of this critical process is no longer controlled and stops. This leads to customer dissatisfaction and financial loss due to the stoppage of the production process. Further costs to repair the equipment, as well as penalties from the authorities, may also be incurred. Up until now if a service maintenance contract was not in place, EWK and its service partner had no means of knowing the precise status of its installed equipment until it broke down.
The Solution
Smart Care enables cooling tower owners and manufacturers to monitor the equipment performance remotely, allowing for the early detection of faulty hardware and in turn the provision of timely service. Through the user-friendly dashboard, the manufacturer can also learn more about the system, stay updated on its performance and in turn provide a highly reliable platform to its customers.
"At last, remote controlled cooling towers thanks to the EWK SMART CARE service powered by Advantech."Javier Vaquero. EWK Equipos de Refrigeración, S.A.
The Process
Advantech's Smart Edge box "ECU-& EdgeLink" is easily installed to an electrical connection in the Smart Control Cabinet on the cooling tower, it is Modbus TCP. The ECU transmits the Modbus TCP data over the telco network to the Ericsson Cloud IoT Accelerator. The software converts that data from any control system such as data conversion – protocol conversion event handling and logging data which is then translated into user-friendly information that is broadcast on the SmartLog AKURU dashboard. The solution can connect to almost any industrial hardware device and cloud-based platform. In this case, EWK now has instant feedback on the health and performance of each of its towers.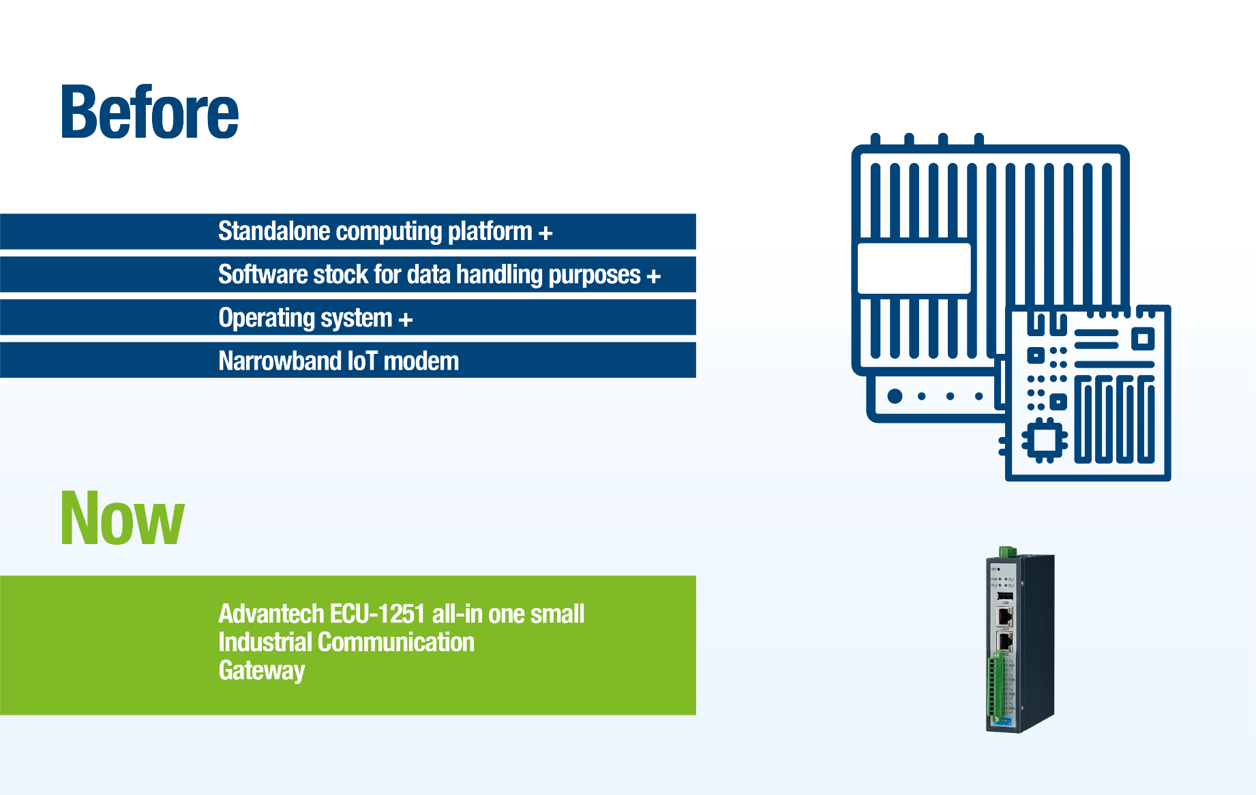 The Outcome
EWK's customers can expect a significant uptime on each installed cooling tower with unplanned maintenance activities kept to a minimum. Before this solution, a cooling tower downtime usually led to an unexpected and unwelcome factory stoppage. Therefore, the system requirement is to connect the Cooling Tower information to a central monitoring point.
"Prevent unplanned maintenance through condition monitoring and transform data into information", says uptime-engineer Lise Vandeborne of Smartlog
Advantages to the end customer
- They are notified in advance of tower abnormalities
- They do not need twice yearly service calls
- They have the ability to manage, thus significantly reduce, their operational energy costs
Advantages to the manufacturer and reseller
- Higher service level to their customers
- Lower cost per service call
- Creation of a new for-fee service
- A deeper understanding of their own products in real-life operation
- Better awareness of the efficiency and reliability of their Cooling Towers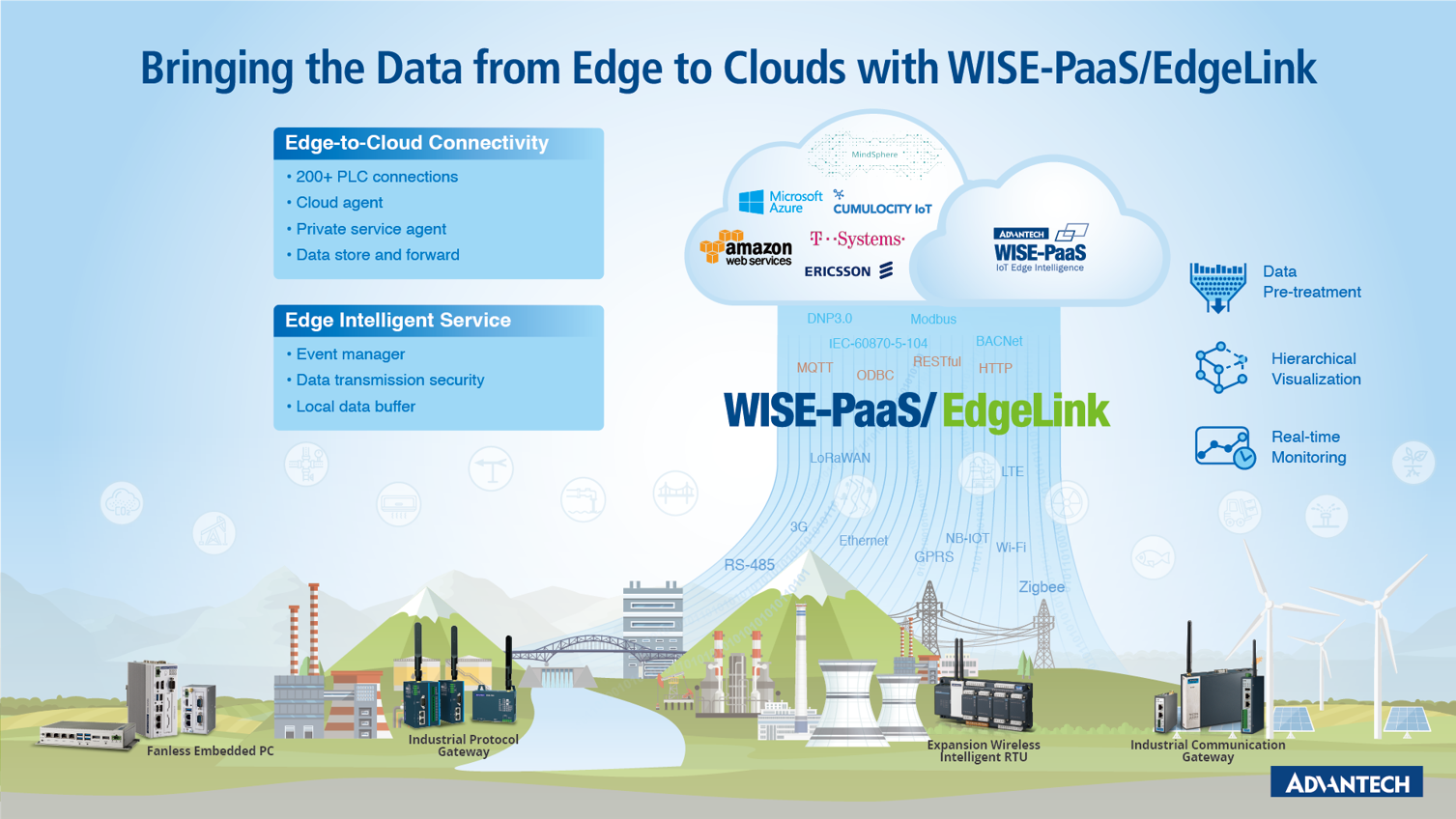 Why Advantech
Our product line is based on the Ericsson Cloud IoT Accelerator. This means:
- It has LWM2M protocol for effortless zero-touch for thousands of cooling tower upgrades expected in coming years
- It is cellularly connected, hence it works worldwide
- The ECU 1251 connects effortlessly to the existing PLC using Modbus TCP
- ECU 1251 Modbus serial ports provide instant upgrades to obtain more sensor inputs using Advantech WISE or ADAM units, for example
- Programming make it easy to be configurable with Advantech's free downloadable software
- ECU 1251 Modbus serial ports provide instant upgrades to obtain more sensor inputs using Advantech WISE or ADAM units, for example- Programming make it easy to be configurable with Advantech's free downloadable software
In conclusion, Advantech sees CO-CREATION as a vital element to successful IoT projects.
"With the Advantech ECU Gateway, we improve our connection with our customer. Cooling with the EWK Smart cooling towers is reliable and energy efficient, the Advantech ECU proves our promise of 24/7 operational efficiency." Maarten Wijffelaars Owner Cool Industries BV
About Advantech
Founded in 1983, Advantech is the leading manufacturer of industrial computing, display and communications products. Advantech offers its build, configuration and design services worldwide, through a global sales, logistics and support organisation that works with its customers and their end-users wherever our equipment ends up. We cooperate closely with our distribution partners, software, hardware and communication partners, system integrators and consultants to provide complete solutions to complex computing and communications challenges. Our mission is to enable an intelligent planet by developing the automation and embedded computing products on which it will run. With Advantech products, the application and innovation potential is unlimited.
www.advantech.eu