Quick, AI-Led Roadside Monitoring
1/25/2021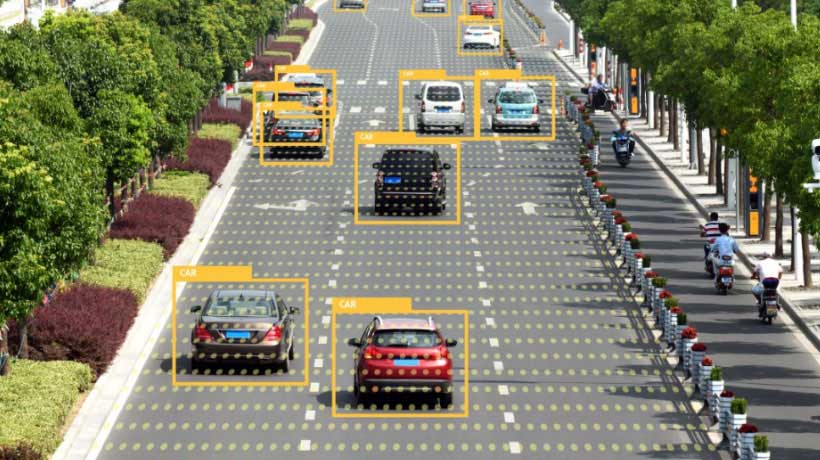 As urban areas around the world increase in both number and density, transportation and public safety are at the forefront of public concern. With ever-increasing amounts of available video and photographic data from traffic cameras, cities and governments are leveraging AI technology to analyze data in near real-time to gain valuable data-driven insights. These insights empower cities and governments to make informed decisions for improved public safety, reduced vehicle congestion, and fewer accidents.
Our customer in this case wanted to apply AI technology for superior precision in their roadside monitoring applications: license plate recognition, vehicle classification/counting, and pedestrian detection. The current rule-based roadside monitoring system struggled to recognize things that were hard to define by the rules, such as anomalous pedestrian behavior or similar but slightly different colored vehicles. Another limitation of the current system concerned the use of computer vision technology—results were sensitive to environmental light conditions and specified input formats. For example, if the light conditions or angle of the input image changed, the current systems may not have been able to perform recognition. The roadside monitoring system required a fanless solution capable of handling video/streaming processing as well as supporting a wide range of operating temperatures and performing AI inference in real-time.
Advantech's AIR-200 edge AI inference system overcame the abovementioned challenges. AIR-200 uses AI technology rather than rule-based computer vision algorithms; thus behavior and nuance differences can be recognized. AI inference was done on AIR-200 locally instead of via the cloud so the system gave a real-time response. Low latency resulted from the built-in VEGA-330 AI acceleration module, which had two Intel Movidius Myriad X VPUs onboard. With the VEGA-330 module inside, AIR-200 performed AI inference with less power consumption; freeing up system resources to empower more applications (Figure 1.). The VEGA-320 module handled the task of recognizing vehicle and/or license plate types, while the AIR-200 system counted the numbers of each type of vehicle and reported the analytics results for further use in traffic control, monitoring, congestion prediction, traffic management, and operating decisions. AIR-200 processes 4CH inputs and supports 1080p 120fps video encode and decode. AIR-200 accurately detects, records, and processes the stream/video data captured from IP cameras. It performs AI inference and reports the analytics data, all in one system, 24/7. AIR-200 also supports a -20~60°C operating temperature range. With Advantech Edge AI Suite software integrated, customers easily import their own trained AI models for inference and can monitor system status in real-time.
Powerful Intel Core i5 processors with two Myriad X VPUs
Fanless and rugged design with multiple I/O ports
Supports up to 1080p 120fps video encode and decode
Preloaded with Edge AI Suite and OpenVINO toolkit