Predictive Maintenance for Electric Motors and Bearings in Mining and Mineral Processing Facilities
3/7/2020
A North American corporation that operates more than 40 mining and mineral processing facilities needed help finding the right solution for predictive maintenance. In one particular stone quarry, the company needed to be able to monitor major plant bearings and electric motors for changes in amperage draw, temperature increases and vibration.
By monitoring these motor and bearing factors, the facility would be able to catch any problem or failure before it occurred, avoiding possible catastrophic issues. Additionally, there would be considerable economic value in preventing breakdowns or equipment failures, avoiding unplanned downtime and machinery replacements. For example, the customer estimated it would cost more than $25,000 to replace a drive motor as opposed to $4,000 for re-bearing and up to $18,000 for rewinding. By preventing complete failures, the savings could be anywhere from $4,000 to $7,000 per motor.
To combat increased downtime, the customer always has a spare motor in stock two hours away, and a crane and man lift on site for repairs. But predicting failures would still cut the replacement time in half due to better coordination. They determined that minimal savings in maintenance time would be $1,000.

In order for the preventative maintenance monitoring system to be successful, it had to not only be cost effective, but also be able to work in the industrial mineral processing facility environment. The system had to be rugged and wireless; it needed to be able to easily span the plant area without having to run hard wires long distances.
To find a cost-effective solution that also met all the location limitations, such as the need for wireless, the stone quarry chose to use the Wzzard Mesh Wireless Solution for industrial applications from Advantech. Wzzard mesh wireless sensor nodes are well-suited for industrial environments and can be battery powered. They run for several years on a single set of batteries and are rugged devices, rated for extreme environments.
Using the Wzzard mesh wireless sensor nodes and a SmartSwarm 342 IoT asset integration gateway, the facility can get visibility of temperature data of the bearings on a stand-alone dashboard. If the bearings' temperatures rise above a certain threshold, the maintenance staff can determine the status of the bearing. Text message notifications report an alarm when the temperature threshold exceeds a certain temperature. With this visibility, failure prevention is now in the facility's hands.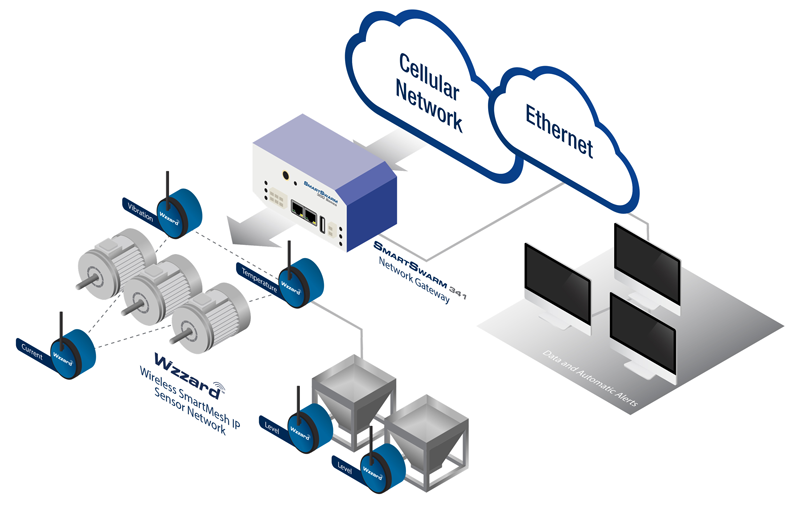 Ultra-low power 802.15.4e SmartMesh IP technology
Communicates with SmartSwarm network gateway via highly scalable and reliable wireless mesh networks
Connect to industry-standard analog or digital sensors
Wzzard app lets you read or configure the nodes using Android tablets and smart phones
MQTT and JSON IoT protocol to application platform
UL Class1/Division 2 (hazardous locations)
Featured Product Solutions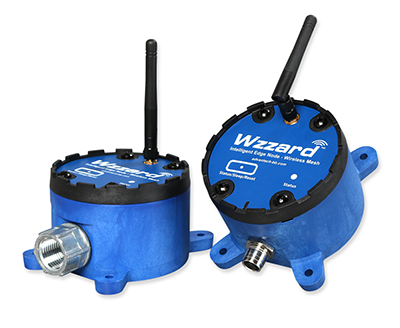 2 Analog Inputs, 1 Digital Output, External Antenna, M12 connector, Temperature Sensor, Humidity Sensor