PayinTech Collaborates with Advantech to Develop Mobile POS Solution for Cashless Payment Services
3/13/2020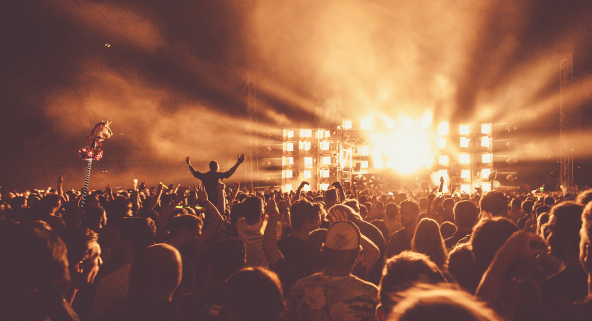 Images provided by Advantech
The renowned French payment software company PayinTech has collaborated with Advantech on the development of mobile POS solutions for cashless payment services. With the assistance of IoT technology, the organizer of the Hellfest music festival in France utilized these systems to improve the efficiency of on-site sales management, enhance attendees' experience at the festival, and make all purchasing operations at the festival as smooth as possible.
For many companies, managing large amounts of cash in on-site sales can be a tricky business. At large music festivals like Hellfest, managing on-site payments for food, beverages, and other products constitutes one of the biggest challenges. At Hellfest— one of the world's largest heavy metal music festivals held annually in Clisson, France, with more than 180,000 attendees every year—traditional payment methods are not efficient enough, making it necessary for the organizer and store owners at the venue to adopt smart technologies and innovative retail solutions.
Building payment system with PayinTech's cashless payment solution
To resolve the issue of efficiency in payment systems, the organizer of Hellfest needed a smart payment system urgently, and PayinTech was able to offer an innovative cashless payment solution.
PayinTech's cashless payment solution offered the attendees a convenient and hassle-free payment method. The solution leverages the advantages of NFC-enabled cards by allowing attendees to top up money on such cards and use them to make payments for food, beverages, or anything else sold on the festival grounds. The NFC-enabled cards could be acquired in advance or at any time during the event, while end-users could top up money on the cards using one of the on-site cashless banks, via online money transfers at Wi-Fi stations, or simply through their smartphones.
However, in the process of building the solution for Hellfest, PayinTech found that most consumer-grade tablets either had insufficient capabilities to run their software or came with an inconveniently positioned NFC reader. The company needed more reliable and professional hardware running on the Android operating system to allow for high-volume commercial use and facilitate the cashless payment solution at Hellfest. After learning more about the capabilities, ruggedness, and quality of Advantech's products, as well as how these products complemented its own software, PayinTech decided to establish collaboration with Advantech to create suitable mobile POS solutions for cashless payment. Advantech offered assistance with integrating PayinTech's software solution, and together, they determined that Advantech's iRetail AIM-37 tablet with the printer cradle AIM-P701 was the ideal hardware option for the cashless payment solution.
Benefits of the cashless payment solution
Choosing the right hardware to implement well-designed software was one of the most important factors in creating a successful solution for PayinTech. After deciding on the hardware, the rest of the implementation process was much less challenging.
During Hell fest, all cashless purchases were processed using the AIM-37. The attendees could use the NFC cashless card to make payments, with store clerks completing payments and transactions by simply placing the NFC card onto the NFC sensing area on the right edge of the display. The solution drastically reduced waiting times, improved attendees' shopping experience, bolstered productivity of the store clerks, and, most importantly, helped stimulate sales. All steps involved in the payment process were simplified with PayinTech's cashless payment solution and Advantech's iRetail solution.
Complemented by Advantech's iRetail solution, PayinTech's cashless payment solution presented tremendous benefits for attendees, store owners, and the festival organizer. It allowed attendees to manage and link their cards to their user account, keep track of their consumption, find their payment tickets, top up online, refrain from using credit cards, and even declare the loss or theft of their cards, all from a smartphone app. Also, it immensely improved the attendees' payment experience by simplifying all steps of purchasing and paying through the usage of a small card and greatly reduced waiting times, increasing their willingness to buy things and thereby increasing profits for store owners. With such an all-in-one payment system, store owners could enjoy secure financial flows with no human errors; remotely monitor all sales and statistics in real time with a powerful visualization and data analysis tool on an interactive dashboard; track consumer behavior by monitoring the consumption data, activity data, and push notification reception; digitize store management and collect reliable data which is in compliance with French regulations such as ACPR or NF525 on electronic money and POS standards; and feed the CRM with data to create more profitability in line with consumption profiles. The solution also supported staff management; session management to track certain terminals, cashiers, or dates; blacklist management to dynamically manage blacklists; and gifts and promotions management to identify and track promotions. PayinTech's solution delivered an open ecosystem that enabled the integration of thi rd-par ty services, opening up even more possibilities for the future.
Cashless payment solution complemented by superior hardware The excellent outcomes achieved at Hellfest were the result of fruitful coordination between PayinTech's software and Advantech's iRetail solution—a complete software experience connected with impeccable hardware design. The hardware included Advantech's AIM-37, which is a 10" tablet industrial-grade mobile point-of-sales (mPOS) system with a built-in NFC reader, barcode scanner, and HD Corning Gorilla Glass 3 display offering a mean time between failures (MTBF) of up to 12,000 hours. It boasts a built-in 2-megapixel front camera and 5-megapixel back camera with a battery that supports up to eight hours of operation, as well as a design that is exceptionally thin and lightweight to ensure maximum portability, with thickness of 17 mm and weight of 900 g. Also, the front panel is IP54-rated for water and dust resistance with a directly bonded touch screen that reduces light refraction to enhance visibility. It also offers water tolerance, palm rejection, and glove mode for enhanced operations. In addition to eliminating contamination from water, oil, and dust, the system design prevents water from interfering with the sensor function, making AIM-37 the ideal mPOS for commercial catering and hospitality applications. Moreover, the tablet supports 75 cm native free drop protection without external protective casing. The AIM-37 runs on both Windows 10 IOT and Android 6.0 operating systems, and supports optional module configurations for flexible operations. It can be integrated with various peripherals and flexible installation mounts to support diverse applications.
Another important part of the hardware was the AIMP701A0, a compact and stylish multifunctional smart cradle for AIM-37 mPOS. It has a 180° swivel design that allows the tablet to be turned to the other side with ease, and is integrated with a pogo pin that supports 5V/3A high speed charging for the AIM-37. The cradle has an embedded high-speed thermal printer with LED power and error indicators that support 80 and 58 mm receipt printing at a printing speed of 200 mm/s. Moreover, it is equipped with diverse I/O interfaces such as two USB Type-A ports, two COM ports via RJ48, and an optional RJ11 for cash drawers, which allows for the connection of various peripherals.
Opening up more opportunities for future applications
For Hell fest, PayinTech purchased 160 units of the AIM-37 tablet mPOS system and another 140 units for future utilization. PayinTech's cashless payment solution served over 150,000 people at Hellfest in three days, representing a truly remarkable achievement. PayinTech is now ready to promote its products in even more industries.
At the moment, PayinTech is planning to use Advantech's AIM series as the standard hardware solution for its software at future events in Europe, expanding its products into the sectors of tourism and camping, parks and leisure facilities, sports and stadiums, events and festivals, development and aid, and smart destinations. With the help of Advantech's reliable and rugged hardware solutions, PayinTech will never have to worry about falling behind competitors or lacking support.