OmniEyes Connect SI and Hardware Partners to Meet Global Fleet Management Demands
2/2/2021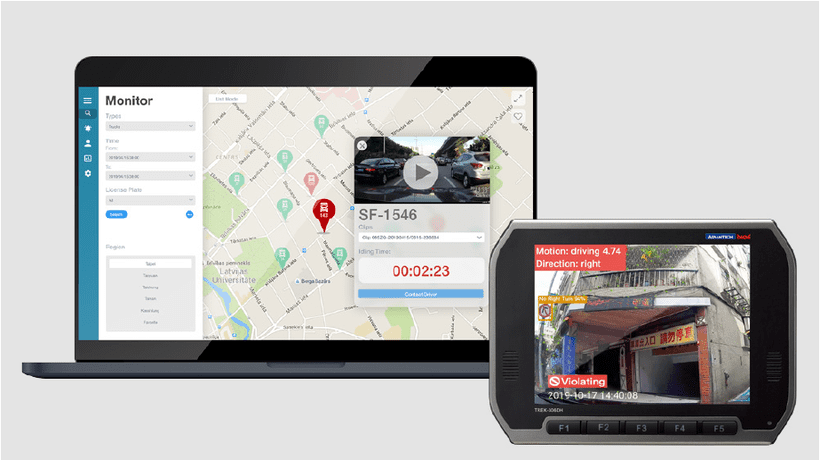 Photos provided by Shutterstock
Interview with Chun Ting Chou, CEO, OmniEyes; Van Lin, Director of Intelligent Mobile Solutions of Service IoT Group, Advantech
In 1905, the Wright Flyer III successfully flew for 38 minutes. Despite a century of advancements, fully autonomous take-offs and landings are rare and difficult. Similarly, autonomous road vehicles have been designed to navigate even more complicated environments than aircraft in the sky with mixed success. This is why Chun-Ting Chou, CEO of OmniEyes, questions the chances of creating a 100% autonomous vehicle.
"The future development of smart transportation must incorporate three elements — infrastructure, vehicles, and drivers. However, the present fixation on autonomy has hindered the development of smart transportation," said Mr. Chou. He believes developing future smart transportation solutions requires viewing technology as more than a simply a tool. He posits that people (driver) centric smart applications provide the best avenue for developing smart transportation. Changing user habits is the only way to shift from drivers in cars to the coordination between intelligent cars and people—and, eventually, to the mass use of fully autonomous vehicles.
Collecting vertical market dynamic video data
From the beginning, OmniEyes has maintained a human-centric approach. They have been using video and image technology to solve a variety of dangers found on the road. Chou pointed out that almost every car presently on the road in Taiwan (and in many other regions) has a dashcam. Groundbreaking smart applications could feasibly be developed from these dashcam videos if incorporated into a massive dynamic database.
The OmniEyes entrepreneurial team were aware of the capital requirements and the scale of operation needed to access the mass consumer market for such an ambitious vision. To address these restraints, they entered the fleet management vertical market. OmniEyes solved the, "who pays for the service" problem and collected dynamic video from different global fleet databases. They also developed intelligent applications aimed at addressing transportation issues from these databases.
Using image capture and AI analysis technologies, the OmniEyes system can monitor real-time road conditions from moving vehicles. If a driver runs a red light, the system immediately sends 20 seconds of video from before and after the event back to the control center. Using this information, fleet managers can gradually modify driver behavior through a reinforcement system. Chou mused, "Punitive measures are the most common enforcement method used by fleet managers—however, in our opinion, rewarding drivers with good records is more effective". To this end, OmniEyes provides monthly cash rewards that incentivize desirable behaviors.
Co-creating with Advantech to develop future smart transportation
Affordable AI vision technology usage fees is another of OmniEyes competitive advantages. Chou said that, AI as a Service (AIaaS) cloud computing is coming despite being expensive. To address cost issues, the OmniEyes system uses Edge AI technology. When the fleet deploys the OmniEye system, existing equipment can be used with edge computing solutions, to avoid cloud service supplier costs. In the end, the total deployment and operation costs accrued by customers was much lower than comparable cloud AIaaS options.
This combination of competitive advantages has won OmniEyes many smart transportation solution projects from large domestic logistics fleets. It has also helped them enter the US market — the most saturated fleet management market. Chou emphasized that based on the experience gained from several smart fleet management projects, OmniEyes has positioned itself as a, "Softwaredefined sensing beyond physical metrics" company. OmniEyes primarily delivers dynamic map data and video capturing services aimed at monitoring fleet vehicles. By using such services and customer feedback, OmniEyes creates the smart applications needed by drivers and fleet managers.
From the perspective of software, OmniEyes must collaborate with partners from various fields to rapidly expand its global market. "The group cooperation business model can deliver the vision of smart transportation faster." Chou said. OmniEyes views open co-creation favorably, and is actively seeking cooperation with manufacturers, suppliers, system integrator (SI) resources, and a global hardware sales/service provider like Advantech.
Echoing Chou's views on open co-creation, Van Lin, Director of Intelligent Mobile Solutions of Service IoT Group at Advantech commented, "Co-creation remains Advantech's core corporate value. Advantech has been vigorously cooperating with global SI, transportation industry operators, and software companies such as OmniEyes. We continuously develop smart applications for the transportation industry that meet market demands and have the ability to constantly evolve with current circumstances."
Through future co-creation with companies including Advantech, Chou is confident OmniEyes' vertical market will expand globally. As OmniEyes makes more contributions to the future of smart transportation, opportunities will arise to shift from the B2B to the B2C mass transportation markets.