Military Surveillance Controller with Rugged MIO-2361 2.5" Pico-ITX SBC
5/16/2019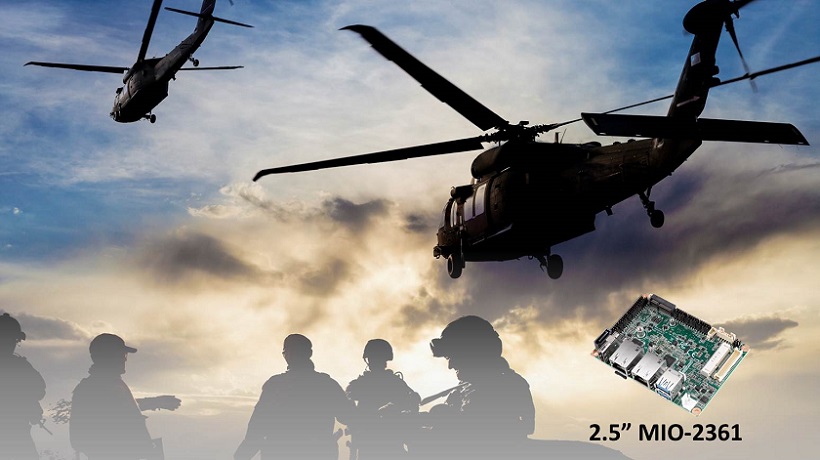 The customer was a military solutions provider with over 30 years of experience designing and manufacturing tactical computers for use on the ground as well as in the air. They specialized in integrating commercial off-the-shelf (COTS) equipment into customized, rugged products in order to provide reliable and cost-effective solutions.
Challenges and Objectives
The customer needed an embedded SBC with an ultra-small form factor, low power consumption, extended operating temperature -40° to 85°C, significant I/O capabilities like dual LAN, sufficient UARTs and GPIO, as well as flexible expansion such as M.2 E-key fir WiFi and Bluetooth connectivity and mSATA for storage.
The customer was expected to provide a proof of concept system for their end user in order to test, qualify, and gain approval within an extremely tight schedule.
As an Intel® IoT Solutions Alliance Premier Member, Advantech accessed the latest roadmaps, CPUs, and chipsets, and received direct support from Intel. For this project, Advantech offered the perfect fit with our new MIO-2361. The MIO-2361 is a 2.5" Pico-ITX SBC which utilizes onboard LPDDR4 memory and eMMC flash, making it ideally suited for use in rugged mobile environments where shock and vibration are constant concerns.
This SBC was used as a controller for large-scale surveillance applications and communicated with the rest of the system through various communication interfaces, such as serial ports and GPIO. It was controlled remotely via Ethernet by a main control system.
Because of its wide temperature range of -40° to 85°C for the operating environment, the MIO-2361 SBC could be used in completely sealed aluminum housing with no ventilation or fans. It proved to be a very robust platform for use across a range of temperature extremes and applications; including for military, border control, industrial use, and much more. The MIO-2361 SBC is well suited for anywhere that a rugged, compact, all-in-one, embedded solution with a wide temperature operation range is needed.
MIO-2361 Feature Highlights
Compact 2.5" Pico-ITX form factor (100mmx72mm)

Intel Atom E3900 series supports native extended temperature range: -40° to 85°C

Onboard LPDDR4-2400 4GB and eMMC up to 64GB
TPM 2.0 support (for secure government/military applications)

Multiple I/O such as dual GbE, 16 bit GPIO, 4 x USB ports, 2 x COM ports

Flexible expansion interface via mSATA and M.2 E-key

Dual independent displays by 48 bit LVDS + HDMI

Through Advantech's corporate PM/EE/ME and local PM/AE's efforts, we delivered the sample with all necessary user manual and I/O definitions and related drivers to the customer in two weeks and met the customer's project schedule. After an initial testing of our demo with the customer's communication cards and peripherals, the customer shipped the final working sample to their end customer on time. The potential total demand was for 2000 pcs.