Industrial Motherboards for Robotic Surgery Simulator Systems
5/16/2019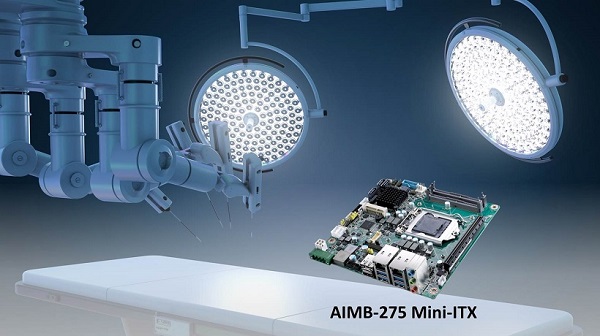 The customer was a design and manufacturing company of robotic surgery simulator systems. Robotic surgery simulators are for surgeons and surgical teams who wish to engage in training with system skills exercises and 3D videos to align training pathways to specific surgical specialties. The company owned the system design/IP and their systems were cleared by the FDA for general laparoscopic surgery.
The Challenge / Objectives
The company was sourcing an industrial motherboard for their next generation robotic surgery simulator system. Because the motherboard's computing power, quality, and reliability directly impacted the overall performance of the system, the board requirements and selection process were extremely stringent.
Supported Intel® 7th & 6th Gen Core™ i processor

ESD handling

BIOS /Firmware development
Supported TPM

Functional and environmental testing

Regulatory testing

Lifecycle management

Customer support

Advantech's AIMB-275 Mini-ITX Industrial Motherboard, based on Intel® 7th & 6th Gen Core™ i processor, was selected for the customer's application. The AIMB-275 met the computing performance, industrial, and compact design requirements while offering multiple I/O and I/O expansion if necessary. In addition, Advantech's local engineering, quality, and production services ensured that it could act as a one-stop partner for the company to further fulfill the customer's requirements for OS development, testing, management, and other support services.
Designed for a minimum 7 years + product availability

Supports Intel® 7th & 6th Gen Core™ i processor with Q170 with security TPM option


All I/O ports passed IEC61000-4-2 4th edition standard level 4 ESD protection

DQA for both functional and reliability test reports

Compliant Level 4 ESD/EMC

Fast turn-around-time for customized BIOS

Fast turn-around-time RMA

Local engineering/hub/production/assembly support

Local quality assurance service