Ezcon Integrates Various Equipment to Create Truly Smart Offices
3/11/2020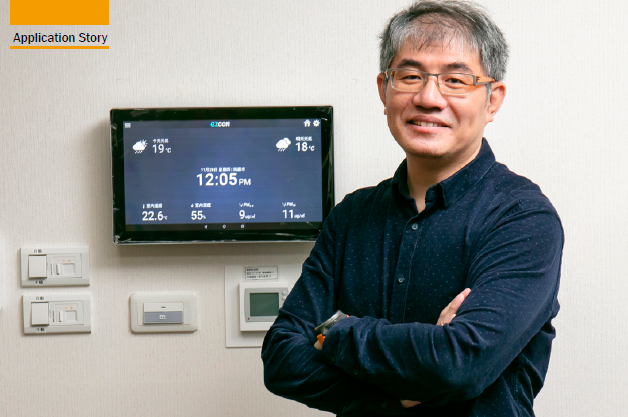 Images provided by Advantech
Interview with Benny Chou, CEO, Easy Control Technology
Based on high levels of system integration, Easy Control Technology (Ezcon) has teamed up with Advantech to create a comprehensively smart office for a construction company in Taoyuan, Taiwan. They also plan to apply similar solutions in the smart home market, so that more people can experience smart living and working environments.
Smart homes and offices have emerged as a new trend. To achieve truly smart environments, advanced integration capabilities are necessary. Benny Chou, CEO of Easy Control Technology, explained that "truly smart spaces allow people to switch off all equipment with a single click when leaving. Spaces that only integrate applications in a single interface, or require users to switch off equipment one by one, cannot be called smart."Integration is thus key for creating smart offices and homes.
A prominent construction company in Taoyuan has been committed to revolutionizing concepts of the home in order to provide people with better living environments. The company sought the help of Ezcon with the purpose of creating truly smart homes. The CEO of the construction company said that "we've been talking about smart homes for a long time, but companies have mostly approached this topic individually. If systems cannot be integrated, it is very hard to create truly smart homes." The company allowed its own office to be used as a testing ground, bringing in Ezcon to build a smart space that takes into account all relevant aspects.
In addition to integrated lighting, videoconferencing systems, and systems to monitor temperature, humidity and air quality levels, the office also boasts various smart applications. For example, when outdoor illuminance reaches 20,000 lux, the electrical curtains will be activated to prevent too much sunlight from coming in. Also, facial recognition systems have replaced fingerprint systems. People's faces are automatically screened when they enter and leave the office.
The smart control of the air-conditioning systems is coupled to water chiller machines. Benny Chou said that after these machines are activated at 8 a.m., the airconditioning system will only be activated on a certain floor once the first employee has clocked in for work and thereby switched off the alarm system, and once the indoor temperature exceeds 20 degrees Celsius. The operation of air-conditioning and fan functions is entirely based on temperature, eliminating the need for human intervention.

Working with Advantech to co-create the optimal Solution
Since its establishment 14 years ago, Ezcon has focused on automated environment control for smart buildings, integrating lighting, air -conditioning, surveillance and door security functions in smart control boxes. Nevertheless, to create the comprehensive smart office, Ezcon required even more system development technology and integration capabilities.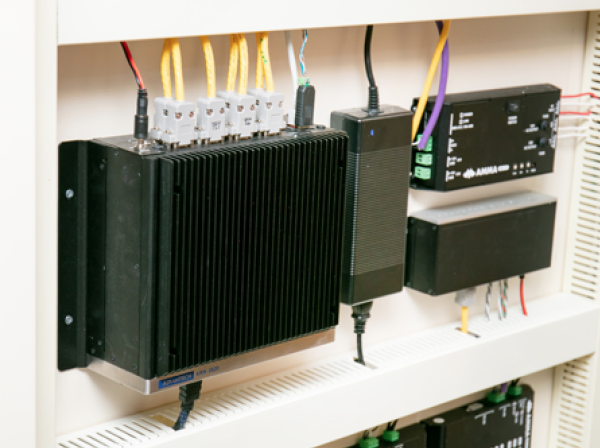 In 2018, Ezcon developed a cloud-based software management platform, achieving a central management system that could integrate control applications for all sorts of equipment. Ezcon has also actively collaborated with various partners. For example, it has consolidated communication protocols with major home and electrical appliance manufacturers, which includes Hitachi airconditioning systems, Honeywell floor-heating systems, and Schneider Electric smart electric boxes.

More importantly, as the main computer that connects all the equipment in the entire smart office solution, Ezcon selected Advantech's high-end ARK-3520 to optimize the solution.
Advantech provides software development resources
Benny Chou said that after evaluating available industrial computers, Ezcon ended up selecting the ARK, because it's fan-less and noise-reduction features were able to meet demand for quiet living and working environments. In addition to the hardware, Advantech also provided tremendous support for the Linux-based software platform, helping Ezcon overcome various challenges.
After successfully completing the smart office for the company, Ezcon was praised for its hardware/software integration capabilities, as well as the ease of using the software interface. In the future, Ezcon will also use this solution in the smart home sector, including new projects being undertaken by the construction company. The CEO of the construction company expressed his belief that smart home concepts are not just for the high-end housing market, and it will also be adopted in smaller homes, making them accessible to a greater group of people.
Looking ahead, Ezcon intends to further deepen its partnership with Advantech. In particular, they're looking forward to the market launch of the smallsize, foldable touchscreen that Advantech is currently developing. Once communities and buildings have adopted smart management, related frameworks can be further upgraded with Advantech WISE-PaaS private clouds to consolidate control and management functions. Through co-creation by Ezcon and Advantech, even more smart applications can be developed, enabling even more people to live and work in smart environments.