Advantech Delivers Cross-Border Bus Fleet Management to Europe
11/11/2020
According to the World Tourism Organization (UNWTO), Europe hosted around 744.3 million international tourists in 2019 — accounting for 51% of global international tourism. Similarly, the development and usability of the Trans-European road and rail networks has improved; yielding increased European cross-border transportation in recent years. This increase in travel has led to a corresponding increase in demand for fleet management, infotainment, and remote monitoring capabilities on buses. Providing passengers with stable wireless services and entertainment, while simultaneously maintaining effective fleet management requires reliable in-vehicle systems. Advantech's ARK-2121V is a compact vehicle-grade box PC with ruggedized design. It supports multi-connectivity for fleet management and passenger infotainment systems.
Advantech's end customer is a famous bus company that services destinations in several European countries via a transnational network. This company planned to replace outdated in-vehicle systems with improved modern solutions. The customer required internationally certified, ruggedized, and reliable equipment capable of operation in harsh environments. To enable real-time vehicle monitoring, tracking, and passenger services, the on-board controller required dual 4G LTE SIM cards to guarantee stable cross-border wireless connectivity. This project also required remote device monitoring capabilities to ensure the proper operation of in-vehicle systems and reduce operating costs.
Advantech's ARK-2121V in-vehicle fanless box PC was chosen for this project as it meets customer requirements and is adaptable to different challenges. ARK-2121V supports E-Mark and ISO-7637-2 vehicle-grade power certifications to ensure stable disturbance-free operation. ARK-2121V is powered by Intel Atom® processors and is an easily expandable, cost effective solution for video surveillance, fleet management, and passenger infotainment. It creates stable wireless networks via 2x miniPCIe slots with SIM cardholders for both 4G LTE modules and Wi-Fi modules. Additionally, it enables vehicle status checking using 2x miniPCIe slots for CAN bus. It delivers entertainment and information through 2x connected lockable displays. This solution supports 4ch PoE cameras to prevent accidents and improve safety.
Designed for in-vehicle applications, ARK-2121V supports broad operating temperatures (-30 ~ 70 °C / -22 ~ 158 °F) and can withstand vibration and shock (certified at IEC-60721-3-5 5M3). ARK-2121V comes preloaded with Advantech's WISE/DeviceOn remote device management software. This helps users monitor and manage ARK-2121V in-vehicle systems remotely. It simultaneously conducts remote vehicle diagnostics analysis and repairs bus systems. In sum, Advantech's ARK-2121V enhanced the efficiency, safety, and effectiveness of cross-border bus fleet management in Europe.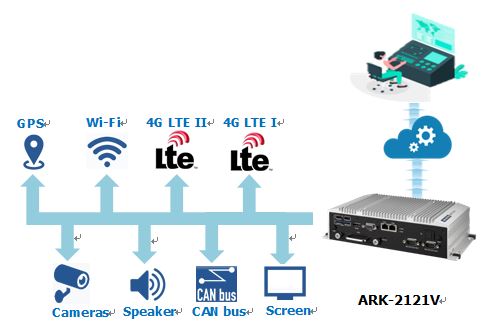 ARK-2121V In-vehicle System
Intel® Atom E3825 Dual Core 1.33 GHz & E3845 Quad Core 1.91 GHz SoC

4 PoE Ports to Support Mainstream IP Cameras

Isolated COM ports and DIO

Two SIM cardholders for both 4G LTE modules and Wi-Fi modules
Up to -40 ~ 70° C wide temperature support (by project)