Air Compressor Manufacturing: Tong Cheng Launches Intelligent Solution with Innovative Service Model on the WISE-PaaS Cloud Platform
10/8/2019
The air compressor is a device that converts mechanical energy into pressurized gas by compressing air. It is widely used in industrial applications and is an important power source. However, in the past air compressors were often placed on work sites and left alone to operate. Actual operation and idling conditions, energy consumption levels, temperature, pressure, gas usage, and other data were largely ignored. Once a fault occurred, the production lines were shut down, resulting in a loss of capacity. These early systems also failed to provide early warnings for parts replacement and did not successfully achieve preventive maintenance.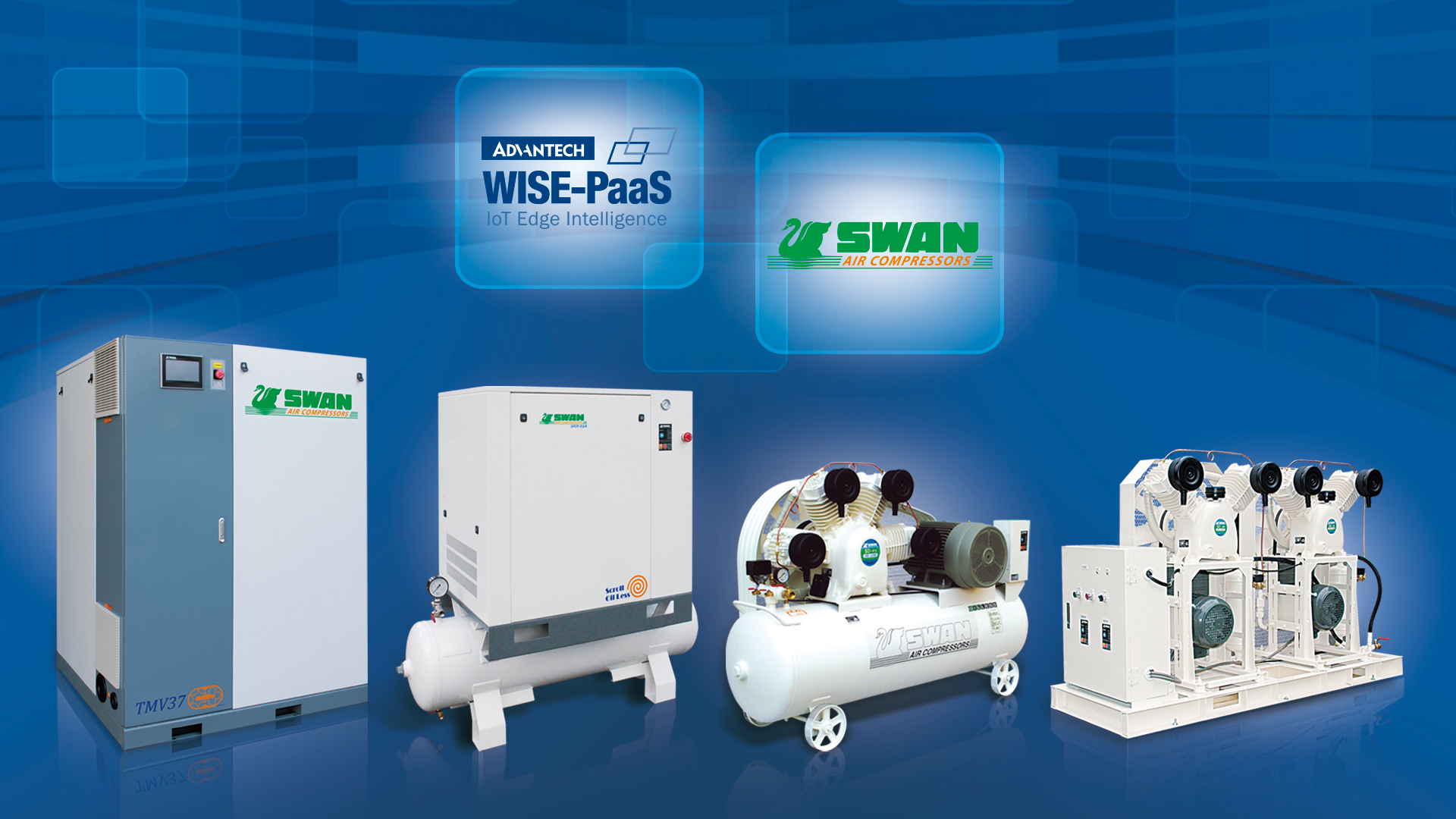 Tong Cheng Iron Works Co., Ltd. is an established air compressor manufacturer in Taichung, Taiwan that has been in business for more than sixty years and sells products worldwide under the SWAN brand name. With a view toward the Internet of Things (IoT), Industry 4.0, factory automation, and growing customer demand, Tong Cheng recognized the urgency of industrial transformation. To that end, the company cooperated with Advantech to successfully develop a cutting-edge intelligent solution geared toward giving Tong Cheng a leading role in its industry. Utilizing the power of IoT, air compressor operations are now remotely monitored. Moreover, Advantech helped enable an innovative service model of preventive parts replacement. As a result, the upgrade not only improved Tong Cheng's overall competitiveness but also unlocked the convenience and benefits of Industry 4.0.
Mastering Cloud Data Management: Opening Up New Business Opportunities and Services
According to George Lin, a senior marketing manager of Tong Cheng Iron Works, data collection was considered the first step in accomplishing the smart upgrading of air compressors. The company hoped to break through the management bottlenecks commonly afflicting traditional air compressor operations via several key aspects of IoT technology. First, the operation status of air compressors had to be made readily accessible. This included temperature and pressure abnormalities, utilization rates, and energy consumption.
Second, consumable parts of the air compressor, including belts, bearings, and oil and filter elements, had to be regularly replaced. However, since users often overlooked regular maintenance and repair, when a component in the air compressor system broke down, the factory's gas supply could be severely affected. Through digital management, the smart system provided advanced notification prior to the end of a spare part's service life and enabled a more effective system of preventive maintenance. This helped improve the factory's production capacity and prolonged the service lives of the air compressors. If a machine failed, users were actively notified via email or Line communication software. Mobile devices, such as cellphones, could access the machine status and deliver prompt responses.
Based on Advantech's considerable experience in promoting IoT and WISE-PaaS-empowered software/hardware integrated solutions and optimistic partnership outcomes, Tong Cheng first contacted Advantech in 2017 and began officially investing in R&D. The adopted software and hardware solutions included an external ADAM-6050 DI module used to retrieve data from the controller-free reciprocating air compressor. A digital controller was already equipped and thus required only a signal line to capture operation data through RS485 for the high-end Tong Cheng screw air compressor. The device was connected to Advantech's EIS-D210 edge intelligent server and data was uploaded to Advantech's
WISE-PaaS Industrial IoT Cloud Platform
for collection, management, and analysis through wired and/or wireless networks. Subsequently, the
WISE-PaaS/Dashboard
cloud dashboard tool was used to visualize and display air compressor data on the terminal screen.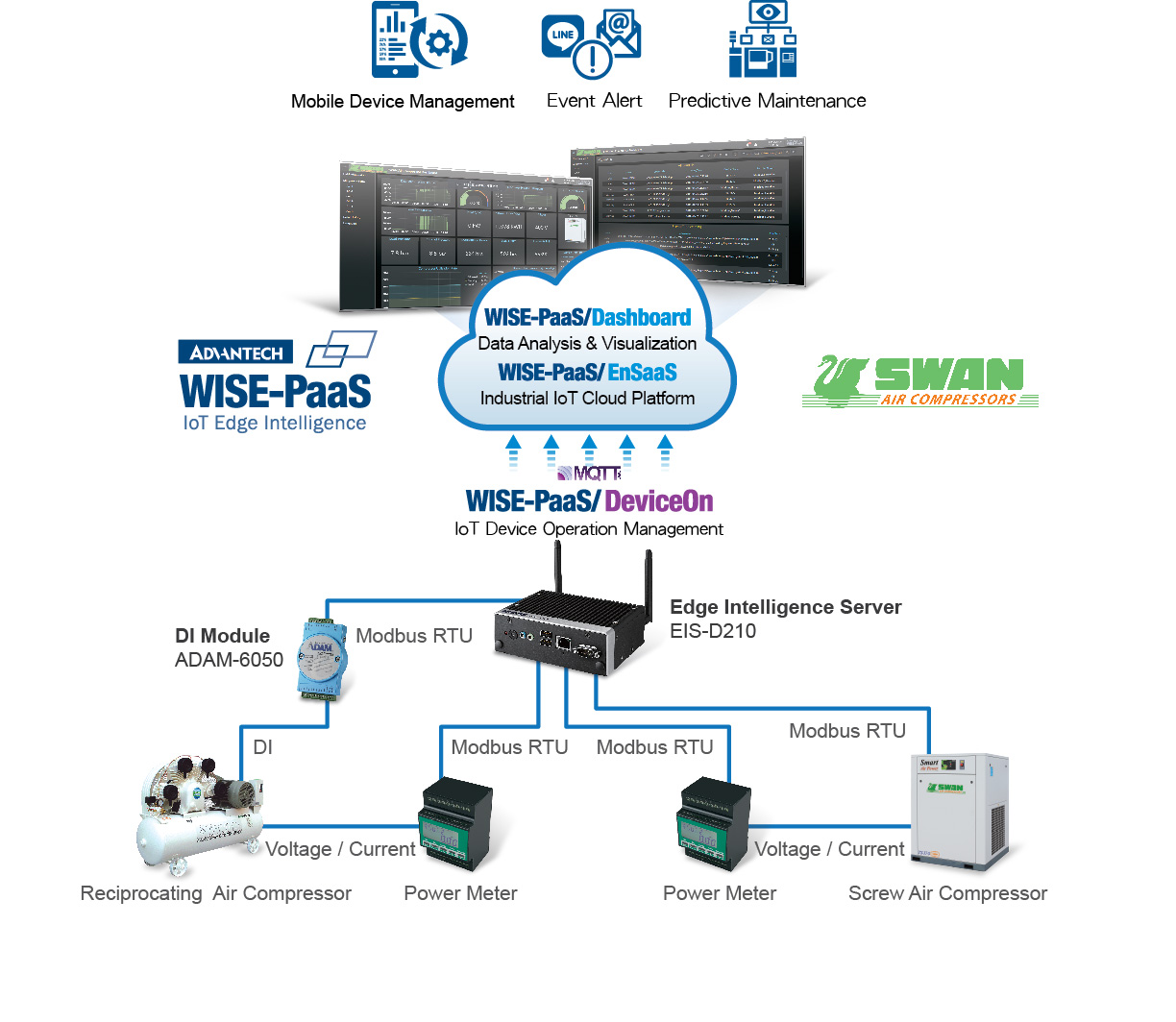 Sammy Hsu, a project supervisor of Advantech's Taiwan Business Department, said that based on the actual application requirements provided by Tong Cheng, Advantech successfully improved the overall user-friendliness of the dashboard and constructed effective event notification (i.e., real-time fault and consumable parts replacement notifications) and query functions. This proved critical to the overall system and helped with the construction of a set of successful exclusive monitoring systems.
At the beginning of 2019, the two parties cooperated on product development and participated in the Hannover Fair held in early April, which received an enthusiastic market response. Using the dashboard display, the instantaneous status of each air compressor—encompassing temperature, pressure, power consumption, utilization rate, preventive maintenance, and historical data storage details—is readily and remotely accessible.
George Lin indicated that the collection and accumulation of data greatly improves the operational efficiency of air compressors while helping track down and quickly identifying the cause of any mechanical problems. Because the air compressor is a high-energy consumption product, Advantech's cooperation with Tong Cheng proved invaluable for the company. Through a combination of real-time power status displays and optimized efficiency configurations, the company significantly improved its energy efficiency level by 30%.
Active system notifications for parts replacement helped agents build confidence in signing maintenance contracts with their customers. As a result, agents provided a regional service to multiple customers at a time. This not only improved operational efficiency but also boosted customer satisfaction levels. Tong Cheng has now installed four linked remote monitoring systems in the air compressor room of its Taiwan main factory for live demonstrations. In addition, the company is also arranging factory installations for demonstration and promotion in its overseas branches.
George Lin stressed that the solution developed by Advantech and Tong Cheng is representative of the future of the air compressor industry. In fact, recent inquiries from major manufacturers often include the aforementioned monitoring functions in their specifications. Advantech's simple installation process and high system reliability allows us to assist in the upgrading of generic air compressors using the system co-developed with Tong Cheng. In doing so, Advantech is utilizing the power of Industry 4.0 to enhance firm competitiveness and operational efficiency in the field of air compression systems.
Edge-to-Cloud AIoT Architecture to Enable Real AIoT-Powered Cloud Business Models
IoT Software Online Business Channel to Buy, Deploy, and Customize Industrial Software Needs