AI Platform Incident Detector and Video Surveillance System
3/30/2020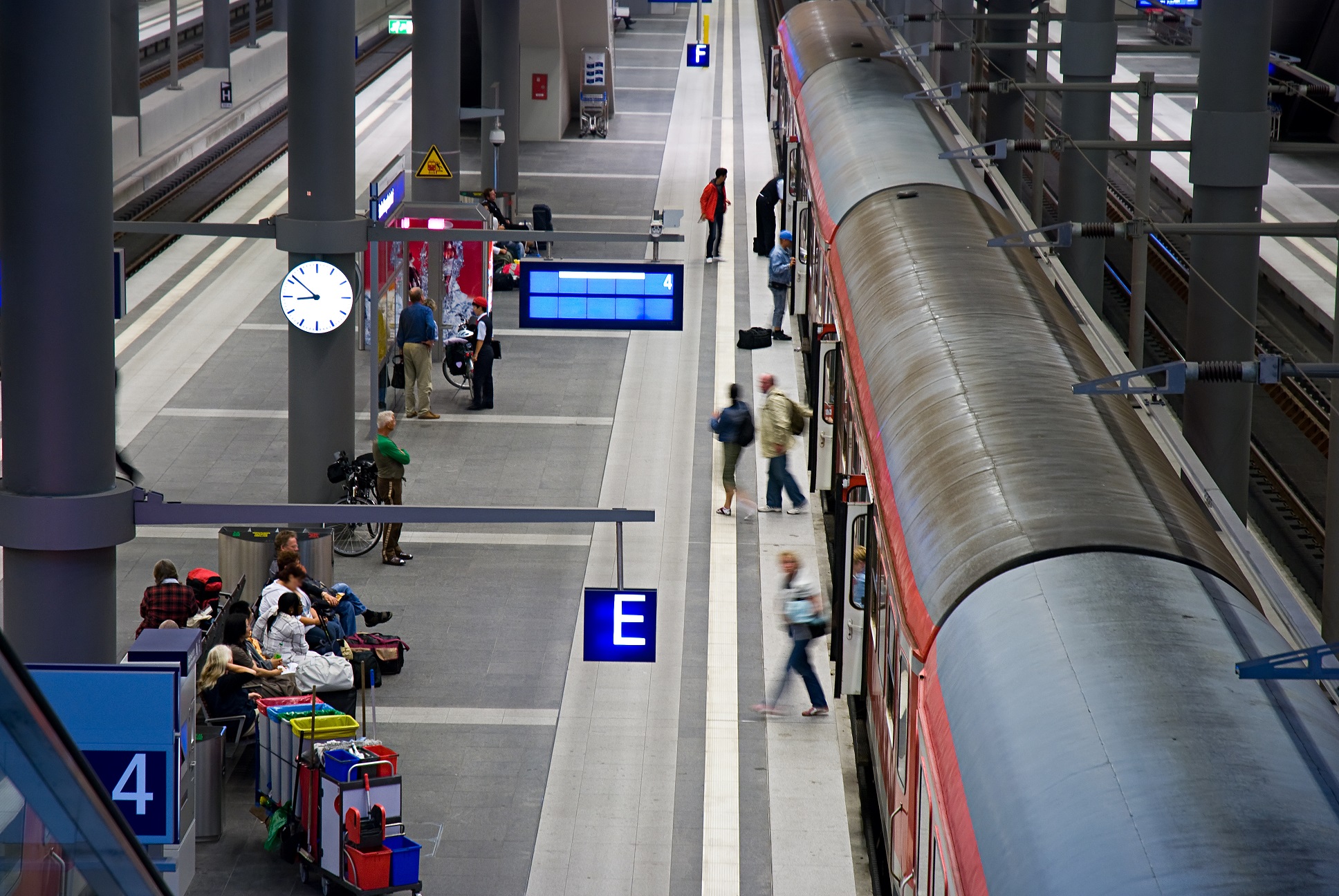 Safety for passengers in railway stations and on platforms is paramount. These days, there are many cameras in railway stations for monitoring passengers to keep them safe and to protect secure areas. If an emergency occurs, station operators must be able to identify incidents immediately and deal with them quickly.
Traditional video surveillance systems utilize video technology to automatically detect incidents on the platform and in the station. However, these traditional systems suffer from relatively low quality video and accurate analytics. What's more, it takes too much time and effort for station operators to recognize and acknowledge false alarms. Today though, using AI (Artificial Intelligence) trained models, people can be easily detected and tracked, and most false alarms caused by non-human artifacts and objects can be distinguished and eliminated from the data. AI makes it possible to raise detection rate accuracy significantly and greatly improve passenger safety.
Typical train stations need multiple cameras to cover the entire length of track along the platform. For this project, each camera conducts surveillance in its own preset monitoring area to detect whether objects have fallen from the platform onto the track. The system needed to handle several cameras and be able to detect people from inanimate objects using AI deep learning and training methods. Powerful edge-based AI systems that leveraged GPU cards were deployed along the platform to detect incidents.
Apart from the platform incident detection system, all cameras in the railway station are monitored by the AI inference system in the center control room. If an incident occurs in any security zone in the station, staff have to be able to control the situation quickly. In order to deal quickly with incidents, backend systems need to trigger alarm messages to notify station staff and even train drivers. The system also has to control related systems like railway signaling, and warning alarms with announcements to make the whole station aware of the incident. The system is expected to reduce the burden on station employees since most railway operators these days suffer staff shortages but passenger safety cannot be sacrificed.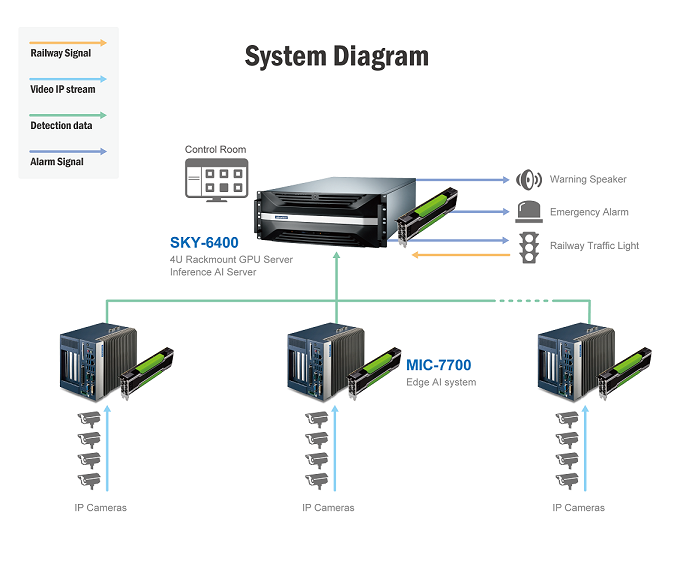 To solve the detection problems that typically occur in traditional video analytics, the AI video detector took advantage of deep learning technology to not only detect but also recognize objects precisely. An edge AI system used a powerful NVIDIA GPU to perform AI inference which required high computational complexity. In this case, MIC-7700 was used to grab four video streams from four IP cameras and recognize objects based on AI inference. MIC-7700 can work flexibly with MIC-7000 i-Modules series to support a variety of NVIDIA GPU cards. Therefore, depending on requirements, railway operators can choose appropriate system combinations to meet their needs.
In the central control room, the AI inference server monitors all cameras in the station. To process all this massive amount of information, multiple NVIDIA GPU cards were integrated into a single server. SKY-6400 4U rackmount server supports up to 6 x NVIDIA GPU cards, including 4 x PCIe x16 double-deck cards, 1 x PCIe x8, and 1 x PCIe x4 used for heavy AI deep learning processing. Thermal issues are always a concern when GPU cards are used, so SKY-6000 series servers have an industrial design and are NVQual certified to guarantee AI computing performance. The solution provided a highly reliable AI video monitoring system for passenger and railway station safety.
Full range of products from AI server to edge AI system end-to-end solution.

Industrial edge AI system empowers AI computing at the road-side with minimum deployment effort.

Deep learning computing at the back-end permits self-adaptive traffic light control.
To fulfill real-time video monitoring in the railway station, Advantech offered an end-to-end AI solution that met their application scenario. The rich product offering of AI systems makes it easy for customers to develop their edge solution. NVQual certified SKY-6400 4U rackmount servers and MIC-7700 compact fanless system processes AI inference with the scalability needed to support multiple powerful NVIDIA GPU cards all in a single server.