Advantech fast tracks face mask manufacturing in fight against pandemic
5/21/2020
The outbreak of COVID-19 has quickened pace of integrating technologies for better emergency response
The COVID-19 pandemic has created demand for advanced technological assistance in many aspects of life. Customized requirements during the COVID-19 crisis need to be fulfilled within short time frames. In confronting this pandemic, some recent technology trends will accelerate to better manage adaption in a changing world. The coming revolution in "Industry 4.0"-based applications involving intelligent technologies and IoT networking will be a focal point. By reducing reliance on external physical agency and enhancing accuracy regarding managing and processing, technological devices can fill shortages while maintaining efficient management processes.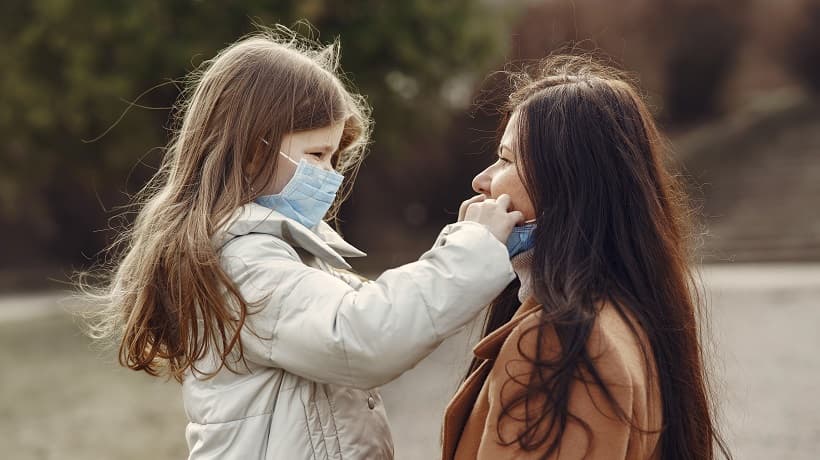 Volunteers transform production lines into mask manufacturing centers
Just after the outbreak, a large Asian company decided to join the fight against COVID-19. They suspended production lines generating great profitability and converted their production capacity towards protective equipment. In this case, the customer's primary goal was to achieve daily production capacity of masks at more than five million pieces. To achieve this goal, engineering staff conducted an immediate evaluation of potential production line transformation, deciding to reach out to Advantech and other equipment manufacturers for technical assistance.
The components required in building mask-making machines were relatively simple and the system of production lines consisting of mask-making machines was relatively easy to control. However, for production capacity to be increased, the expansion of large-scale production lines required navigating managerial complexity.
Meeting device requirements
Since the production line had to deliver 7-24 hours of uninterrupted production, maintaining a stable and reliable operation was the customer's main concern. Every time equipment shut down due to any device malfunction, it meant a step backward from reaching the goal of providing sufficient anti-epidemic materials within a given time. To avoid such situations, it was imperative to adopt industrial-grade communication devices that reduced the probability of equipment breakdown due during long-term operation.
Advantech's proposal: an intelligent network connectivity system for real-time, centralized management
To reach the five-million-piece goal, engineering staff had many discussions with the Advantech support team about the plan for production line transformation. Based on relevant parameters, Advantech concluded that intelligent network connectivity was critical to fulfilling their objectives in terms of mass scale production and high productivity. To tackle the problems and fulfill the requirements, Advantech suggested building up a networked system for well-managed mask-making machine operations by integrating an "Industry 4.0"-based manufacturing system.
EKI-2000 series unmanaged switches build up machine network
The Advantech EKI-2000 series of industrial-grade unmanaged switches were positioned as the first ring interconnecting the data processing systems. A large amount of Advantech EKI-2525 switches were installed to upload data for each mask-making machine into the execution system.
The EKI-2000 series of industrial-grade unmanaged switches provided 5~24 10/100/1000 (optional) Mbps Ethernet ports along with selective 1~4 fiber ports— being able to connect multiple devices embedded inside each machine. The device supported multiple mounting methods (Din-Rail/wall/rack mount) and 12-48VDC redundant power inputs, making it ideal for factory installation. The ruggedized design allowed for uninterrupted operation from -40 to 75 degree Celsius, making it applicable to different types of industrial environments.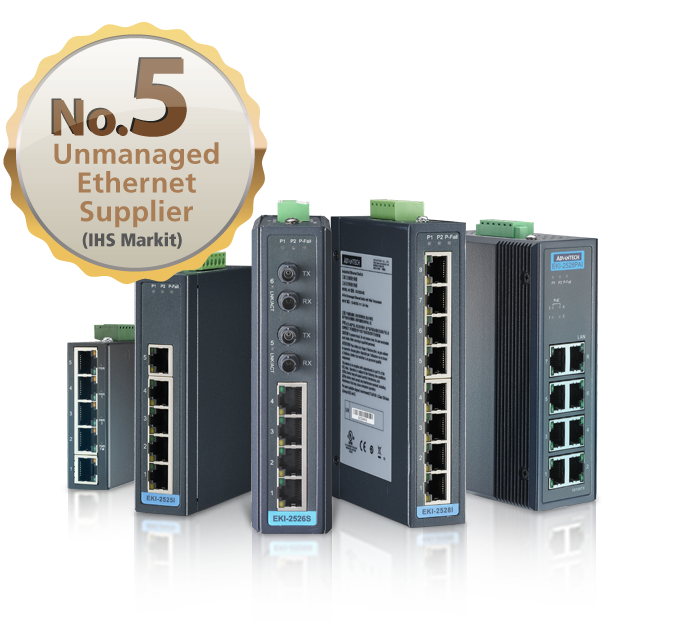 Advantech's EKI-2000 Series are the best deal offer for your Ethernet connections. Their super-slim IP30 metal casing design provides high reliability to quickly deliver continuous data transmission with high degree of security, making them an ideal option for your Ethernet solution.
EKI-7000 series of managed switches offers a network backbone with redundancy mechanism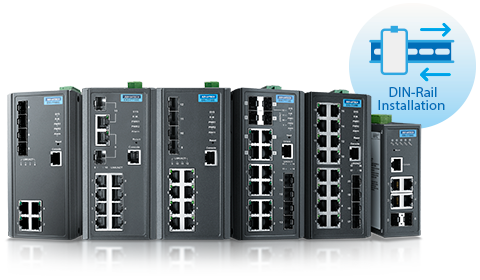 Advantech's managed Ethernet switches allow users to expand their industrial network quickly and efficiently, while their rugged industrial-grade design assures reliability and stability. Our managed Ethernet switches, fiber switches, and router switches provide fast Ethernet and gigabit combo ports as well as numerous network protocols, such as SNMP, PROFINET, and Ethernet/IP, thus assisting in achieving critical communication interoperability for industrial IoT applications.
WebAccess/NMS allows for remote centralized network management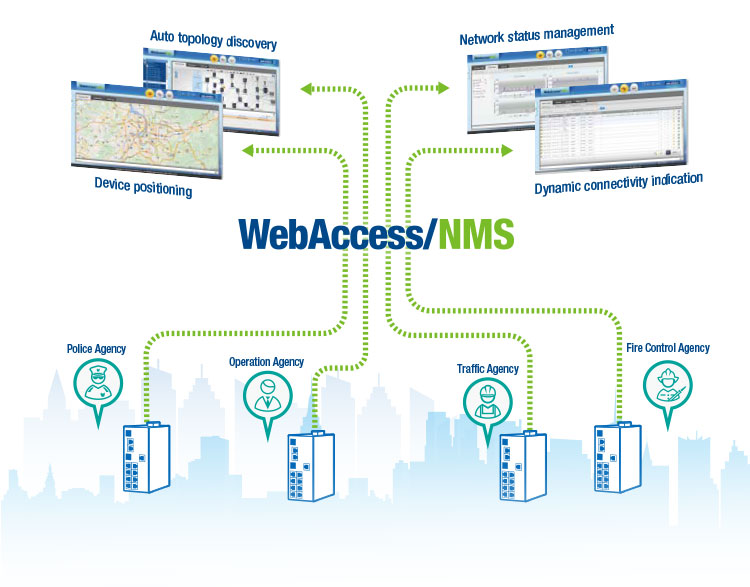 Advantech WebAccess/NMS is a web browser-based software package for networking management system (NMS). Advantech WebAccess/NMS is designed with SNMP and ICMP communication standards for managing all Ethernet-Enabled Advantech products and third-parties' devices. WebAccess/NMS can bring users an easy-to-use platform to monitor and manage networking remotely. WebAccess/NMS enables industrial grade centralized networking management. A synthetic platform developed for monitoring, setting and maintaining devices via IP-based network. WebAccess/NMS includes Device Management, Alarm Management, Efficiency Management, Topology Management and System Management.
Industrial ecosystem shaping future direction of post-pandemic tech environment
With a joint effort between the customer's engineering staff, Advantech, and other equipment manufacturers, a mask-making production line with a daily capacity of five million pieces was successfully operationalized.
Everyone was included and Advantech's experienced team was recognized for its critical contribution to the development of IoT technologies. Advantech solutions met key needs. By engaging together, Advantech and its partners made an important contribution in the fight against the COVID-19 pandemic.