Advantech Collaborates with TC Intelligent Technology to Enable Centralized Monitoring of Cross-Regional Computer Facilities
12/15/2021
Interview with Ben Shiue, Product Manager at Advantech, and Jonathan Chen, General Manager of TC Intelligent Technology
A scientific research institute located in Taiwan implemented an intelligent building management system (IBMS) based on Advantech's WISE-PaaS Industrial IoT Platform. The system enabled unified management of geographically dispersed devices, significantly improving management efficiency through 3D data visualization and AI-based predictive diagnostic analysis.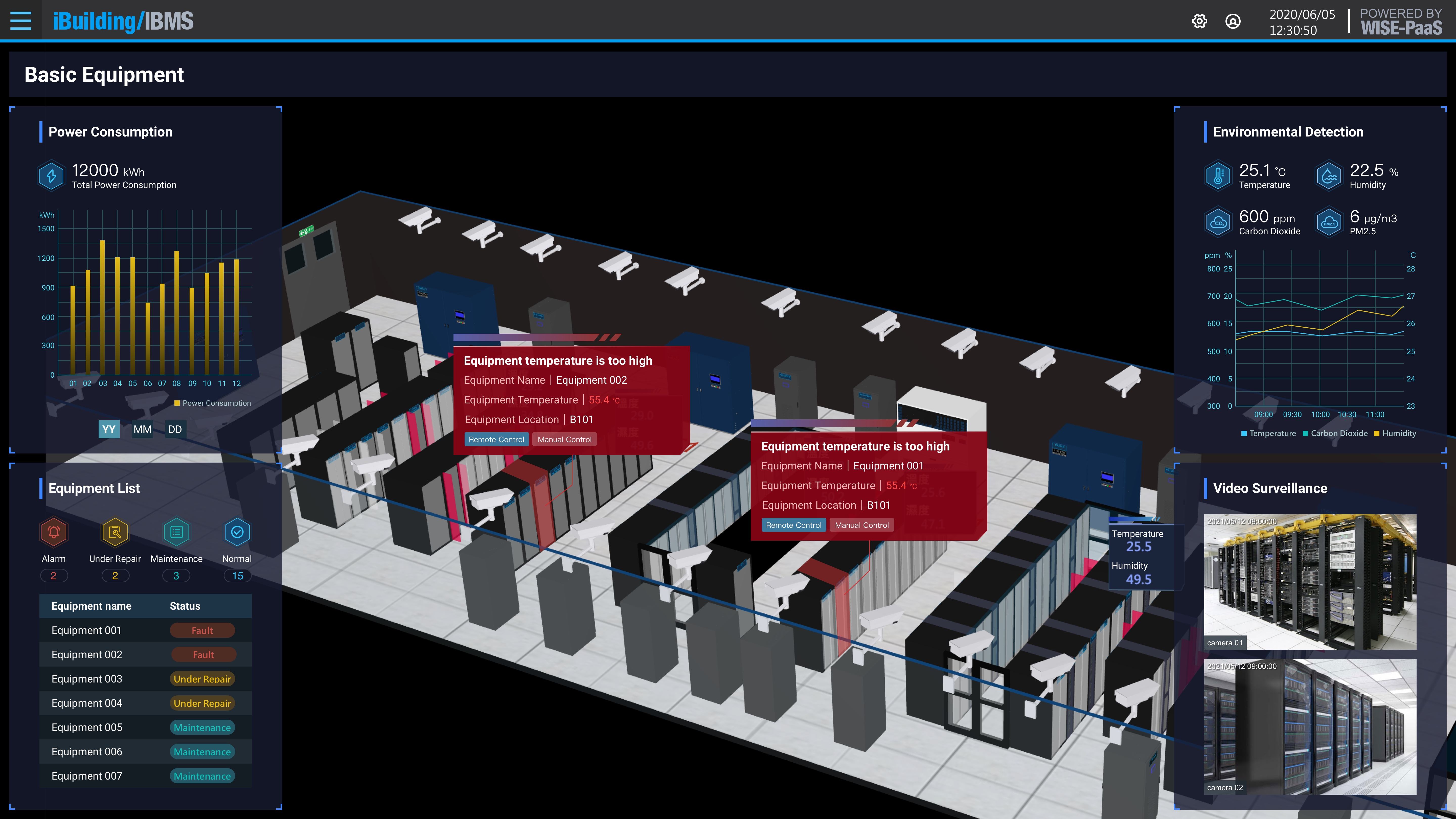 AI computing, big data analysis, and other cutting-edge technologies are leading the way for today's technology. To accelerate the application of high-speed computing, cloud networking, and big data analysis in a greater number of sectors, an undisclosed scientific research institute located in Taiwan is committed to providing high-performance processing, storage, networks, platform integration, and big data analysis services. In addition to establishing a large-scale computing center at its headquarters, the institute also set up several branches with computer facilities in various counties and cities in Taiwan.
Because the construction schedules, contractors, and equipment differed at the institute's various branches, on-site operations and maintenance personnel, and computer facility operators had to use different systems to perform tasks such as CCTV monitoring and access control. This approach increases the difficulty of executing operations and maintenance and the time and resources needed for management tasks. To address this issue, the institute commissioned TC Intelligent Technology to implement an IBMS based on Advantech's WISE-PaaS Industrial IoT platform to enable centralized control of its infrastructure, energy consumption, patrol and inspection schedule, and work orders, significantly increasing operational efficiency.
Reducing workloads with low-code configuration and system integration
During the project's implementation, Advantech and TC Intelligent Technology proposed several key services based on the institute's needs. According to Ben Shiue, Product Manager at Advantech, Advantech and TC Intelligent Technology adopted a private platform deployment model to address information security concerns. Next, to satisfy the institute's need to use WISE-PaaS for secondary programming and development, all applications on the platform, including AI modeling, alarm notifications, and 3D modelling, adopt a low-code configuration for data binding. This reduces the workload of developers as well as operations and maintenance staff.
Furthermore, to establish a centralized management platform at the institute's headquarters, TC Intelligent Technology integrated various systems and subsystems aimed at management operations such as CCTV monitoring and access control. These integrated systems included Advantech's WebAccess/SCADA offerings and systems produced by Schneider Electric, Honeywell, and ACTi. The resulting platform solution eliminates the need for multiple systems and subsystems, and allows administrators to control all cross-regional computer facilities via a single interface. If operational abnormalities occur, the same platform can also be used to send event alarm notifications. This helps administrators avoid being distracted by receiving notifications from multiple devices.
Currently, the institute's computer facilities are available to many external users, such as government agencies, colleges, and universities. By adopting a centralized management approach, the institute can conveniently maintain all the computer facilities in real time, achieving a high availability rate of 99.99%.
Combining AI, building information modeling (BIM), and digital twinning
Jonathan Chen, General Manager of TC Intelligent Technology, pointed out that by replacing the traditional SCADA graphics control systems with 3D modeling, on-site administrators can quickly identify problematic devices via data visualization. TC Intelligent Technology also converted the BIM model into an IFC file that was imported into WISE-IoTSuite/SaaS Composer, which is the WISE-PaaS platform's 3D visualization tool. This facilitated the centralized management of device configuration at the computer facilities and allowed on-site physical objects to be linked to digital twins.
With this setup, administrators can use a dashboard to easily monitor trends and changes to the environment and equipment parameters in real time, shortening response times and significantly improving operational efficiency. For example, in the event of an abnormality at any of the institute's computer facilities, administrators can immediately use the 3D-modelled digital twin to access the camera closest to the where the abnormality was detected. This allows them to visually confirm the equipment status, identify the potential cause of the issue, and take appropriate contingency measures.
More importantly, the WISE-PaaS platform's AI modeling and inferencing functions were used to construct an AIFS/PHM predictive diagnostics and analysis system for monitoring the air conditioning chiller system and water pump. With this system, if a potential fault is identified, a warning notification is sent to the relevant staff to conduct preemptive maintenance. So far, this has significantly minimized the patrol and inspection workload.
Overall, the close collaboration between TC Intelligent Technology and Advantech enabled the smart management of multiple, geographically dispersed computer facilities. Their combined efforts have assisted scientific research institutes, schools, and industrial factories with upgrading their infrastructure and achieving a more efficient digital transformation.
Unified management of all facilities from a centralized control room.
Increased management efficiency with data visualization and AI-based predictive diagnostic analysis.
Low-code configuration for data binding reduces workloads for developers as well as operations and maintenance staff.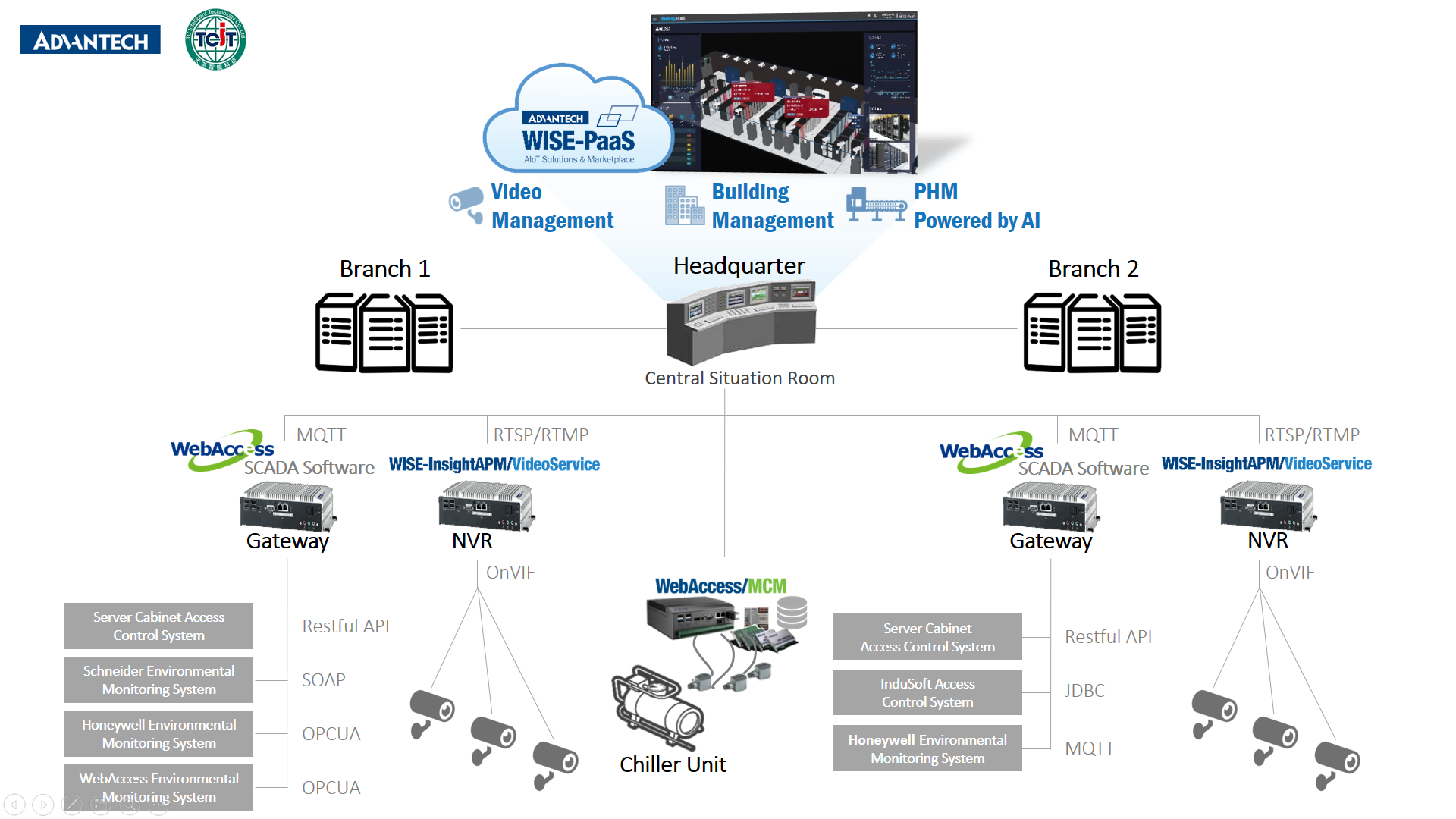 The WISE-PaaS data application platform end-to-cloud architecture provides a comprehensive development environment for data collection, analysis, management, and applications, while promoting interoperability between I.Apps via the WISE-Marketplace and accelerating the development of industrial solutions.