Advantech Assists Techman Robot Company in Machine Upgrade with AI and AOI to Improve Quality Inspection Efficiency
3/31/2021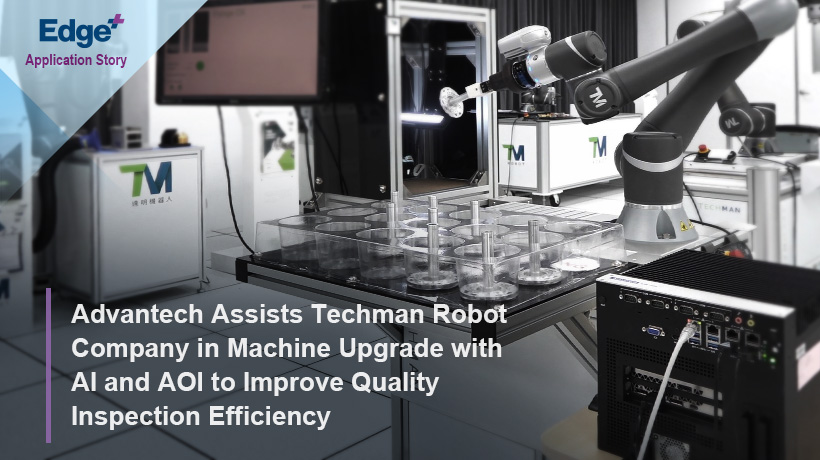 The Techman Robot Company started with a built-in vision system robot. Since then, they have been actively integrating their robot technology with deep learning systems and utilizing Advantech's AI computer as a training server for smart factory applications. The robots are designed to help manufacturing industries improve the precision and efficiency of their quality inspection processes using AI and Robotic automated optical inspection (AOI) applications.
Interview with Dr. Chung-Hsien Huang, Manager of Machine Vision Division, Research and Development Department, Techman Robot
In the past, computer manufacturing facility employees on productions lines manually connected cables to motherboard ports. Next, an assembler would conduct a detailed motherboard inspection after connecting the cables to ensure a secure fit. Nowadays, this is achievable with the push of a button using robotic arms that help assemblers conduct inspections. This system is capable of instantaneously notifying assemblers if a cable is faulty and specifies the port it should be connected to.
Robotic arms have vision comparable to the human eye. Techman Robot's newly launched TM AI+ solution and the manufacturing facility belongs to the parent company of Techman Robot — Quanta Computer Inc.,.Through the integrated application of machine vision, deep learning, and Advantech's AIR-300 AI system, the robotic arm lifts and places objects accurately, and can be used in quality inspection, thus improving the efficiency and accuracy of inspection.
Integrating AI deep learning and expanding AOI applications
According to Dr. Chung-Hsien Huang, Manager of Machine Vision Division, Research and Development Department at Techman Robot, "AOI utilized in traditional quality control is primarily used for inspecting soldered joints, assembled PCB, and optical character recognition code reading. Breaking away from these application fields and conducting inspections for abnormalities based on a product's appearance (e.g., scratches and cracks) is quite challenging. Numerous quality control personnel need to be assigned, and various rules need to be set. In actual operation, problems arise when the system's recognition incorrectly identifies false-positive defective product statuses, which then requires human personnel to perform re-inspection."
Mr. Huang emphasized that traditional machine vision inspection applications are restricted to only a few areas by various limitations. However, AI deep learning technology helps AOI overcome these limitations and expand quality inspection applications in various industries.
"Take the connection of flat cables on the motherboard as an example; various situations, such as cable bending, can cause interference with flat cables. These circumstances can inhibit traditional AOI systems' ability to recognize errors on a flat cable's connections, resulting in manual re-inspection. After being integrated with deep learning AI technology, AOI systems can automatically formulate recognition parameters through analysis of defective and normal product pictures. This enables these systems to identify flat cables that are in the wrong port, thus improving inspection accuracy and ensuring product quality".
Advantech AIR-300 optimizes AI algorithm training
In AI and AOI applications, maintaining accurate decision-making requires a continuously improving AI model. Therefore, when Techman Robot was developing the TM AI+ solution, they set up an Edge AI training system at their factory in order to store the image data captured from production lines. This allows them to train and optimize their AI neural network model, and then transfer the re-trained models back to the production line robotic arms.
After taking the factory's environment and requirements into consideration, Mr. Huang elaborated that the Edge AI Training System they were seeking must satisfy at least four conditions. First, it needs to be a stable system for long-term factory operation. Second, it must have substantial image/data storage capabilities for multiple robotic arms. Third, it must have excellent desktop CPU computing with high-performance graphics card support to complete model training. Finally, it needs an improved thermal design to reduce the risk of overheating and subsequent malfunctions in harsh environments.
Advantech's AIR-300 Edge AI System meets the above-mentioned requirements and performs extremely well in AI training. With a built-in power supply, there is no need for an additional power adaptor when installing a high-performance graphics card. It supports a NVIDIA high-performance GPU cards via a PCIe x16 slot, meaning that Techman Robot was able to utilize a powerful GPU. In addition, the AIR-300 is equipped with a smart fan that helps control system temperature, making it possible to detect the graphic card temperature automatically for fan speed adjustment and control as necessary
These advantages, combined with strong technical support and flexible and customizable services, means Advantech has become the best choice for Techman Robot. Looking forward, the company will continue to develop more smart and automated solutions with Advantech, using AI to help Taiwan's manufacturing industry through the AI-based automation.