Advantech's Intelligent Queue Management System Enhances Operations of Popular Restaurants
3/11/2020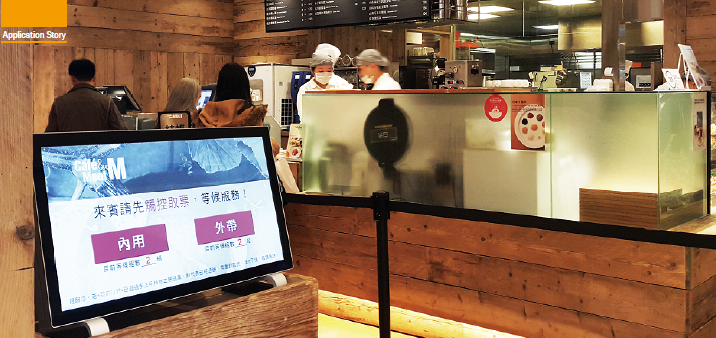 Images provided by Advantech
In addition to delivering excellent food, successful restaurants must also provide prompt and high-quality services to retain customer loyalty. One thing that has never changed for customers despite technological advancements— waiting lines. IoT technology can assist restaurant owners in managing and operating their business. Advantech's intelligent queue management system has revolutionized the queuing process and helped owners improve efficiency and reduce customers' waiting time.
Many businesses are gradually embracing IoT. The retail and hospitality sectors are among the most competitive sectors for IoT in the consumer market. Innovative solutions such as intelligent POS, customer survey, intelligent queue management, interactive multimedia broadcast, e-menu, self-ordering, and intelligent kitchen display systems are essential in bolstering the digital transformation of restaurants. A famous Japanese restaurant in Taipei implemented Advantech's intelligent queue management system. A complete solution of software and hardware, to improve its operations and services and increase its competitiveness in the market.
Famous Japanese brand embraces intelligent queue management system
Following its establishment in 1980, the Japanese brand first focused on the retail business, offering a wide range of quality products, including household items, apparel, and food. Its goal was to thoroughly rationalize business processes with an eye toward creating simple, low-cost, quality products.
In 2014, the brand opened its first restaurant in the Uni-Hankyu Shopping Mall in Taipei, Taiwan, which immediately made a big splash. Always interested in new dining experiences, local residents were waiting in long lines at the entrance often restaurant to sample its offerings. This was blocking the flow of people in the shopping mall. To resolve this issue, the restaurant urgently needed a solution that could help enhance operational management and digital transformation. Therefore, it implemented Advantech's intelligent queue management system, which solved the queuing issue and helped maintain the restaurant's competitive edge.
Advantech's intelligent queue management system delivered four key features to help with the restaurant's queuing management: simplification of customer queuing process, real-time queue status display, automatic queue notification and queue status checking, as well as, store queuing data analysis.
To simplify the customer queuing process, Advantech's queue management software was used in combination with the UTC-520 series terminal, which served as a customer self-service queue terminal in the restaurant's reception area. The screen of the UTC-520 terminal shows the many groups of customers waiting in line for dining in and take-out. Customers can simply touch the screen to choose whether they want to dine in or order take-out. When customers choose to dine in, they are asked to indicate if they are willing to sit separately and if they need a special chair for children. Lastly, the customers are asked if they want to leave their cell phone number to receive SMS notifications of the queuing status. After all the questions are answered, a printer connected to the UTC will print out a queue ticket with a queuing number for the customers. With such a queue ticket, customers don't have to wait and queue at the restaurant; instead, they can continue with their shopping in the mall, and return once they receive a call from the restaurant indicating their seats are ready.
To monitor customer's information, a 42" LCD display that shows real-time queuing status was installed in the restaurant's reception area close to the UTC. Customers can check the queue number called and the number of groups waiting on the LCD screen. When tables become available, the staff can call in the next group in line with a handheld tablet.
If the customers have inputted their cell phone number on the UTC, the system will automatically send an SMS notification to customers when their number is coming up. Also, every queue ticket has a unique QR code. Because the system is web-based, customers can check the queue status online by scanning this QR code with their mobile device.
Last but not least, the intelligent queue management system can generate daily queue reports, providing real - time and historical queue data, including average waiting times and numbers of customers. The restaurant's management team can improve their services based on this data.
With the help of Advantech's intelligent queue management system, the restaurant not only solved the issue of long lines at its entrance blocking the hallway of the mall, but also improved the management and operation of the restaurant. The solution also provided a superior experience to customers, giving them the flexibility to continue shopping while waiting for seats to become available at the restaurant.
Impeccable hardware underpins complete solution
The restaurant's well-received queuing management service is made possible by Advantech's complete solution that integrates software and hardware. The products used in Advantech's intelligent queue management system are Advantech's UTC-520 ubiquitous touch computer with a thermal printer, and DS-570 digital signage player with a 42" LCD screen.
The UTC-520 is a powerful device that is also highly energy efficient. It features a 21.5" touch computer with AMD G-series T40E processor. Its fan less design and IP65 rating for water and dust resistance provide users with unmatched reliability. The support for both landscape and portrait screen orientation and rich I/O give diverse possibilities for all kinds of applications. Moreover, the aluminum frame with side groove design allows for flexible peripheral installations. The UTC- 520 is easy to integrate with key peripherals and display systems for diversified self-service and promotional usage in various application areas. The system delivers real-time information with well-designed interactive interfaces, ensuring relevant content and targeted promotions.
Advantech's DS-570 comes with an Intel Celeron N2930/J1900 quad-core processor as well as an nVidia GeForce GT 730M graphic engine for ultra HD playback signage. The DS-570 boasts excellent video outputs, including two HDMI ports, one DP port, and one VGA port for up to four displays. It is highly expandable via the internal mini-PCIe interface, and its compact and fan less design allows for easy installation and great durability. Also, the built-in content management software provides functionalities such as content editing, scheduling, and remote monitoring.
Other than the intelligent queue management system, Advantech offers a wide range of solutions in the hospitality sector. For restaurants to further improve its management, operations, and services, as well as accelerating its digital transformation, solutions such as intelligent POS, customer surveys, e-menu, self ordering, and intelligent kitchen display systems could be considered.
Undoubtedly, with the implementation of Advantech's comprehensive solutions of both software and hardware, digital transformation in the hospitality sector can be considerably enhanced and accelerated, paving the way for a completely digitalized sector.