Extended Optics and Ruggedness
Optical bonding technology plays a decisive role in the display which is installed in the highly humid, outdoor, or harsh environments due to its enhanced ruggedness and visual performance to the display. There are some factors that affect displays' readability. The most common one is "fog", or condensation, which forms on the inner surface of display's vandal shield. Another factor is the reflection of sunlight, which causes a mirror-image on the display. Reflection is caused by optical index mismatch between air and the glass. Both issues can be solved by using optical bonding. Not only optical improvement, using optical bounding technology with a protective cover glass can also improve scratch and damage resistance.
Sunbond™ Optical Bonding
Optical bonding technology is to inject optical glue into the space between a touch screen(or a cover glass) and the LCD panel to remove the air gap. Advantech develops both Wet Bond and Dry Bond technologies for customers' different needs using proprietary materials and process in house in Taiwan and USA.
| Wet Bond Type | VS | Dry Bond Type |
| --- | --- | --- |
| 7"~24" | Screen Size | 3.2"~27" |
| Maximum gap control | Thickness | Max. 1.0mm gap fill |
| Whole surface encapsulation | Area | Display area encapsulation |
| Highest ruggedness | Applications | Light rugged, low cost |
Advantech Sunbond™ Optical Bonding Solutions use the optical glue which has an index of refraction around 1.4. Therefore it can reduce external sunlight reflections dramatically . If the optical bonding accompanies with AR(anti-reflection) coating on the glass, the reflectivity can be reduced to 0.2%. Combined with tempered glass or touch screen, Advantech Sunbond™ Optical Bonding Solutions add mechanical strength for EN60950 and IK08/09 protection and eliminate condensation and moisture. As touchpad devices become ubiquitous in markets, this increased ruggedness becomes even more important. Also, by reducing the light loss due to reflection, the battery life of the device can be extended as the device does not need as much backlight to power the display. Advantech has the in-house capabilities and expertise to provide optical bonding service in our class 10,000 clean rooms. Warranty and repairs are possible at any time.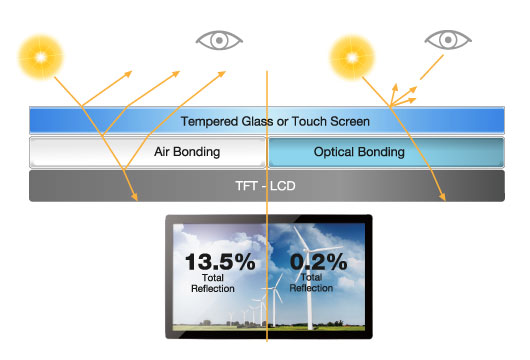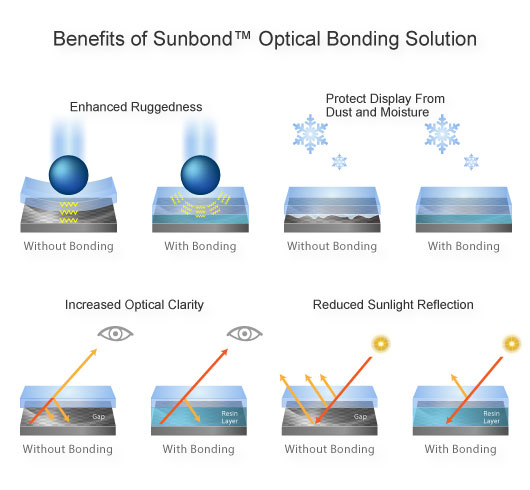 In-house Capabilities
Increases optical sunlight readability by up to 400%.
Protects display from dust and moisture
Better durability & provide vandal resistance
Ruggedizes the display. Bonding material shock dampens the glass; minimizing breakage of both the display and the cover glass/touch screen
Improved heat dissipation through direct contact
Can be repaired and adjusted once cured. The full reworkability means that costs associated with scrap and yield will be much lower. This results in lower production costs. Warranty and repairs are possible at any time.
Certified clean room and environmental controls

Suitable Applications and Markets
Transportation: Marine navigation, In-vehicle computer systems
HMI: ATMs, Outdoor KIOSK, Vending machine
Military: Ruggedized PC, Portable device
Public Information Displays