Intelligent Network Monitors Reduce Service Costs
M2Talk, the fully featured unique network display technology, dramatically reduces service costs and complexity and has been designed to fit with any of Advantech's Intelligent Displays open frame and closed frame monitor designs. It delivers simple remote access and control of any networked monitor system, without the need for additional wiring.
For monitors used in revenue generating activities such as digital advertising, gaming and point of sale, the requirement for in-service up-time is of key importance. In a typical installation the monitor is not easily accessible or serviceable, and often forms part of a large network of installations, across a wide geographic area. In the past, network monitors have had diagnostic functions added to them through the use of expensive and somewhat complicated systems, requiring additional hardware, cabling and power. M2talk enabled monitors overcome these limitations and deliver a wide range of benefits to anyone running a distributed set of monitors on either a local area (LAN) or wide area network (WAN).
Technology
M2talk monitoring technology is embedded in the monitor A/D card and communicates through the existing video cabling. The technology is simple and reliable to install both at manufacture and in a qualified service center. The hardware contains the following sensors:
A/D board and VGA/DVI cable power sense
Intelligent Backlight Power sense and control
Smart Touch screen sense
Shock, vibration and orientation sense
Proximity sensor
Temperature and ambient light sensor
The hardware fits easily into all existing monitor designs and can be implemented on monitor sizes from 6.5" to 55". It is powered directly from these video cards or from the 5V VGA line (if available) but separately from the A/D board. This enables an m2talk system to operate even in the absence of internal power and retain the ability to post a fault event to the system.
Software
M2talk is provided with a set of DLL (dynamic link library) is provided which is placed on the host PC allowing polling and communication with the m2talk daughter board via the existing VGA or DVI header. Once installed the full range of facilities available on m2talk can be accessed and utilized either locally or via an existing network connection to and from the host PC.
Once the DLL is installed the network owner can develop a set of monitoring and alarm triggers, based on the information provided by the m2talk monitor using the supplied software API. In this way intelligence can be overlaid on the monitor estate, enhancing utility and improving services. Packaged in either open frame or closed frame formats the network monitor can be applied to front and rear mount conditions as well as stand-alone applications. License free software tools, source code and full documentation provided to build into your own monitoring and service environment or utilise amongst Advantech SUSIaccess 4.0 and beyond.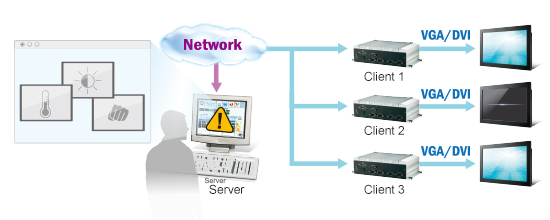 Applications
M2Talk adds rich features to any network connected monitor system to verify and trigger intelligent service events.
Audience Presence
Advert delivery verification at the screen
No additional wiring
Full remote control on environment, power and component service flags
Optical enhancements to suit all environments
Wide range of configurable options
Suitable Applications
Network Gaming
Wide area signage
Distributed industrial computing
Mission critical (medical, control rooms)
Time critical distributed kiosk (events, airports, queue systems)