Wider Aspect Ratio, a Wider Range of Applications
Large format displays such as 32", 42" or above with 16:9 or 16:10 aspect ratio are commonly used in the digital signage applications in retail, education, hospital, etc. However, large-sized displays with conventional aspect ratios have limitations - in locations where they are restricted in height or physical space, like on elevators, buses, or in the transportation and medical markets. LED signage seems to be a good fit for these kinds of space limited applications; however, LEDs are usually heavy, power consuming, and display low-resolution images.
LCD Panel Resizing Technology
For space limited requirements, panel resizing technology is a highly cost effective alternative. This relatively new technology allows a resized LCD to be made to fit almost any applications yet it retains all its original performance and features- perfect for a cost effective, low/medium volume solution. Re-sizing LCD technology can also be used in a wide range of applications where standard sizes are not suitable, generally where there are height or width restrictions. The technology retains LCD's original panel specifications, functions and performance, yet open up a new range of application possibilities. Advantech is able to cut 1/2 size panel from a 42" LCD, and a 1/3 size panel resized from a 32" panel. The ultra-wide 'letterbox' shape is a perfect fit for public signage applications in narrow, limited spaces. Advantech is proud to offer this technology which provides customers with a whole new choice of resized signage displays, and opens up new avenues of opportunity.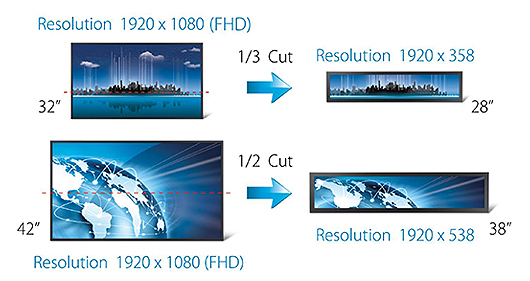 Key Benefits of Advantech LCD Resizing Technology
Super wide ratio for space limited applications
Retained high resolution
For both horizontal and vertical installation
Wide viewing angle for public information
Suitable Applications and Markets
Transportation: Route maps, Schedules, Public Information or Advertisements
Elevators: Floor Information, the Latest Promotional Events
Quick Service Restaurant: eMenu, Drive-thru
Hospitality: Real-time Messages Such As Currency Exchange Rates, Queuing System